Becky Hammon: Those Who Say Needle Hasn't Moved for Female Hiring in Pro Sports Are Wrong
Becky Hammon said that those who say the "needle" hasn't moved for female hiring in professional sports leagues are wrong in a phone interview with the Associated Press.
"Women are getting hired in all sorts of positions now. Not just the NBA, but across professional sports leagues," she told AP. "For anyone to say the needle hasn't moved is wrong. The process (interviewing) in Portland moved the needle. It was a great process for me."
Hammon recently left the NBA to become head coach for the WNBA's Las Vegas Aces, the team announced on Dec. 31. She said criticisms that call taking the WNBA job a step down is an "ignorant statement," according to AP.
To think I've outgrown the WNBA in a coaching capacity is ridiculous," Hammon said, according to AP. "I'd rather be a coach in the WNBA and have my own organization and be running a team."
When deciding to join the Aces, Hammon told reporters Jan. 3 that she was seen as a head coach by the team's management, according to CNN.
"There's something to being a head coach. I've sat in a lot of (NBA) head coaching interviews, and two things people always said: 'You've only been in San Antonio, and you've never been a head coach,'" Hammon said to reporters, CNN reported. I can tell you right now (owner) Mark Davis met me, (team president) Nikki (Fargas) met me and said, 'That's a head coach right now.'"
Hammon has yet to receive an offer as a head coach for an NBA team, CNN reported.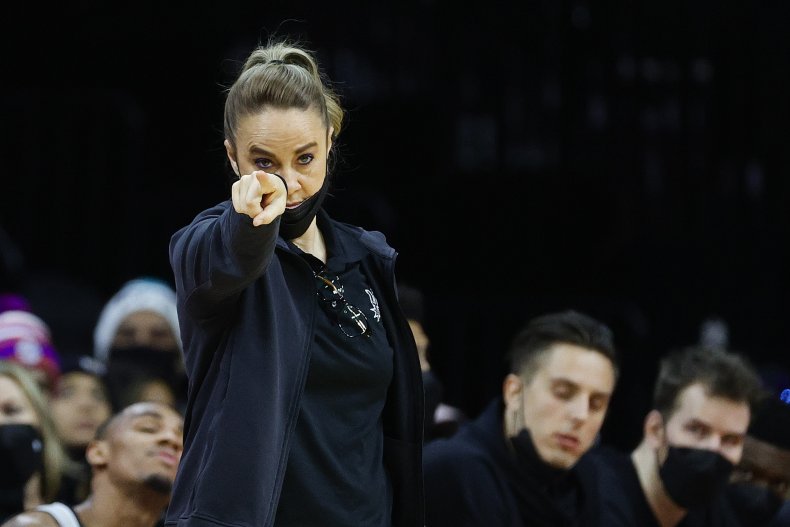 There have been other females hired in professional sports leagues recently. The New York Yankees hired Rachel Balkovec as manager of their minor league team in Tampa, Florida, making her the first woman to work as a full-time female manager of a major league-affiliated team, National Public Radio reported. The Miami Marlins also hired Kim Ng as their general manager back in November, making her the league's first female general manager, according to ESPN.
Jennifer King become the Washington Football Team's game-day running backs coach in December, the first Black female to do so in the NFL, the New York Post reported. She is the second female game-day coach in NFL history.
Additionally, the WNBA leads in racial and gender hiring practices in the professional sports industry, according to the 2021 Women's National Basketball Association Racial and Gender Report Card (RGRC) from The Institute for Diversity and Ethics in Sport. The percentage of women who are head coaches was 41.7 percent in 2021 in the WNBA, according to the RGRC. Women hold 65.4 percent of league office positions, and 66.7 percent of team presidents in the WNBA are women, the RGRC reported.