Becky Lynch Wins Women's Royal Rumble and Heads to WrestleMania
WWE Superstar, Becky Lynch's road to WrestleMania 35 was unconventional but effective as she won the second-ever women's Royal Rumble match on Sunday.
Lynch eliminated her former best friend, Charlotte Flair, to win and punch her ticket to WrestleMania in April where she will likely face off against RAW Women's Champion, Ronda Rousey.
Earlier in the night, Lynch submitted to SmackDown Women's Champion, Asuka in the opening match. However, her night wouldn't end there as she talked her way into the 30-woman match that she wasn't scheduled to appear in.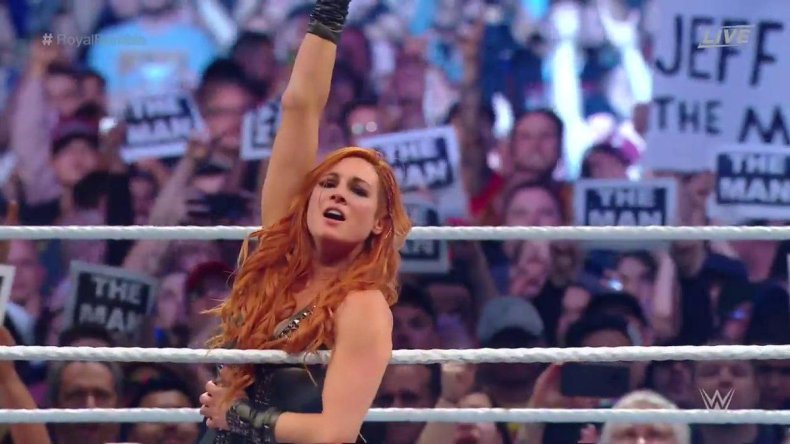 Lana, who entered the women's Rumble match at number 28, injured her ankle after her husband Rusev knocked her off the apron during his United States Championship match against Shinsuke Nakamura.
After failing to make her way to the ring, Nia Jax would hurt Lana's ankle even more as she entered the match at number 29. Following Carmella's entrance at number 30, Becky Lynch came out from the back to ask to be entered into the match in Lana's place. She was granted her request and Lynch made her way to the ring.
Becky would eliminate Nia Jax, but "The Irresistible Force" would not her elimination well. The former RAW Women's Champion would push Becky off the ring steps, causing her to tweak her knee. Lynch would pull herself into the ring to face off against Charlotte and eventually eliminate her.
As the winner of the Royal Rumble, Becky Lynch has her choice of champion to face at WrestleMania. Lynch has history with Ronda Rousey so she's the presumptive choice.
Heading into the Survivor Series pay-per-view in November, Lynch who was the SmackDown Women's Champion at the time, was set to face Rousey. However, Nia Jax would break Lynch's nose and give her a concussion after Becky and the rest of the SmackDown women invaded Monday Night RAW. Charlotte would take Becky's place in the match after "The Lass Kicker" wasn't cleared to compete.
Ronda Rousey would also cost Becky and Charlotte the SmackDown Women's Championship at the TLC pay-per-view by tossing the ladder they were on.
WrestleMania 35 will take place April 7.
What do you think of Becky Lynch's victory at the Royal Rumble? Who do you think she will face at WrestleMania? Let us know in the comments section below.