'Becoming' Netflix Release Date: When Will the Michelle Obama Documentary Be Out?
Netflix's latest film from its production deal with former President Barack Obama and first lady Michelle Obama is coming to the streaming service this week. Becoming is a documentary film following Michelle as she leaves the White House and embarks on a multi-city book tour.
The official Netflix synopsis for the film reads: "Becoming is an intimate look into the life of former First Lady Michelle Obama during a moment of profound change, not only for her personally but for the country she and her husband served over eight impactful years in the White House.
"The film offers a rare and up-close look at her life, taking viewers behind the scenes as she embarks on a 34-city tour that highlights the power of community to bridge our divides and the spirit of connection that comes when we openly and honestly share our stories."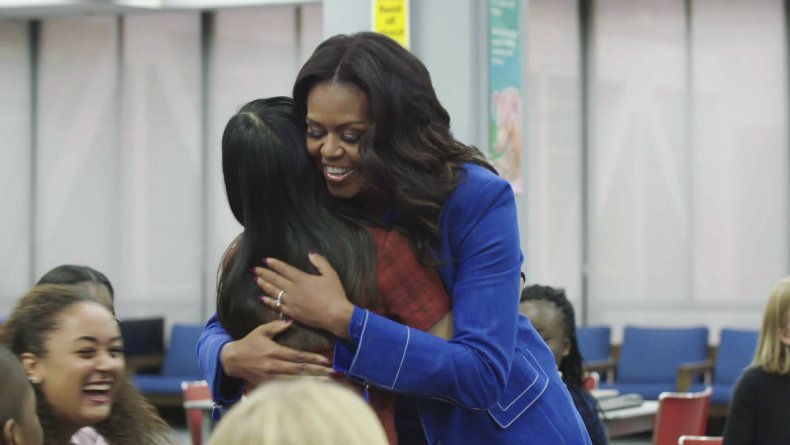 The release date for the documentary, which has a runtime of 90 minutes, is Wednesday, May 6, when the movie will be released across the world. The film will drop onto Netflix from 00:01 a.m. Pacific Summer Time on Wednesday morning. When it comes to your country will depend on your time difference from America's west coast. In the U.K., for example, viewers can watch Becoming from 8:01 a.m. BST on May 6.
Until the release date, Netflix has released a trailer for Becoming to whet fans' appetites. That 100-second trailer is streaming now on YouTube as well as on Netflix itself. Michelle tweeted the trailer on her social media account, writing to her 15 million followers: "I'm thrilled to give you a sneak peek of Becoming before it premieres on Netflix on May 6. This movie tells my story, from my childhood on the South Side of Chicago to my life today—and it celebrates the powerful stories of the people I met along the way."
The streaming service also features a number of films and TV shows featuring the former first lady that fans can watch now. For example, she co-hosts American Factory: A Conversation with the Obamas, a short sister documentary to the Oscar-winning American Factory, which she co-produced with her husband.
As for what fans of the former first lady can expect from Becoming, numerous outlets have reported that the film includes one of the first ever public interviews with Sasha and Malia Obama, as well as appearances from Oprah, Gayle King, Stephen Colbert, Tracee Ellis Ross, Conan O'Brien, Reese Witherspoon, members of Michelle's family and, of course, her husband Barack.
Becoming is released on Netflix on May 6.