How Tim Crothers First Met the 'Queen of Katwe' Phiona Mutesi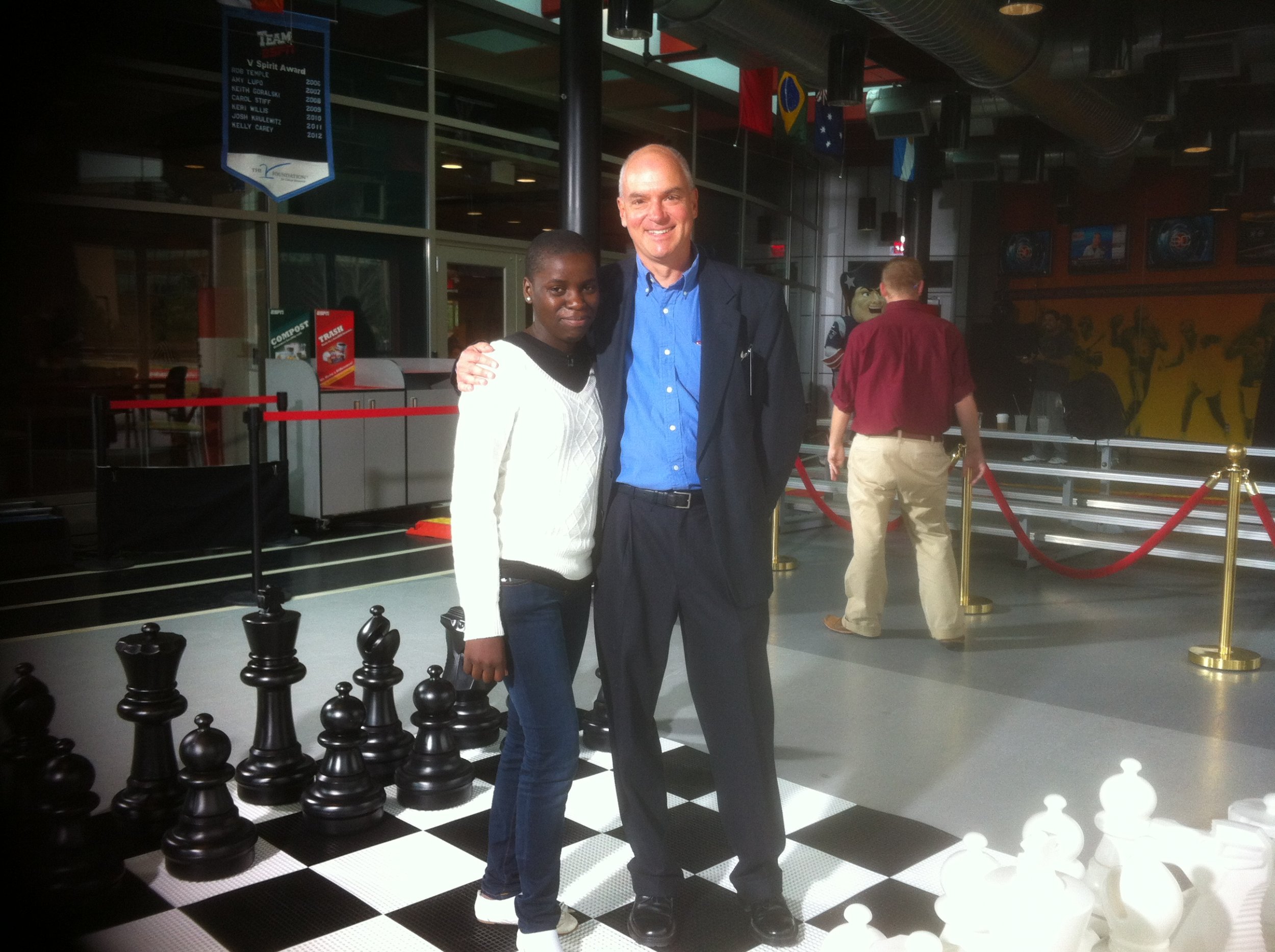 The stranger approached, proffering nothing more than a tattered clipping from a religious newsletter and a hackneyed opening line: "I have a good story for you."
Tim Crothers knew better than to swoon at those words. A former senior writer at Sports Illustrated, Crothers had spent decades listening to suggestions that he should write about the gramps who shot a hole-in-one or the amputee who'd run a 5k. "Nine hundred and ninety-nine times out of a thousand, it's just a fish story that turns into nothing," says Crothers. "But that one other time, it can turn into The Queen of Katwe."
On Friday, September 30, The Queen of Katwe will be released nationwide. It is a film based on the odyssey of Phiona Mutesi, a girl born into abject poverty in the slums of Kampala, Uganda, who became an international chess prodigy. Shot entirely on location in Kampala, this Disney film stars Academy Award–winner Lupita Nyong'o and was directed by Oscar nominee Mira Nair. The Queen of Katwe just took second runner-up at the Toronto Film Festival, where Nair quipped that it is the first Disney movie set in Africa that does not include any animals.
Mutesi, now 20, has undertaken an incredible journey in her short life. Crothers embarked on a pilgrimage no less remarkable, one that, like his heroine's, was rooted in faith and perseverance.
On St. Patrick's Day, 2010, Crothers, a modest man with a modest wardrobe, spoke at Squid's, a seafood restaurant in Chapel Hill, North Carolina. He is a local: a UNC alum who had repatriated to the area in his mid-30s, Crothers had just written his second book, Hard Work, a biography of Tar Heel basketball coach Roy Williams. "It was just corned beef and cabbage and a bunch of Carolina diehards," he says.
Afterward, Troy Buder, a financial adviser based in Charlotte, approached Crothers with a clipping from a monthly newsletter put out by a Christian missionary group called Sports Outreach Institute. On three separate occasions Buder had tossed the clipping, titled "Slumdog Champions," into the garbage. Each time he had retrieved it. Now he handed Crothers the story about a girl from the Kampala slum of Katwe who had just won an international chess championship in South Sudan. After perusing it, Crothers said, "Is this true?"
Within a week or so, Crothers met Rodney Suddith, the author of the story and president of Sports Outreach, in Chapel Hill. This ministry created the chess club where Mutesi learned to play. Having vetted the story, Crothers phoned J.B. Morris, an editor at ESPN the Magazine and a former colleague at Sports Illustrated, with a pitch of his own. "J.B. dropped the phone, and he walked off," Crothers recalls. "I didn't know if he didn't care, or what was happening."
Morris had rushed from his office to repeat the underdog tale to his boss at ESPN. When Morris returned and picked up the receiver, his first words to Crothers were, "When can you go to Uganda?"
To call Katwe dirt-poor would be to overlook the mud, filth and raw sewage that envelops it. Katwe is not only the largest of Kampala's eight slums, it is the lowest-lying area for miles around, miles that are saturated with humanity and poverty but are without sewers or sanitation. "When it rains in Kampala, which it does often," says Crothers, "the raw sewage and garbage flows into Katwe. The stench is awful."
A native of idyllic New Canaan, Connecticut, Crothers grew up even further away socio-economically than geographically (7,000 or so miles) from the slum of Katwe. When he arrived in Kampala in September 2010, he noted that garbage fires and not lampposts lit up the night, and saw men toting machine guns over their shoulders. He visited Mutesi's home, a 10-foot-by-10-foot room with a corrugated tin roof and a dirt floor that she shared with her mother and three siblings. "I knew very early on that Katwe was one of the characters in this story," says Crothers, who initially spent five days there. "It brings far more people down than it does raise them up."
In Kampala, Crothers met Robert Katende, the Ugandan native who introduced chess to the children of Katwe. Katende, who has an engineering degree, has worked for Sports Outreach for 13 years. Part of his job was to teach kids soccer in order to provide structure, and also to feed children who attended the soccer clinics. Katende soon recognized that not all children are athletically adept and those who were not felt alienated.
"Robert broached the idea of teaching chess to the kids," says Suddith, a former inner-city school teacher in Richmond, Virginia. "When I taught, I noticed that the survivors were the kids who could think two or three steps ahead, and that's what chess teaches you to do. Robert had a great idea."
The first chess sets at Katende's chess academy were lines etched in dirt. Bottle caps subbed for pieces. When Mutesi arrived at roughly the age of 9—no one in Katwe quite knows what day they were born, and no one keeps time other than by looking up at the sky—none of the boys in Katende's academy would teach her to play. "Phiona smelled so badly that nobody wanted to be near her," says Suddith. "But that was her way to not get molested in the street."
Katende enlisted a 5-year-old girl, the younger sister of one of his top players, to teach Mutesi chess. Before long, she was defeating everyone in the club, Katende included. Eventually Mutesi and two older boys from the chess club won a chess tournament in South Sudan. That triumph prompted Suddith's story.
"Phiona Mutesi is the ultimate underdog. To be African is to be an underdog in the world. To be Ugandan is to be an underdog in Africa. To be from Katwe is to be an underdog in Uganda. And finally, to be female is to be an underdog in Katwe."

—Tim Crothers, ESPN the Magazine, "Game of Her Life"
The next step on Mutesi's journey was the 2010 Chess Olympiad, a biennial event that is the Olympics of chess. That is why Crothers had waited nearly six months to fly to Uganda: He would tag along with the Ugandan contingent at the Olympiad, which was being staged in Khanty-Mansiysk, Russia. "I saw where Phiona lived in Katwe," says Crothers, "but I didn't really interview her there. First, she was remarkably shy—she didn't know how to talk about herself because no one had ever cared—and second, we were going to have two weeks in Siberia. I knew I could interview her there."
As a young reporter at Sports Illustrated, Crothers had once spent less than $5 reporting a long-form profile of Washington Generals (perennial doormats for the Harlem Globetrotters) coach Red Klotz. His expenses? A subway token and a hot dog. Now he was flying from Raleigh-Durham to Uganda to Siberia to profile a young woman who plays a sport that never makes it onto SportsCenter. And he was about to see his story die before he'd even begun reporting it. "We had flown to Nairobi to catch a flight to Dubai," says Crothers. "From there a shuttle flight would be taking chess contingents to Khanty-Mansiysk [a 32-hour drive east of Moscow]."
At Jomo Kenyatta International Airport in Nairobi, Crothers and a few others were informed that they were not ticketed for the connecting flight to Dubai. Crothers watched Mutesi, Katende, and the rest of the Ugandan contingent disappear down the jet way as he wondered what to do next. "There were a few languages being spoken, but I was able to discern people tell the gate agents in English that they were going to kill them," says Crothers. "They sounded serious."
After a few minutes of tumult a ticket agent, whom Crothers describes as "my angel," approached. "Come with me," the man said, leading Crothers into a private room. The man handed Crothers a ticket. "Put this in your pocket," the ticket agent warned. "I am not responsible for what happens if someone sees you with this."
Crothers had been granted a reprieve, but only a temporary one. He sprinted out onto the tarmac only to see seven Air Kenya planes. No one had told him which flight was his. "It was evening, and I'm running on the tarmac yelling, 'Dubai! Dubai! Dubai!'" Crothers recalls. "A baggage handler drove past on a cart—I have no idea if he spoke English—and he just pointed to a plane, so I ran to it."
It was the correct plane. "When I walked into the aisle, Robert Katende looked at me as if he'd seen a ghost," says Crothers. "You know what? There were at least a dozen empty seats on that flight."
The contingent eventually made it to Siberia, although somewhere along the route Crothers's baggage was lost. He would spend two weeks in Khanty-Mansiysk wearing nothing but his standard outfit: jeans, T-shirt, flannel, socks, Stan Smiths. "I just washed my clothes in the shower every couple of days," Crothers says, "and occasionally borrowed a sweater from Robert Katende."
The final obstacle Crothers needed to overcome was Mutesi's reticence. Crothers has taught sports journalism at the University of North Carolina for more than a decade. An integral part of his job is teaching students how to connect with interview subjects, particularly those from different backgrounds or cultures. At Sports Illustrated, Crothers had once been dispatched to profile a junior high golfer of Asian and African-American descent and the two had hit it off instantly. A few years later, when Tiger Woods played his first Masters, he invited Crothers back to the Crow's Nest, an inner sanctum at Augusta where media are forbidden, to watch TV with him.
Mutesi, however, was a much bigger challenge. To her Crothers was mzungu, "white man," and she had no background in how to interact with such a creature. "She wouldn't look me in the eye," says Crothers, "and for a day or two, the interviews went nowhere." Then Crothers had an idea. "Phiona, let's play a game of chess," he suggested.
Just 10 or so moves into their first game, Mutesi exposed her queen. Crothers, a recreational player, studied the board. "I must have had four different pieces that could take her queen," says Crothers. "I couldn't believe what was happening. So I took it."
Two moves later, the match was over. "She got this huge gap-toothed grin," says Crothers, who had fallen victim to Mutesi's trap. "After that our relationship improved. She was much more willing to be interviewed."
In 2012 Crothers's story, "Game of Her Life," was a National Magazine Award finalist for profile writing. That led to the 2013 book, The Queen of Katwe, which is now the Disney film. Proceeds from the book and film have allowed Mutesi's mother, Harriett, to move out of Katwe and into a three-bedroom home outside of Kampala. There are now some 1,500 slum youths around Kampala playing chess in organized clubs while Crothers has a burgeoning chess club of his own, about 250 students, at his son and daughter's elementary school back in Chapel Hill. The latter club was formed after Crothers invited Mutesi to teach his son's third-grade class how to play chess. "The kids in Katwe are superior players," he says. "Why? Because they play four to six hours a day without any distractions. Nobody in Katwe is playing Pokémon Go."
As the film will reveal, the game of chess and the selflessness of Robert Katende opened up a world for Phiona Mutesi and her family that was previously unimaginable. But so, to a degree, did the writer who told her story. She graduates from boarding school in November and when Crothers last saw her in July (he has made three pilgrimages back to Kampala), he asked her what was next for her. Mutesi looked him square in the eye and, slightly exposing that gap-toothed grin, said, "I'm thinking Harvard."