Man Hilariously Buys Bed Rail for Senior Dog After He Fell on the Floor
When a senior dog fell off the bed once, his owner took no chances in letting it happen again and installed a bed rail, preventing his pet from ever rolling off again.
Event planner Luis Miranda, from Tampa, Florida, has two senior dogs, Diesel and Jackson, who require plenty of care and attention.
The 15-year-old Jack Russell terrier, Diesel, fell off the side of the bed in his sleep, leading Miranda to take immediate action. The TikTok video of the device, shared on January 29 under the username jluis_m, now has more than 400,000 views.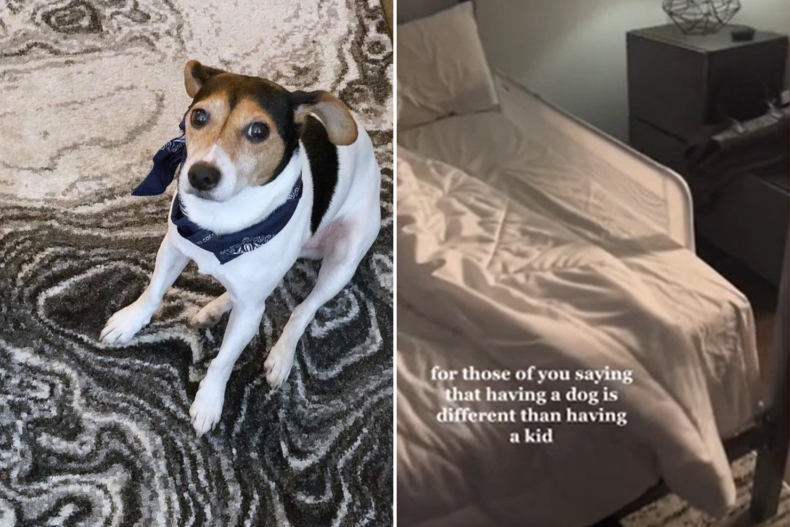 The American Kennel Club (AKC) regards Jack Russell terriers as "inquisitive and friendly" dogs, which live for around 12 to 14 years. As the breed isn't prone to many conditions, the AKC believes them to be an inherently healthy dog, with "an almost limitless supply of energy."
Seeing how easily Diesel fell off the bed, Miranda bought a bed rail the following day to keep the senior dog safe in the future. He told Newsweek that he is very thankful that Diesel wasn't injured by his fall, but he wasn't going to risk it happening again.
"My senior dog fell off the bed once, and the very next day, I bought the bed rail and installed it to make sure it doesn't happen again. He sleeps between me and the bed rail now. So far, it's been working wonderfully, and he's not had a fall since."
In the viral video, Miranda explains: "For those of you saying that having a dog is different than having a kid, I just had to install this bed rail because my senior dog fell off the bed once, and once is all it took. So no more falling off the bed."
The humorous caption alongside the video reads: "I'm claiming my dogs as dependents on my taxes this year."
With over 81,000 likes on the video, many TikTok users have commented to let Miranda know they found themselves in a similar situation with their pets as they grew older too.
Speaking about the reaction, Miranda said: "Thankfully, he wasn't injured the one time he fell off, but people have been commenting on my TikTok and sharing stories about other pets who weren't so fortunate."
One TikTok user commented on the video: "I've done the same for my senior rescue because he also took a scary tumble. It's the least I can do for him."
Another person wrote this sweet sentiment: "They give us everything they have and we do the same."
Do you have any adorable videos or pictures of your pet you want to share? Send them to life@newsweek.com with some details about your best friend, and they could appear in our Pet of the Week lineup.