'Beecham House' on PBS Cast: Your Guide to the Characters on the 'Masterpiece' Show
Beecham House is now airing on PBS after airing on ITV in the UK last summer. Regular Masterpiece viewers will recognise members of its cast for a number of other British shows that have aired as part of the block, including Sanditon, Downton Abbey, and Endeavour. Tom Bateman leads the cast as Beecham House owner John Beecham, and the PBS show also stars Marc Warren, Lesley Nicol, and former child star Dakota Blue Richards.
Who stars in Beecham House?
John Beecham - Tom Bateman
Who is John Beecham? A former soldier haunted by his past who has just purchased the Indian stately home Beecham House, and who may have had a child with one of his servants.
Where you've seen Tom Bateman before: British period drama fans may recognize Bateman from his starring role in Amazon Prime Video's Vanity Fair, and the actor has also starred in Murder on the Orient Express, Cold Pursuit and the Amy Schumer comedy Snatched.
He told the Press Association of his Beecham House role: "My characters are normally quite energetic, but John is very strong, quite hard and you don't really know who he is at first. He internalizes, he's a man of mystery."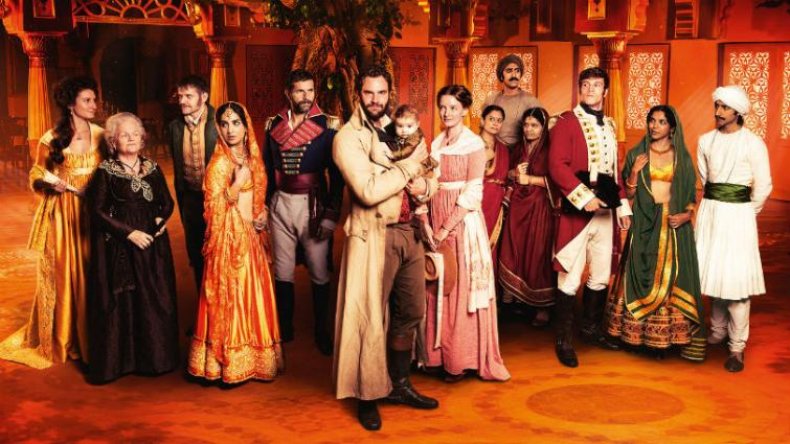 Henrietta Beecham - Lesley Nicol
Who is Henrietta Beecham? John's interfering mother, who has come to stay with her son in India and is determined to set him up with a wife.
Where you've seen Lesley Nicol before: Though Nicol has had bit parts in Hot in Cleveland, Supernatural, and Raising Hope, she is best known for her regular role as the cook Mrs. Patmore in Masterpiece's Downton Abbey.
General Castillion - Gregory Fitoussi
Who is General Castillion? A French mercenary who wants to stop John trading in India.
Where you've seen Gregory Fitoussi before: The Parisian actor has been seen in English-language series like Mr. Selfridge and Riviera as well as the cult French show Spiral.
Murad Beg - Adil Ray
Who is Murad Beg? John's neighbor and ally against General Castillon.
Where you've seen Adil Ray before: Ray has also starred in two big British series–BBC comedy Citizen Khan and the school drama Ackley Bridge, which airs on AcornTV in the U.S.
Samuel Parker - Marc Warren
Who is Samuel Parker? An old East India Company friend of John's who has left the company and has come to India looking for a fresh start.
Where you've seen Marc Warren before: The actor's American credits include The Good Wife, Band of Brothers, and the Snatch TV spin-off, but the actor is best known in the U.K. for his role in con artist comedy-drama Hustle.
The actor said of his role to BT: "You never really know what it is that Samuel truly wants or what his motivation is."
Chandrika - Pallavi Sharda
Who is Chandrika? A beautiful guest of Beecham House who may have a link to John's daughter August.
Where you've seen Pallavi Sharda before: The Indian actor starred in the Oscar-nominated Lion as well as Bollywood movies like Begum Jaan and Hawaizaada.
When Beecham House first aired on ITV in the UK, the actor teased a season, telling Digital Spy: "Ideally as actors, we would love it to keep it going and going. I know that there have been talks about a season two, but I don't know at this point what is happening."
Margaret Osbourne - Dakota Blue Richards
Who is Margaret Osbourne? The English governess to Murad's daughter, who becomes a love interest to John.
Where you've seen Dakota Blue Richards before: PBS viewers will know the actor from Endeavour, but the actor made her screen debut at the age of 13 as Lyra in the movie adaptation of The Golden Compass.
Chanchal - Shriya Pilgaonkar
Who is Chanchal? The Indian nursemaid for August, who may be the child's mother.
Where you've seen Shriya Pilgaonkar before: Streaming viewers may know the actor from Netflix's House Arrest and Amazon Prime Video's Mirzapur.
Daniel Beecham - Leo Suter
Who is Daniel Beecham: The long-lost brother of John, who also heads to Beecham House after leaving the East India Company.
Where you've seen Leo Suter before: Suter also starred in Masterpiece Theater shows Sanditon and Victoria.
Violet - Bessie Carter
Who is Violet? A family friend of the Beechams who Henrietta wants to marry John.
Where you've seen Bessie Carter before: Soon to star in Shonda Rhimes' Netflix show Bridgerton, Carter has also appeared in the Starz adaptation of Howard's End and BBC period drama Cranford.
Beecham House airs as part of Masterpiece on Sundays at 10 p.m. on PBS.