Beekeeping and Robocops Signal the Future of Cities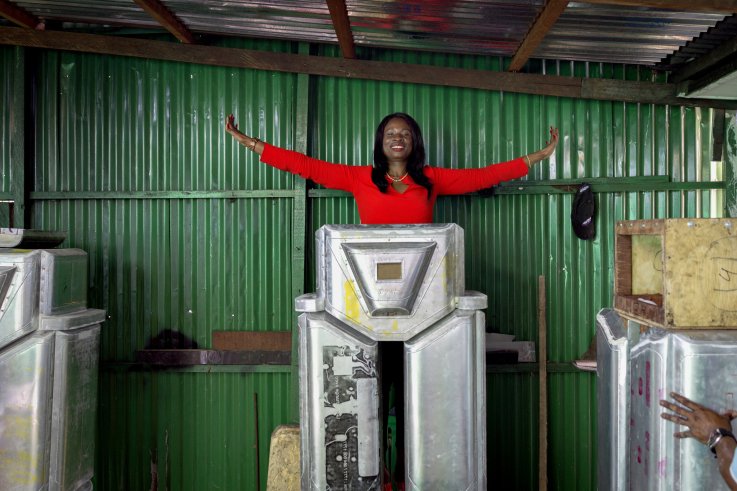 Updated | More than half of the world's population lives in cities and by 2050 urban dwellers are expected to boom to 66 percent of the total, up from 34 percent in 1960. Urbanization is happening fast and 12 percent are now packed into mega-cities of more than 10 million people.
A new photography series by Panos Pictures, #FutureofCities, is capturing the changes that have become necessary as more people try to naviagte around sprawling and growing cities and nature redefines the urban landscape.
Photographer Adam Dean captured Beijing's 46-year-old subway line, which transports 9.7 million daily commuters across 17 lines on 289 miles of track. Dean, who lives in Beijing, said he chose the subway as it's an attempt to remedy the notorious pollution and traffic problems that regularly choke the city of 11. 5 million.
"I rarely use the subway here in Beijing because I tend to cycle most places, so it was interesting for me spending time underground and riding the trains," said Dean. "It is very croweded, especially at rush hour, but a lot of the system is new and fairly well-organized. In some ways, it can be a more pleasant experience than riding on older, more rundown subway systems like in London and New York."
While Beijing's commuters were largely unfazed by Dean's camera, a Sony A7R that he describes as "discreet," some security guards objected to his shooting in their stations. A simple remedy was at hand: quickly jumping on the subway and riding to other stations.
More than 7,000 miles away, transportation is also a concern for the 10 million residents of Kinshasa, the capital of the Democratic Republic of Congo. Enter real-life robocops, 8-foot-tall machines that give visual and audible directions for human and vehicular traffic.
Designed and built by Women's Tech, a company run by local entrepreneur Therese Korongozi, the robots, which can't catch a break and work 365 days a year, transmit traffic footage back to police headquarters and have been so successful that other countries in the region are looking into employing their own robocops. Crucially, they also don't take bribes.
Heading north 4,000 miles to London, photographer Abbie Trayler-Smith took to the city's rooftops to capture the action of urban beekeeping, which is growing in popularity there. Overall in the U.K. there are 44,000 beekeepers helping 274,000 bee colonies produce 6,000 tons of honey. Globally, the number of honeybees is dwindling, but without them humanity would be at risk because they help to produce $30 billion in crops.
Trayler-Smith said the bees went about their business and were "mezmerizing" to photograph; as summer rolled into autumn, the bees became sleepy as hibernation time drew closer.
"I'm planning on revisiting in the spring when the hives are re-opened, so we'll see how difficult it is when they're wide awake and hungry," she said. "Capturing the whole operation against an urban backdrop was what I found interesting. Because I only discovered this story as the bees were off for their big sleep, I'm looking forward to returning in the spring and capturing some more of the story."
#FutureofCities is an initiative by Sony as part of their ambassadors program, in collaboration with Panos Pictures.