Beer for Science: Neil deGrasse Tyson Inspires Local Brew That Will Support Science Museum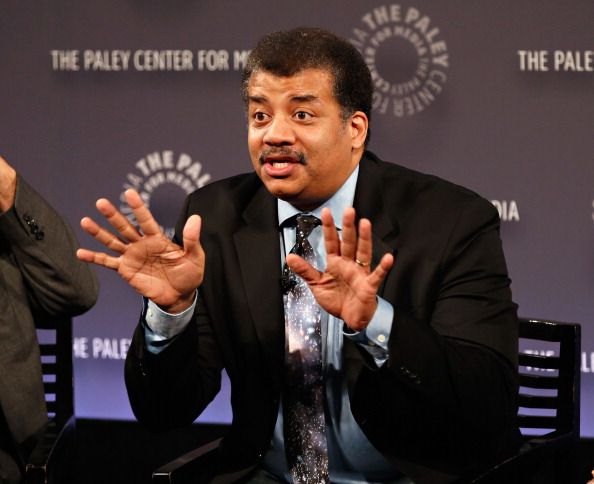 Astrophysicist Neil deGrasse Tyson has become a familiar figure. The tall, mustachioed man who makes science fun is on television, on the radio and on Twitter, adding wit and humor to complex subjects like physics and space and making them more accessible to the public. Just last week, the head of the Hayden Planetarium at the American Museum of Natural History was named the first American to win the Stephen Hawking Medal for Science Communication for his efforts. Now, this star of the popular science world is the inspiration for a local beer.
Related: Stephen Hawking picks Neil deGrasse Tyson and 'The Big Bang Theory' for Science Communication Awards
Asheville Brewing Company in North Carolina has released Bier LemonGrass Tyson in the astrophysicist's honor. The local brewery describes it as a white ale infused with lemongrass and coriander. It's "an American-style take on a traditional Belgian wit beer, brewed with German malt, Belgian yeast, and dry-hopped with Galaxy (of course)," it writes on its website. "Lemongrass, sweet orange peel, and coriander are added in the boil to produce a flavorful, easy-drinking beer at 5.5% ABV." The brewing company has made it available on tap at two of its locations in Asheville, as well as in a limited quantity of bottles, and says it will donate a dollar from every sale to the Asheville Museum of Science, which opened in November.
Bier LemonGrass Tyson is only the most recent in the craft brewer's long list of beers with creative titles (some very clearly drawing inspiration from movies, bands or world leaders), such as Brewnicorn, Draft Punk Double IPA, License to Swill, Shaun of the Red Ale and Putin's Unicorn Dance Party Baltic Porter.
The launch of the Tyson-inspired beer was scheduled to coincide with his visit to the city's Thomas Wolfe Auditorium, where he presented a program called, "An Astrophysicist Goes to the Movies." In his characteristic fashion, Tyson reviews movies such as Star Wars, Frozen and The Martian from a scientific perspective. He goes through what classics as well as recent titles get wrong, and the much shorter list of things they get right.
"We wanted to make a beer to celebrate science and to honor one of science's rock stars coming to our town," Mike Rangel, Asheville Brewing president, said in a statement. "We found an online video where deGrasse Tyson talks about beer styles he likes and how much he appreciates local beer. We heard you, Neil, and we made this beer for you!"
Rangel is most likely referring to a Star Talk video in which Tyson answers a question from a fan identified as Ross D., who asks, "What's your favorite beer? I take you for an IPA kind of dude." Well, Ross, Tyson is mostly "a wine guy from way back," the astrophysicist explains (he's tweeted in the past about at least one advantage of wine over other kinds of alcohol—fewer bar fights). Tyson pauses and laughs at himself, leaning back to reveal he's wearing a tie covered in stars and planets, "I sound like the most interesting man in the world, 'I usually have wine, but if I have a beer...'"
He says that for a time he was into German Weiss beer, which he was introduced to while biergarten-hopping with friends from "the planetary world." That was until he visited Belgium. "I realized I had never had beer before once I had a Belgian beer, because it tasted unlike anything I've had, certainly here in America," he says, seeming at first to knock the creations of U.S. breweries.
"If there's a lineup, I'm picking the Belgian beer—unless I'm in some town that has some local breweries, and they didn't have to move the beer far to get to the dispenser, I'm having a local beer," he explains, miming putting a glass under a tap. "I like seeing and feeling people's expression of how they make beer from one region to another."
So although Tyson is a wine guy first, and has twice tweeted that he will always order lemonade over beer, it's hard to see how he would be able to resist a brew that is not only named for him, but also is a lemongrass-infused, local take on a Belgian beer. And if he passes, that's only more beer for the rest of us.