Beetle Lived in Boy's Ear for a Year After Doctors Mistook It for Wax Plug
A Swedish child had a black beetle living in his year for a whole year despite several doctors examining him and determining that the soreness and discomfort he was experiencing was due to a wax plug.
The ear problems started for three-year-old Arvid Wihlborg in June 2020. The boy's mother, Emelie Wihlborg, said in a Facebook post Saturday that she and her husband woke up one night that month to the sound of their son screaming. The three-year-old was panicking and hitting himself on one ear, she said.
Worried about their son's condition, the family, who live outside Helsingborg—a coastal city in southern Sweden—called emergency services. A healthcare responder told them that their son might have an ear infection.
The next day, the boy felt better but the family took him to a health care center to have the problematic ear looked at. The doctor who examined him told the family that their son had a wax plug—an abnormal build of earwax that blocks the ear.
"The doctor just looked extremely fast and said it was a wax plug. I think they should have examined him much more carefully," Wihlborg wrote in an article published by local Swedish daily newspaper Sydsvenskan.
A total of six doctors examined the boy's ear over the course of the next year, with all of them determining that the problem was a wax plug, while prescribing various cures that did not work.
"No one suspected that it could be anything else," the mother said.
During the visits, doctors often asked Wihlborg to hold her son still so that they could examine his ear properly. But she said it was very difficult to do so as he would panic. She asked the doctors several times to given him anti-anxiety medication, but her requests were denied.
Eventually, one doctor filmed the 3-year-old's ear, determined that it was a wax plug and referred him to Ängelholm Hospital outside Helsingborg so that it could be removed.
There, surgeons unexpectedly removed a 1.5 centimeter-long (0.6 inches) black mealworm beetle from the boy's ear, which the family brought home in a plastic tube.
"The doctors saved the beetle to show us," the mother said. "My husband who was there told me that several doctors came into the room to look. No one had ever seen anything like it."
Wihlborg told Newsweek that the family is waiting for a referral to a doctor who will perform a hearing test on him.
"So right now we know nothing about his hearing in that ear," she said.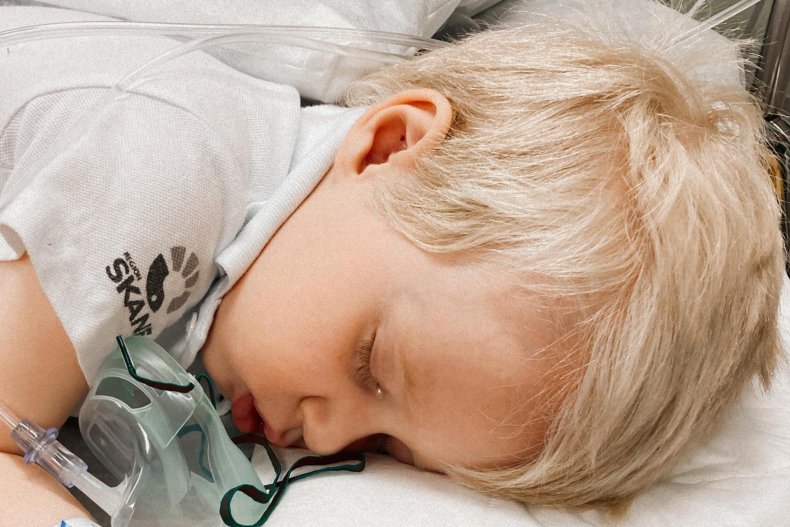 Wihlborg told Newsweek: "My husband was the one who was with him during the day he had surgery and he was of course shocked and started laughing. I was very angry, shocked and sad about the message."
Daniel Nordanstig, chief physician at Skåne's Hospital Northwest in the city of Malmö, Sweden, told local Swedish daily Helsingborgs Dagblad that it is not uncommon for children to have foreign objects stuck in their ears.
"But small children rarely allow you to look properly and dig deep. In addition, wax may have settled around, so that it becomes an embedded object, or an insect, or whatever it is."
The boy's mother said she was angry that so many doctors had missed the beetle in her son's ear.
"The fact that six doctors couldn't see better is a riddle for me," she wrote in her Facebook post. "I'm so angry, disappointed, sad, irritated, pissed off. It is completely unacceptable from all doctors involved in this."
This article has been updated to include additional comments from Emelie Wihlborg.