'Beetlejuice' Gut-Busting Broadway Musical Where Ghouls Go Wild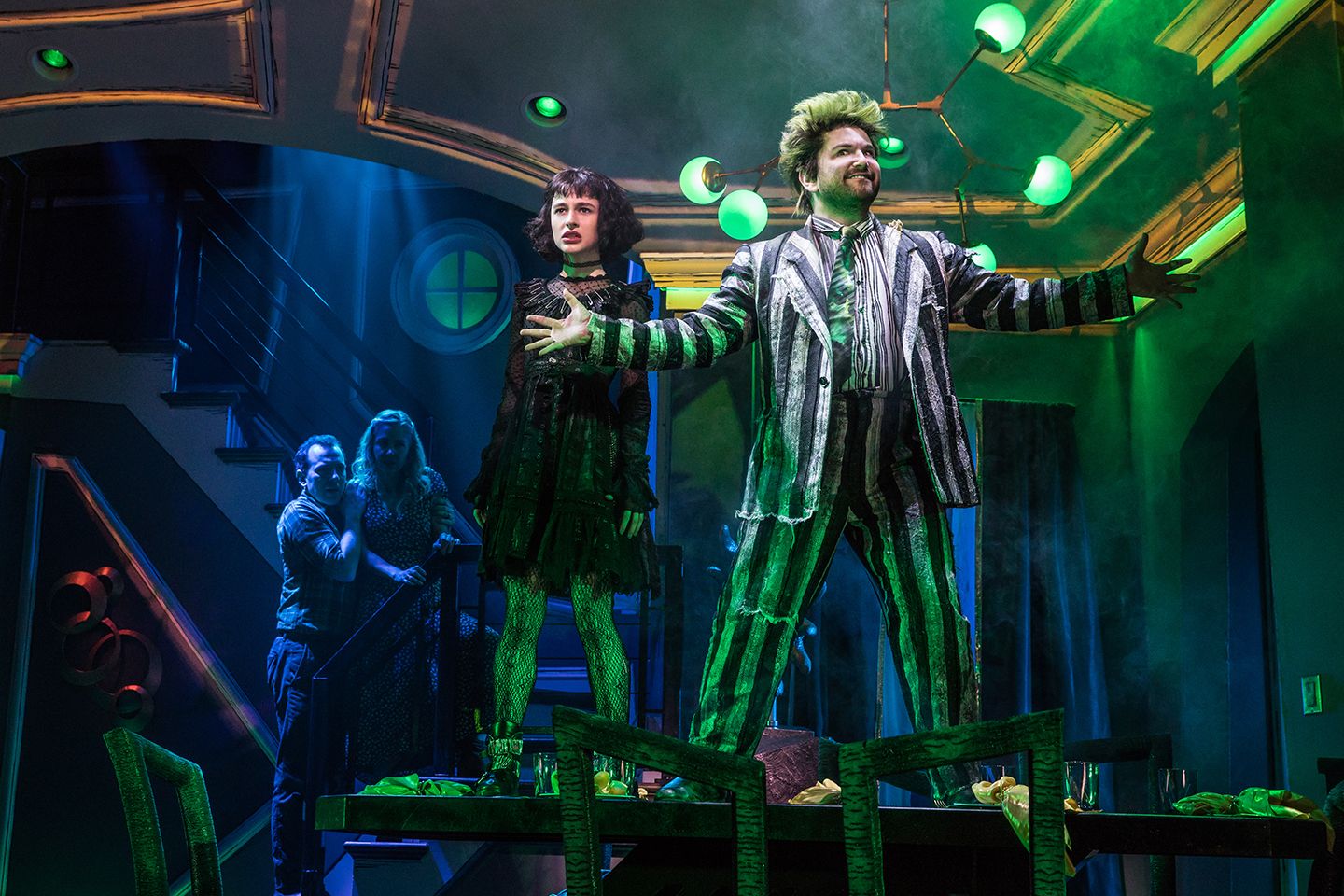 When you see a good musical, the fun usually begins right after the overture or the opening song. In Beetlejuice, the fun begins when you are on line waiting to go in. It is a costume party, a support group and a coven rolled up into one. It was like a Rocky Horror Show for the 21st century.
One woman looked like she had fainted face-first into a bowl of flour, then quickly applied lip gloss to her eyelids and eyeliner to her lips. Another person had hair that Medusa would envy; his makeup echoed Jack Nicholson's as the Joker. They both received polite applause as they made their way to their seats. While we were waiting—remember, the curtain still hadn't gone up—there were smatterings of applause, mostly for costumes, but a nearby one was louder than most. When I asked what it was about, someone said, "I think they got engaged." Another person thought it might be a suicide pact, but that would be too tacky to mention here. Finally, everyone settled down. You'd think the show was over, but it had only just begun. Then it was strobe lights and poltergeists, a kiss of death and they were on their way.
And then a minute into the title character's "The Whole 'Being Dead' Thing," actually I think it is 30 seconds, all hell breaks loose. Well technically Limbo, but Limbo doesn't exist anymore, and besides hell is where all the best people go. The powers that be (for Beetlejuice, not creation) have taken Jerome Robbins' advice and let the audience know upfront what the play is about: death.
That song tells you more than the show's subject matter. You know right away that you are in for one irreverent, funny roller-coaster ride to hell and back. It has bloodcurdlingly, witty dialogue. And a bunch of over-the-top characters. A man down the aisle from me laughed so hard he nearly lost one of his heads.
This follows a formula—a formula in the best sense of the term. (The 32-bar standard is a formula that has served the great American songbook quite well over the years.) Nothing here is by rote: no paint-by-numbers characters or fill-in-the-blank jokes. In fact, from what I am told—I never saw the 1988 movie—that there have been a lot of departures made in this version of the story. (This didn't seem to bother any of the ghost, goblins or ghouls in the audience who must have seen the original.)
To get out of this halfway house of the dead and get on with this afterlife, Beetlejuice (Alex Brightman) needs a living person to say his name three times in a row. That's it. No muss, no fuss, no ruby slippers required, just: Beetlejuice, Beetlejuice, Beetle—well wait for it.
The only glitch is he can't do it himself; he needs the help of Adam (Rob McClure) and Barbara (Kerry Butler)—two recently dead and eternally doofy yuppies who might scare a person into submission. One problem is that they are two of the least-scary ghosts since Casper last haunted the Famous Studios animation department. Beetlejuice has to give them scare lessons, and they are not quick learners. It's enough to make a grown devil cry. They do serve one purpose, however, they introduce him to Lydia, a dark and Goth-y version of Wednesday Addams.
Lydia (Sophia Anne Caruso) is morbidly depressed. Her mother has died, and she has a father who is hopeless and a stepmother only a Grimm brother could love. When Lydia and Beetlejuice meet, it is a match made in Purgatory: She's a girl who wishes she was dead; he's a demon who wishes he was a live. Small world, isn't it? And when they team up everything goes to hell, which in this case is good.
In the title role, Alex Brightman is wonderfully larger than life—err death—part demon, part magician, part ghoul gone wild. And Caruso (who is reportedly 17 years old, but I don't believe it) is more poised and engaging than many actors twice her age—whatever it is.
McClure and Butler are perfect foils for Brightman and Caruso. They are low-key where the others are high and gullible where they sharp. As Lydia's father and Adam Dannheisser manages to maintain some sympathy while being utterly clueless, and Leslie Kritzer, as stepmom/trophy wife Delia, talks like she dropped acid during a Tony Robbins seminar.
The hidden star in this show, however, is Scott Brown and Anthony King's book. It is cleverly written and constantly surprising, and very, very funny. This is one show where some people will bust a gut; others laugh may their asses off—and, if the audience I was with is any indication, that could happen literally.
Beetlejuice is playing at the Winter Garden Theater on Broadway. For more information go to BeetlejuiceBroadway.com.