Before 1/6, Oath Keepers Stored Weapons, Supplies to Hold Capitol for a Month: Court Docs
The Justice Department filed a document Tuesday requesting the pretrial detention of a suspected Oath Keeper member. Inside the document are allegations that members of the far-right group stockpiled approximately a month's worth of weapons and supplies outside of Washington, D.C., before last January's Capitol riot.
The purpose of the memo is to seek the detention of Edward Vallejo, who was among 11 suspected Oath Keepers indicted last Thursday on charges of seditious conspiracy for the events on January 6. Those charges are the most severe indictments yet in relation to the Capitol riot.
Tuesday's memo from Justice Department prosecutors says the group had allegedly stored "at least three luggage carts' worth of gun boxes, rifle cases, and suitcases filled with ammunition" at a Comfort Inn in Arlington, Virginia.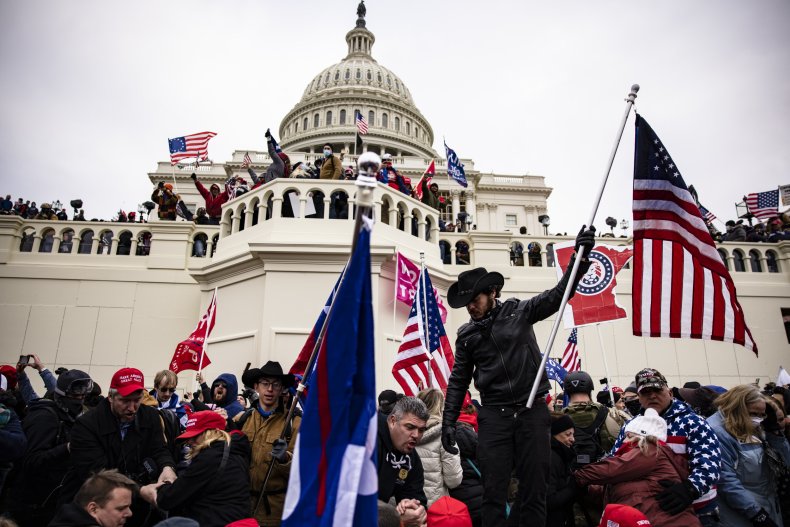 The Oath Keeper's founder, Stewart Rhodes, was among the 11 individuals charged last week.
The group had allegedly set up a "quick reaction force" team at the hotel for the purpose of supplying weapons to individuals that were trying to prevent Congress from certifying Joe Biden as the winner of 2020's presidential election, according to the memo.
The prosecutors also allege that "Vallejo was prepared for a prolonged attack with a months' worth of food and was already targeting the next constitutional benchmark of January 20, Inauguration Day."
The morning after January 6, "Vallejo performed 'Recon' in the area near the Capitol to see if he and his co-conspirators' could 'probe their defense line,'" the prosecutors wrote.
The document also states that in the days following January 6, "Vallejo's team reached out to Rhodes for next steps while his co-conspirators continued to make plans to stop the presidential power transfer, amass additional weaponry and tactical gear, and prepare themselves to deploy their arms, if necessary, to stop the inauguration of a new president."
The memo says a team of four men was set up in the hotel's lot with rifles "ready to go" on January 5. It also states that Vallejo and other Oath Members arrived and "wheeled in bags and large bins of weapons, ammunition, and essential supplies to last 30 days."
The Justice Department memo argues that Vallejo should not be released pending trial.
"That Vallejo's co-conspirators did not activate him on January 6 does not mitigate his dangerousness," the prosecutors wrote.
"Vallejo traveled across the country and staged himself near the congressional proceedings ready to transport firearms and equipment into the nation's capital," the continued. "That is what makes him a danger. And there is no evidence that he has renounced violence or that he no longer believes in the necessity of guerilla warfare after January 6."