Becca Kufrin Breakup: Ex Garrett Yrigoyen Has Been in Hot Water Before
After months of speculation, Becca Kufrin announced her broken engagement to Garrett Yrigoyen on Tuesday. In a heartfelt Instagram post, Kufrin shared a photo of the two along with an explanation on the split.
"With a heavy heart, Garrett and I have come to the loving conclusion to end our engagement," she wrote. "All that we will share is that we still have nothing but love and respect for one another even though we've decided to go down our own separate paths. While we've arrived at this point, it doesn't diminish the countless, amazing memories made together. We hope that everyone can allow us grace, respect and the time to heal our hearts as we navigate this next chapter in our lives."
The split comes after Kufrin admitted the pair were struggling with political and societal differences on her podcast with Rachel Lindsay, Bachelor Happy Hour.
Yrigoyen has a complicated history with sharing controversial statements on social media. In July, Lindsay openly called Yrigoyen a "piece of s***" on another podcast, Everything Iconic, after he made arguments in defense of the police during the Black Lives Matter movement.
"He has doubled down on his beliefs," Lindsay noted of Yrigoyen's controversial time in the spotlight. "This is not the first time he has had problematic behavior. When he was on the season—he had a history of liking things that were racist, sexist, homophobic, calling the Parkland students 'child actors.' It was a lot."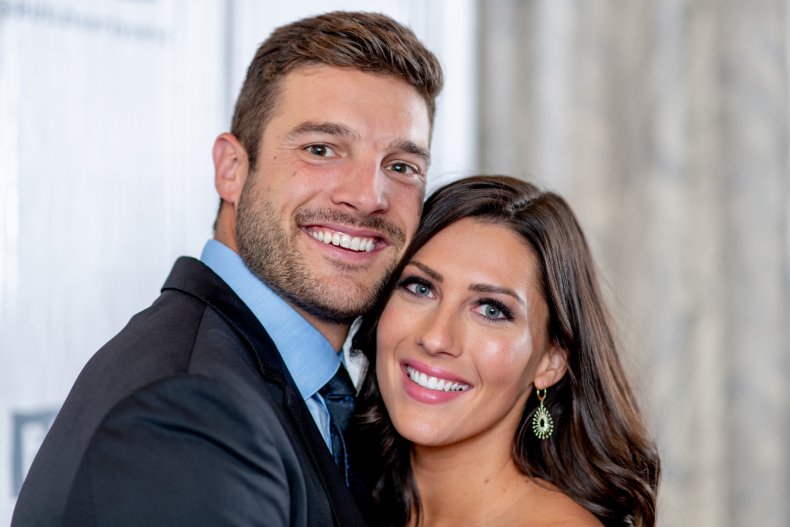 While Kufrin's season of The Bachelorette was still airing, Yrigoyen found himself in the center of a giant controversy. At the time, Instagram had a feature that allowed users to see the constant activity of their followers. It's through this, Bachelorette viewers noticed Yrigoyen endorsing some controversial jokes.
In his list of controversial likes were memes that mocked immigrants, women and the transgender community, to name a few. But the one that stuck most with the audience was a conspiracy claim that stated a Parkland shooting survivor was an actor. You can see the full list of memes and other photos Yrigoyen liked via the Huffington Post screenshots here.
He did apologize for the likes during the Bachelorette finale in 2018. He later claimed he didn't necessarily support the messages. "I didn't believe the messages I was liking. I was just scrolling through and double tapping," he told Variety in 2018.
Though Yrigoyen claimed to have changed his ways after the meme controversy in 2018, he upset Bachelor fans again in 2020 when he took a definitive stance for police in the rise of the Black Lives Matter movement.
Yrigoyen posted a passionate caption about law enforcement, along with a "thin blue line" photo on Instagram June 4.
"I've listened, learned, helped, supported, and grown," his caption began. "With so many friends and family in law enforcement, I couldn't sit back and not support them and the hundreds of thousands of men and women of all races that represent this Thin Blue Line as well. It's important for me to recognize the ones who stand in the gap and put their lives on the line each and every single day for humans of different race and ethnicity, including those who hate them."
Kufrin and Lindsay had a heartfelt exchange about Yrigoyen's words during a June episode of the podcast. "Garrett is my fiancé and I love him and, to his core, I believe that he is a good person," Kufrin explained. "I don't align with and I don't agree with [his post]."
She continued: "I don't think that was the time or the place or the right sentiment... we're struggling too right now. There's a lot going on and now I'm struggling with this.... There is still a lot of growth and changing of mindsets I would like to see take place."
A week after the Bachelor Happy Hour exchange that talked about Yrigoyen's thin blue line post, Kufrin revealed their relationship status. "For those who are curious about my relationship with Garrett at this point, all I can say right now is that I don't know," she said. "I can't give anything more than that."
Newsweek reached out to Yrigoyen for comment about his former controversies via his website but didn't hear back at the time of publication.