Among new allegations of inappropriate behavior from 43 women in a forthcoming book on President Donald Trump are claims that he went on a "wave" of "unwanted touching" before he proposed to Melania Knauss, his third wife.
All the President's Women: Donald Trump and the Making of a Predator by journalists Barry Levine and Monique El-Faizy, to be released October 22, characterizes Trump as a predator who abuses women but is shielded by wealth and power. Of the 43 allegations that come out of more than 100 interviews, some exclusive, 26 claim unwanted sexual contact. Some of Trump's alleged misbehavior with women occurred as his relationship with the future first lady was growing.
Knauss, then Trump's girlfriend, reportedly got extremely upset when she saw another woman's makeup in the bathroom they shared and the two broke up over trust issues. Knauss and Trump got back together after a few months but "Trump apparently hadn't abandoned those old habits," according to an excerpt obtained by Esquire, published Wednesday.
"In the period before he proposed to Melania, Trump engaged in a wave of allegedly unwanted touching," the book states, and goes into detail on one of the incidents at a Mar-a-Lago New Year's Eve celebration in the early 2000s.
The woman, Karen Johnson, claims that she was at Trump's resort in Palm Beach with her husband, who had multiple sclerosis. Johnson said she was wearing a Versace dress and dancing with friends and that her husband started feeling ill after the New Year countdown and they decided it was time to leave. Johnson first went to the restroom and as she was walking there, claims Trump made a move on her.
"I was grabbed and pulled behind a tapestry, and it was him. And I'm a tall girl and I had six-inch heels on, and I still remember looking up at him. And he's strong, and he just kissed me," she told the authors. "I was so scared because of who he was... I don't even know where it came from. I didn't have a say in the matter."
Johnson alleges that Trump got a hold of her hand and said, "You have to help me greet these guests out," because Knauss was upstairs. Johnson said she complied and did not act like anything was wrong because she did not want to make things awkward. Johnson said Trump called her days later after somehow getting her number, and tried to fly her to New York to visit him. She said she had to take care of her dying husband and refused, but it did not stop Trump's attempts at advancing.
"He said he'd have me back by six o'clock. This was like crazy. He was going to fly me to New York for the day to see him," Johnson said.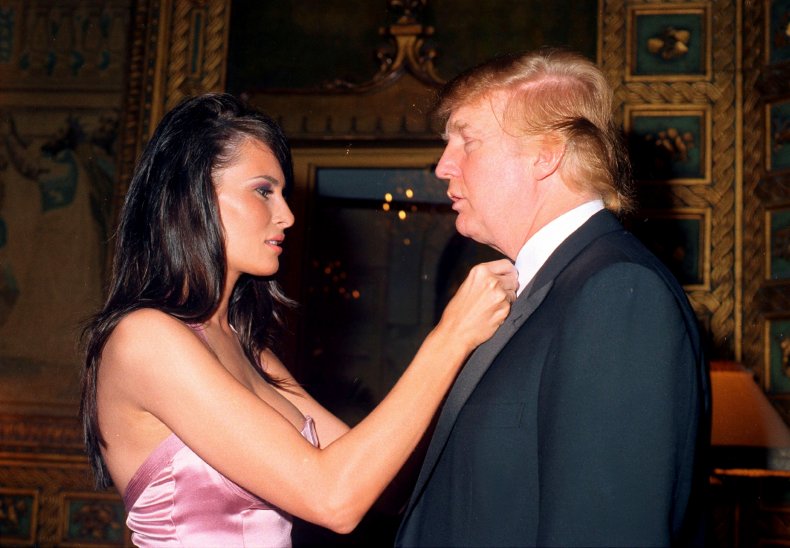 According to the book, Knauss saw fellow model Kara Young as the biggest threat among women he was dating.
"She knew Donald thought differently about [Young] than the way he casually would date other women in the city. Melania knew he treated Kara differently," celebrity reporter A.J. Benza told the authors. "This was a girl he stayed home with, ate at home with and watched movies ... It was very domesticated."
The White House did not immediately respond to a request for comment from Newsweek on Wednesday.
Trump has denied allegations of inappropriate behavior with women, and had not tweeted about the upcoming book as of late afternoon Wednesday.