Britain's rollout of the Pfizer COVID vaccine "feels like the beginning of the end", the NHS's medical director in England said as doses began arriving at hospitals across the United Kingdom.
Professor Stephen Powis warned that the widespread administration of the vaccine will be a "marathon, not a sprint" as healthcare providers prepared to begin giving injections on Tuesday. "It will take many months for us to vaccinate everybody who needs vaccination," he said.
The first delivery of the Pfizer vaccine to the U.K. is some 800,000 doses, enough to vaccinate 400,000 people. Ministers hope for several million more doses by the end of the year from Pfizer's manufacturing plant in Belgium. Even if this is delivered, it will only allow a few million people to be vaccinated before Christmas. Identity cards that show whether someone has been vaccinated against COVID-19 have been unveiled causing concerns the cards could act as "vaccination passports", allowing only those who have had the jab certain freedoms from social restrictions.
Cabinet Office minister Michael Gove has insisted the cards are not "passports" to freedom but some companies - including at least one airline - have already said they will offer preferential treatment for individuals who have been vaccinated. Foreign Office minister James Cleverly said the cards would allow millions of people to have their lives "unlocked", telling Sky News: "It's about unlocking people's lives, it's about unlocking the economy, it's about making sure we protect lives and protect livelihoods."
The Department of Health and Social Care (DHSC) said there are still a number of operational and logistical steps that need to happen before the vaccine can start being administered to the public. The distribution of the vaccine across the U.K. is being undertaken by Public Health England and the National Health Service (NHS) in England, Scotland, Wales and Northern Ireland through systems specially adapted from those used for already established national immunization programs.
The DHSC said "a post-delivery quality assurance process" will be carried out on the first batches of the Pfizer vaccine to arrive from Belgium to ensure the "quality and integrity has been maintained through transit". The process, carried out by a specialist medical logistics company, could take 12 to 24 hours and relies upon information on the shipment temperature data being supplied by Pfizer.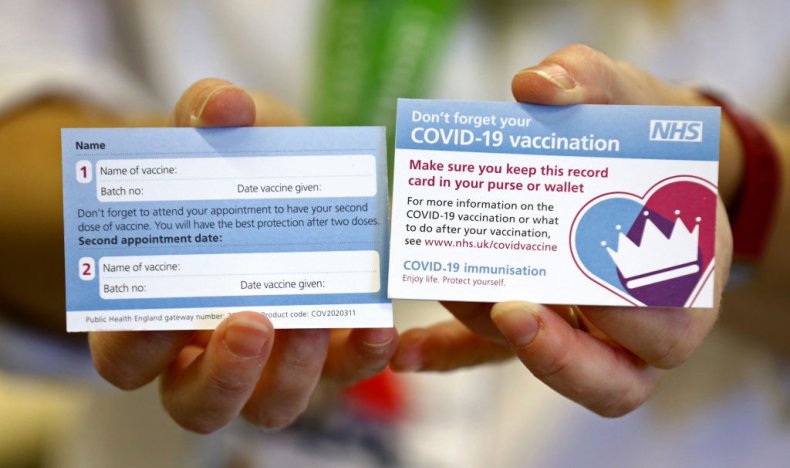 Over the following days, each box will be opened and unpacked manually, and temperature data has to be downloaded, the DHSC said. There are five packs of 975 doses per box and only sites with a license granted by the Medicines and Healthcare products Regulatory Agency (MHRA) can split the vaccine packs. Once all checks are complete, the vaccine will be made available to order by authorized sites in the NHS, with around 50 hospitals cleared to administer it in England so far.
The DHSC said the Pfizer-BioNTech COVID-19 vaccine will be administered from "Hospital Hubs" first as it needs to be stored at very cold temperatures and moved carefully. Defrosting the vaccine takes a few hours and then additional time is required to prepare the vaccine for administering. These steps mean that it will be difficult to reach those in care homes, who are meant to be among the first to receive the jab.
Over 1,000 local vaccination centers, operated by groups of GPs, will come online shortly, the DHSC said. Bigger vaccination centers and smaller arrangements through local pharmacies will be confirmed once more doses of the vaccine are available, it added. Health chiefs are urging people to "wait your turn" for the vaccine amid worries that hospitals and doctor's surgeries could be overwhelmed by demand.
One NHS trust in London has been giving out a leaflet entitled "Why do I have to wait for my COVID-19 vaccine?", the Evening Standard reports.
It lists the priority groups to receive the vaccine first, starting with care home residents and workers, the over 80s and frontline health workers then running down the age groups to the over 50s. People are also warned that even if they get the injection, they should still follow social distancing rules as it is not clear whether they can still transmit the disease.
World Health Organisation special envoy for COVID, Dr. David Nabarro warned it will be some months before we can dispense with precautions. "None of us will be safe until the whole world is safe," he told Sky News. "Big patches of normality are coming up soon, but not everyone will be vaccinated for at least a couple of years. So normal life as we know it is a couple of years away for the world."
In total, the British government has ordered 40 million doses of the Pfizer vaccine but has ordered 100 million doses of the Oxford/AstraZeneca vaccine which it is hoped will receive approval soon from the MHRA. The AstraZeneca model is easier to use as, unlike Pfizer's, it does not have to be stored at -70C.
The graphic below, produced by Statista, shows the total number of COVID-19 vaccine doses secured by the U.K. government.