Behati Prinsloo Laughs off Adam Levine Cheating Rumors After Giving Birth
Adam Levine's wife Behati Prinsloo is seeing the funny side of those Instagram cheating rumors.
The model, 34, showed social media she's still in good spirits, just days after giving birth to her and Levine's third child. She was in on the joke when a popular podcast account teased an appearance by the Maroon 5 frontman to discuss his "infidelity."
In September 2022, musician Levine became the focus of speculation and internet ridicule when his alleged Instagram DMs were made public. The 43-year-old released a statement on social media at the time, denying having an affair. However, he did admit to being "inappropriate" and for displaying "poor judgment."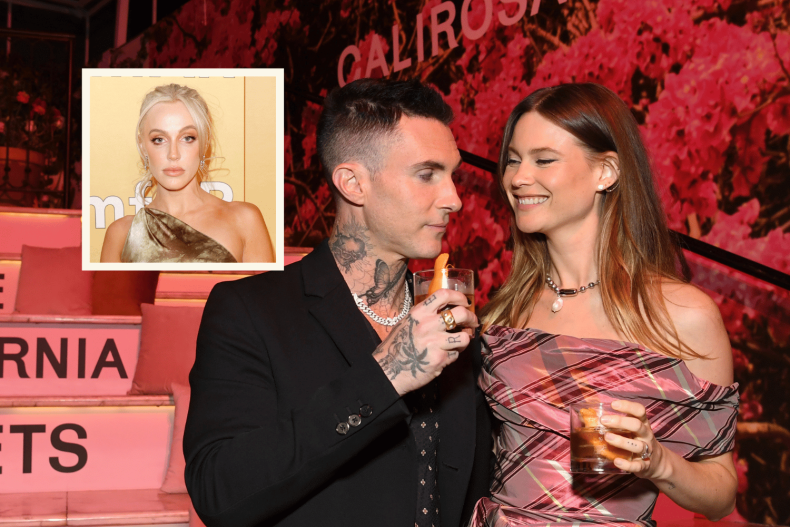 He's kept a low profile since, and has seemingly not taken part in any interviews. That looked set to change on Monday when the Barstool Sports podcast Call Her Daddy released a teaser for its next episode.
"I have to tell you I was a huge Maroon 5 fan and I'm glad that you agreed to sit down with me today, and discuss the scandal surrounding the infidelity in your marriage," host Alex Cooper was seen asking an unidentified guest. "How many times did you cheat with women that you met on Instagram?" she added.
The teaser for their next episode never revealed who the guest was, but a bar from Maroon 5's hit "She Will Be Loved" is heard in the background.
Sensing, or perhaps even knowing that it was all a set-up to a joke, Levine's wife commented.
"LOL" Namibian model Prinsloo wrote in the comments section of the Call Her Daddy podcast account. Thousands of people liked her response with dozens replying to it, praising her for her good humor.
Levine and Prinsloo have three children together now. Their two daughters, Dusty Rose and Gio Grace, were born in 2016 and 2018, while they welcomed their third child into the world on January 28, 2023. Neither parent announced the news, but sources close to the couple confirmed it to People.
As it turned out, the Call Her Daddy podcast guest wasn't Levine. It was Adam DeVine, actor in movies such as Pitch Perfect and TV shows like The Righteous Gemstones.
DeVine showed he was happy to be in on the joke in the next Call Her Daddy Instagram post where the podcasters revealed him as the guest. Answering the question about affairs with women on Instagram, the actor and comedian turns to the camera and happily says, "Zero times."