'Lion Whisperer' Breaks Silence After Lioness in His Care Kills Young Woman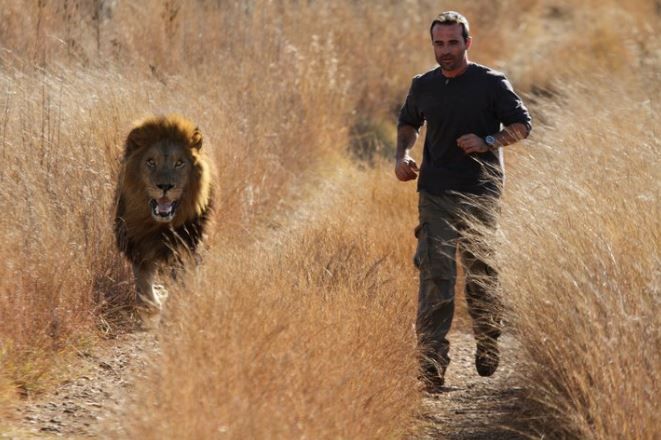 A prominent animal behaviorist known as the "lion whisperer" is breaking his silence after a lioness under his care killed a 22-year-old woman at a private game reserve in South Africa.
Kevin Richardson said he was "saddened and shocked" by the death, which made headlines on Tuesday. He explained in a statement that he and a colleague had taken three lions out for their weekly exercise before the attack occurred.
"Myself and an experienced colleague took three lions walking in the reserve, as we do on a weekly basis, as part of their exercise and stimulation regimen," he said, adding that he followed proper notification procedures.
"One of the lionesses charged off after an impala and must have run [about a mile], where she encountered the 22-year-old outside the car," he said.
The victim was not a guest at the camp and was instead visiting to conduct an interview for an assignment, Richardson said. He offered his "condolences" and "heartfelt sympathies" to the woman's family.
The mauling happened Tuesday afternoon local time. South African news outlet Eyewitness News reported that the Gauteng Department of Agriculture was investigating the incident.
"It is indeed very sad and regrettable," said Loyiso Mkwana, director-general of natural resources at Gauteng Department of Agriculture, according to the news outlet. "We are with the members of the family of the deceased. These kinds of incidents, we should not have them, and we should always have vicious, dangerous animals like lions under control."
Richardson is the founder of the Kevin Richardson Wildlife Sanctuary, an organization that seeks to provide a "self-sustaining African carnivore sanctuary" to help mitigate damage done by habitat loss and illegal trade, according to the sanctuary's mission statement. This is the first time a person has been killed at the South African sanctuary.
Fewer than 100 people are killed by lions each year, according to the World Health Organization.