Behind Alabama Shakes' Soulful Rise to the Top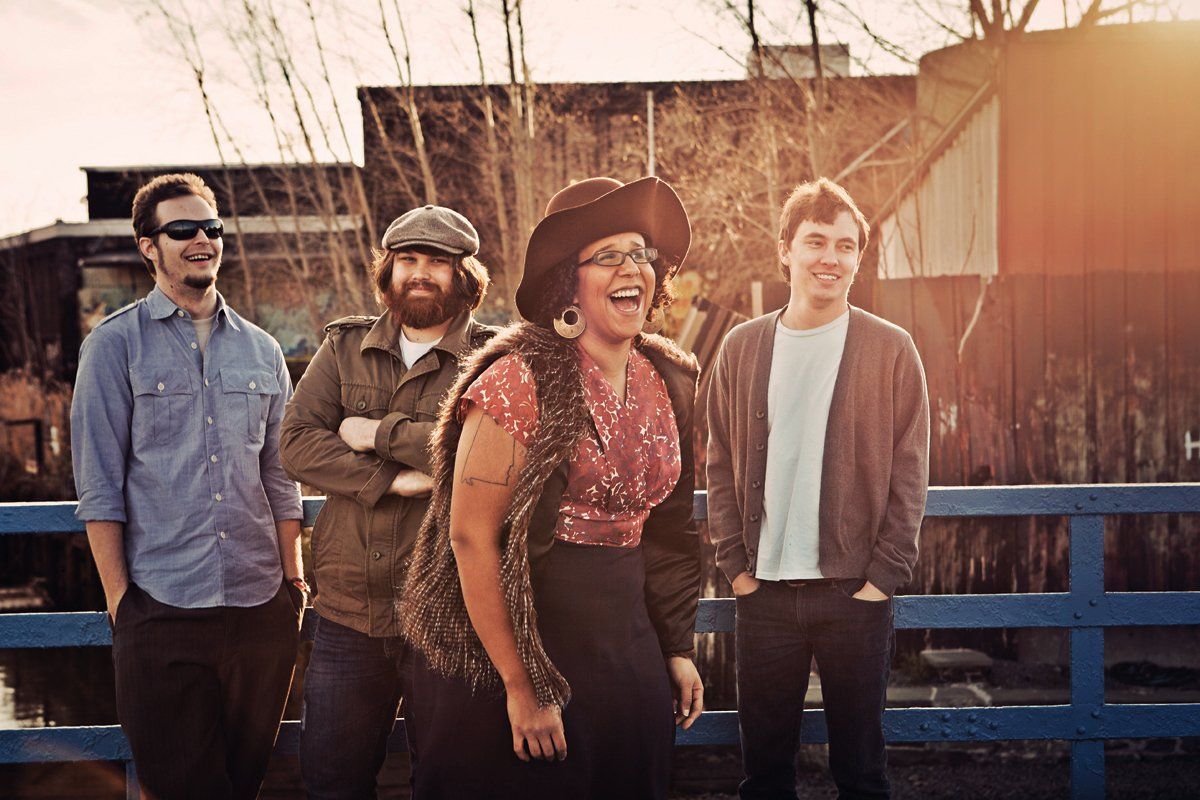 Between floor-thumping beats and crowd-pleasing choruses, Brittany Howard can't seem to get used to the 3,000 fans stacked along the stage and pressed against the railings at New York's Terminal 5 concert hall.
"This could be the best night God ever gave us," she roars, before admitting that she usually screams to the point of exhaustion during live performances. Tonight she's holding back a bit. It's early October, and there are four long months of touring ahead for Howard and the other three musicians who make up Alabama Shakes, a soul band with Southern roots and a burgeoning next-big-thing status.
To get a taste of their raw, blues-tinged power, watch the music video for their first single, "Hold On," viewed more than three million times on YouTube. It helped propel Boys and Girls, their debut album released in April, to sell over 295,000 copies according to Nielsen Soundscan. The hard-to-please website Pitchfork called it "a solid debut," and Rolling Stone doled out 3.5 stars. They opened for the Drive-By Truckers, Jack White, and Robert Plant. Adele and Bon Iver are reportedly fans. Now in the middle of a headlining tour that will take them through the U.S.—including a night opening for Neil Young in their home state of Alabama—the band will head to sold-out dates in Europe, the U.K., Australia, and South America.
It's been a remarkably fast rise to cult stardom for the Shakes. A year ago, they were a little-known act playing to outsize expectations at Bowery Ballroom (capacity: 500) in New York City as part of the CMJ Music Marathon, after which word spread that Howard was the second coming of Janis Joplin. Then came a record deal with ATO and a soundtrack spot on a Zales holiday commercial. By spring they were promoting their album with appearances on Conan and the Late Show With David Letterman.
Their backstory was instantly captivating: four musicians from the backwoods of Alabama were supplanting small-town jobs (postal worker, nuclear-power-plant guard) with biweekly practice sessions and bowling-alley gigs. Howard, now 24, befriended the band's bassist, Zac Cockrell, in high school in Athens (population: 26,000). Post-graduation, they jammed together after their day jobs. Drummer Steven Johnson met the duo while delivering a FedEx package to Cockrell at the animal shelter where he worked. He remembers suggesting, "I'd like to jam with y'all if you're cool with it." Their first gig, in April 2009, was a 45-minute set of covers from the likes of Led Zeppelin, Chuck Berry, and James Brown, plus a few originals. "We just kind of stole the show," says Johnson.
The foursome spent a little over two years playing shows in and around Athens, practicing in an abandoned trailer and a house built by Howard's great-grandfather. They continued to develop their own material, which would later fill Boys and Girls. In July 2011, blogger and radio personality Justin Gage posted "You Ain't Alone" on his site, Aquarium Drunkard. "I was struck by the immediacy and authenticity of their sound," wrote Gage via email. It was "modern 'roots music' possessed of an ineffable quality rarely found these days."
Asked how the band has changed since their audience multiplied a thousandfold, Howard says: "I do my hair now, and I put on a dress to go on stage." Her energy and booming voice are the keystone of the band's live act, but it's the sort of set that can't be easy to repeat nightly. "You gotta find the power and connect with these people that appreciate something you made," says Howard. "Some days you don't feel like it, but ... even when my voice is struggling, we don't pull back. We push through." And about those comparisons to Joplin—Howard doesn't see it: "I don't think I sound like Janis Joplin. I'm a woman with a raspy voice. I don't really care. I'm not a huge Janis Joplin fan. I think I sound more like Bon Scott [of AC/DC]."
The future holds a lot of pressure for the Shakes, whose members still seem a little shellshocked by the mainstream's gaze. "We love touring, we love playing shows," says Johnson. "But the point that we're at now—I don't think we've realized [our success] because we have to tour so much. In some instances, you don't treat it as reality. You're sleep-deprived and worn out." And the music industry is notoriously fickle. "They're selling authenticity," says Bob Lefsetz, a music-industry analyst. But, "they've only put out one album. The mainstream hype exceeds the amount of material."
For the moment, the luxury of being paid to play is enough. "Even if nobody cared, I'm still gonna make music," says Howard. "I'm lucky right now."