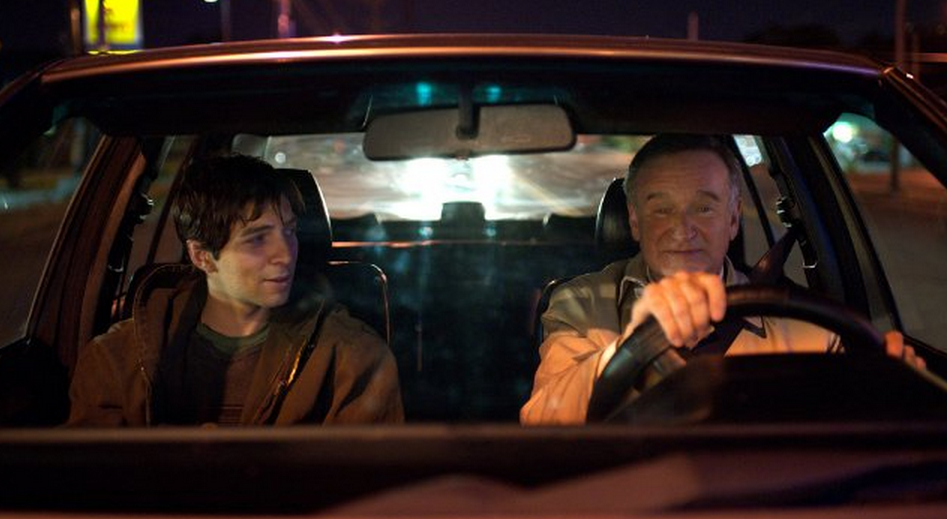 There is a scene midway through Robin Williams's last film where his character describes a memory he can't forget to a father who probably can't hear it with a regret he can't seem to bear. It's about realizing he was gay, at the beach when he was 12. "It was my secret," Nolan Mack (Williams), the protagonist in Boulevard, tells his comatose dad. "Suddenly, I'm 60 years old; it's like I'm still there, like nothing happened. It's like I'm still waiting for something I felt was promised to me that day." In a brief moment, Robin Williams's eyes go from nostalgia to anguish to fury and shame.
The scene is a convincing case for the late actor's underrecognized dramatic abilities. And yet off-screen, while shooting the movie in Nashville in 2013, the actor was his usual indefatigable self.
"He was constantly making people laugh," co-star Robert Aguire says. "He was generous, kind. He was so available to everyone around him…. There was no sense of greed or selfishness." Aguire remembers a particularly grueling week toward the end of the shoot. The cast was drained. Then, in the middle of a scene, a large ice cream truck pulled up to the set. It was Robin Williams's doing; he used the moment to thank everyone for putting so much work into the film. "It was such an embodiment of who he was to have this ice cream truck show up," Aguire says.
At its best, Boulevard is wrenching. So is the knowledge of how the actor's life came to a halt between filming and release. Williams probably didn't know that Nolan, the kind but conflicted 60-year-old banker, would be his last on-screen performance (he voices a dog character in the forthcoming Absolutely Anything). Shooting wrapped up about a year before Williams's 2014 death. If the actor was hurting then, he kept it to himself—in public and on set.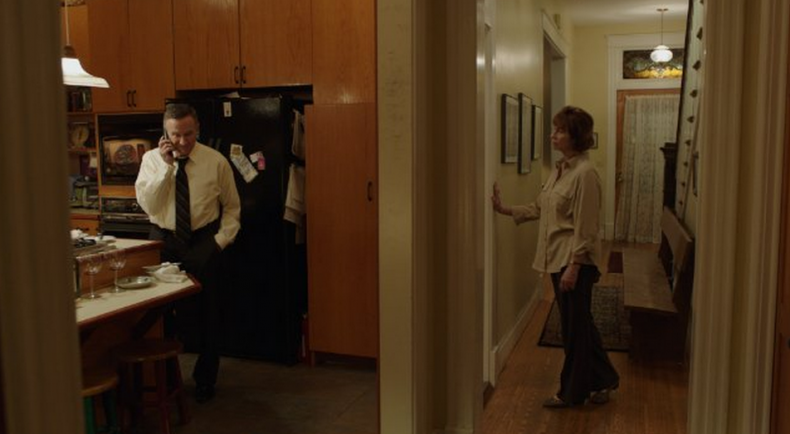 Nolan, though, is definitely hurting—this we can see immediately. He and his wife (Kathy Baker) sleep in separate beds. His father is in a nursing home in a near-catatonic stupor. With a dignified sort of sad-sack grace, Williams plays an older man caught between a passionless marriage and the long-inescapable fact that he is gay. Of course he meets someone: a young hustler named Leo (played with a skittish energy by Aguire, a young Swiss-raised actor), but it's not all Pretty Woman. Boulevard's complexity stems from how it sidesteps a sexual tryst; Nolan's relationship with the young man wavers between a platonic friendship and a paternal intervention. "It's almost a painful relationship," says Aguire, who had to lose 35 pounds for the role.
"I have this fear or phobia of hurting people," Nolan stutters to Leo when they first meet, but the effects of their relationship will wind up damaging every corner of his manicured life. The director, Dito Montiel (Empire State, The Son of No One), says he read Douglas Soesbe's script and was drawn to the idea of an older character shattering the quietude and comfort he's created. That interest was fueled by a personal experience: Montiel's parents divorced when they were in their late 60s. "I remember saying, 'Ma, what are you going to do?'" Montiel recalls. "And she was like, 'I'm not done yet, you know?'" Nolan's relationship with his wife is a tricky thing—it's tender, but tense and wearied by deceit. We can tell that their love is real but has waned. Instead of acknowledging that, they halfheartedly plan for a couples' cruise. "This may be the story of coming out, but I saw it as a story of letting go," the director says. "Maybe just thinking of my parents, how hard it was for them to do that after all those years."
Williams played losers and downers before Nolan. But the actor's last stand isn't a throwback to the age of Mrs. Doubtfire and Jumanji. There's none of the manic confidence he wielded in Dead Poets Society, an early foray into dramatic territory. Here, he is unusually restrained. Boulevard becomes a glimpse at a Robin Williams we never really got to know: older, quieter, searching for something that can't be satisfied in frenzied outbursts and impersonations. (When the script does sneak in brief hints of Williams's hopped-up comedy, the effect is more awkward than satisfying.)
But in Montiel's vision, the actor's on-screen restraint lined up with Nolan's character. "He's trying to play a character that couldn't express himself," Montiel says. "When you hang out with Robin, he is that guy, jumping around saying crazy things. I knew the character couldn't do that, and he did too…. [The character Nolan is] trapped. He's not able to be himself."
It's fiction, but something about the theme of middle-age discontentment—coupled with the knowledge of Williams's eventual suicide—gives Boulevard an eerie afterglow. So does a weirder coincidence involving real-life domestic discord. The Nashville house where Boulevard was filmed belonged to a married couple who really did sleep in separate bedrooms. The woman looked like Kathy Baker; her husband looked a bit like Williams. When the wife caught a glimpse of the plot, she went to the director crying and said, "Oh my God, my husband came out to me last year after 35 years."
The couple's only request: to be on-set when Williams and Baker filmed a scene confronting each other. So they were. "While we were filming that scene, they were sitting in the back, with headphones on, crying," Montiel remembers. "Robin Williams came over to me and said, 'This is getting too freaky for me, man.'"