'We're Surrounded!' Behind the California Barricades With Trump, Cruz and Mr. Bad Haircut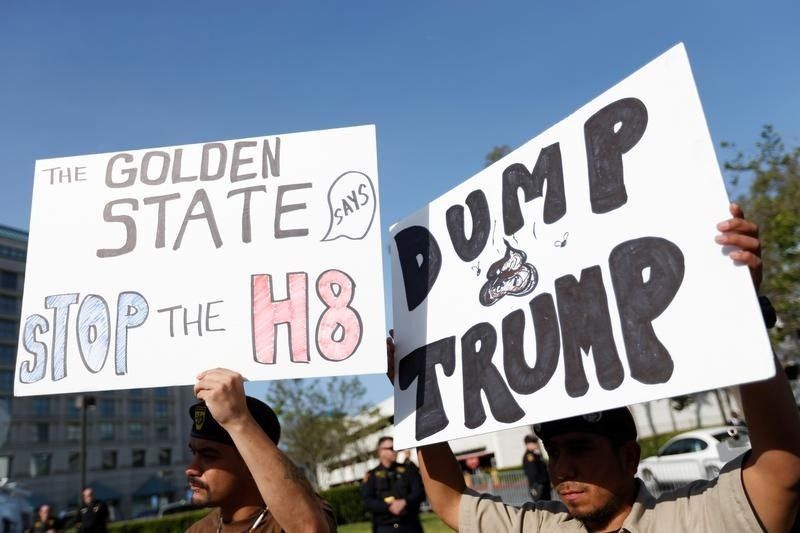 There was a moment when I thought I knew what the Russian royal family felt like as the Bolsheviks stormed the Winter Palace in St. Petersburg. I was inside the less-than-palatial Hyatt Regency on Friday afternoon, in less-than-imperial Burlingame, California, where the California Republican Party held its presidential convention over the weekend. Inside, delegates and guests awaited the arrival of failed steak salesman and leading candidate Donald Trump. Outside, hundreds of protesters were waving Mexican flags and signs proclaiming Trump a xenophobe and racist. Earlier that morning, a "Dump Trump" protester with a bullhorn had been escorted out of the hotel. That had been funny. Now, there were reports of violence, intimations of what had taken place the previous night outside a Trump rally in Orange County.
"We're surrounded," said a mustachioed Associated Press reporter sitting next to me in the banquet hall, scrolling dourly through his Twitter feed. "We're totally fucking surrounded." I assumed that if the Hyatt were stormed, I'd be spared because I once voted for Ralph Nader. But that was a long time ago, and now I was part of the press, which somehow manages to infuriate both the right and the left. It was time to hit the cash bar and pray.
If the California GOP could only have foreseen the state of this primary, it would have scheduled its convention at some conference center deep in the desert near the Nevada border, not in the Bay Area, where some consider Bernie Sanders too centrist a candidate. But who could have foreseen this conflagration? The Republican primary in California is usually as relevant as the Democratic primary in Alaska, but this is the year, you may have heard, that a guy who marries Eastern European models and eats well-done steaks and is touchy about his hand size decided he'd like to cuddle with the nation's nuclear codes for four years or maybe eight or, if he gets the Constitution amended, until he passes into the big Trump Tower in the sky. So, now, the June 7 primary in California may very much matter, perhaps serving as a final bulwark against a Trump nomination and the November slaughter that would presumably follow. This is an enormous and unexpected responsibility for the state's 4.8 million Republicans, who like the Oakland Raiders have learned to accept irrelevance as their fate.
Strange things happen, though, whenever the GOP comes to kooky San Francisco. In 1964, the elephants stomped into the Cow Palace, just a few miles up the road from Burlingame, for their national convention. Emboldened conservatives shouted down Nelson D. Rockefeller, the moderate governor of New York, instead giving the nomination to far-right Arizona senator Barry Goldwater, who proclaimed his affinity for extremism from the podium. His defeat at the hand of Lyndon B. Johnson in November was worthy of the aforementioned Raiders.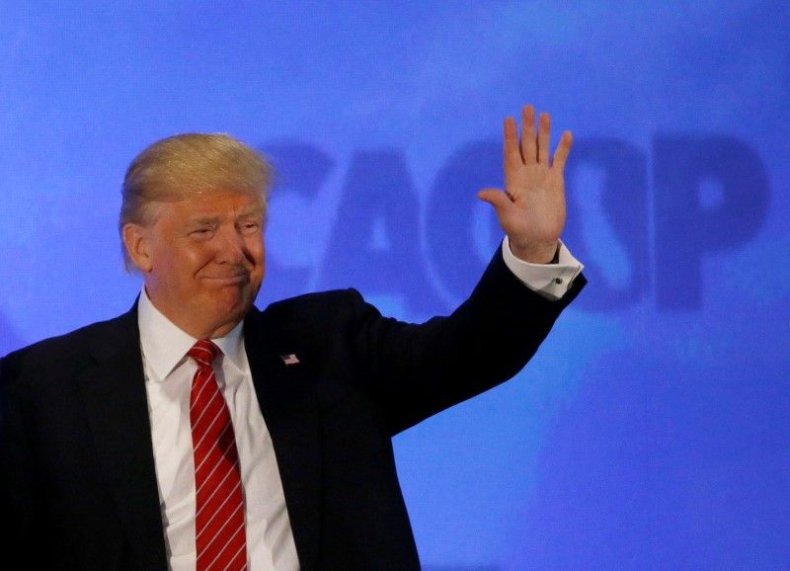 Back then, California Governor Pat Brown bemoaned the "stench of fascism" wafting from the convention. He should have lived to have a whiff of Trumpism. Brown's son, Jerry, is now the governor of California, and he has proposed building a wall around his state if the unsuccessful vodka huckster becomes president of the United States.
Bored with Trump
No walls barred Trump from Burlingame on Friday, but he did have to hop a fence to avoid the protesters gathered outside. He made it safely inside the hotel, which he must have noticed lacked the unspeakable luxury and glamour of a Trump property. Several minutes later, after a video introduction that twice featured an image of Trump in an embrace with a teenaged Ivanka, the daughter for whom he has openly professed a sexual attraction, the Orange One took the stage in Burlingame.
Trump spoke for about 20 minutes. This is all I can credibly say without impugning my skills of reportage. To be sure, I understood all of the words he said, but they did not ever build to anything that might be called a point. Trump seemed to be simply pulling things from his brain, confident that whatever he found there radiated wisdom.
"We did unbelievable numbers," Trump said.
"It's been amazing," he added.
"We did great," he elaborated.
"People see what's happening," he warned.
I have my doubts. Calling for unity, Trump mocked Jeb Bush and called Karl Rove "the dumbest human being on Earth." In his lexicon, "unity" means "submission to me," his sense of America best summarized by what he once told a female competitor on The Apprentice: "Must be a pretty picture, you dropping to your knees."
Speaking to a California GOP that often feels silenced by the state's vastly more powerful Democratic Party, Trump chose the curious tactic of utterly ignoring the state, its Republicans and the issues they care about. I wondered, briefly, if he thought he was in Indiana, where the Republicans have been campaigning ahead of a crucial primary. The plainly bored audience must have wondered too, likely regretting having paid $100 to hear Trump rant while eating bad hotel food.
"You have no idea the route they have planned for me to get out of here," Trump boasted near the end of his speech. Actually, I have a pretty good idea: a corridor, a door, an SUV, and then back on the freeway, speeding toward the gold-plated airplane that carries Trump around the nation, its primary fuel the infinite greatness of its owner.
Middle-of-the-road Kasich
Things outside the Hyatt were much quieter that evening for a dinner with Ohio Governor John Kasich, who appears as likely to become president as Dennis Rodman. Kasich, though, is not ready for his underdog campaign to fade into dusk. Trump rants, Cruz fulminates, but Kasich has perfected a kind of reasonable, middle-of-the-road passion.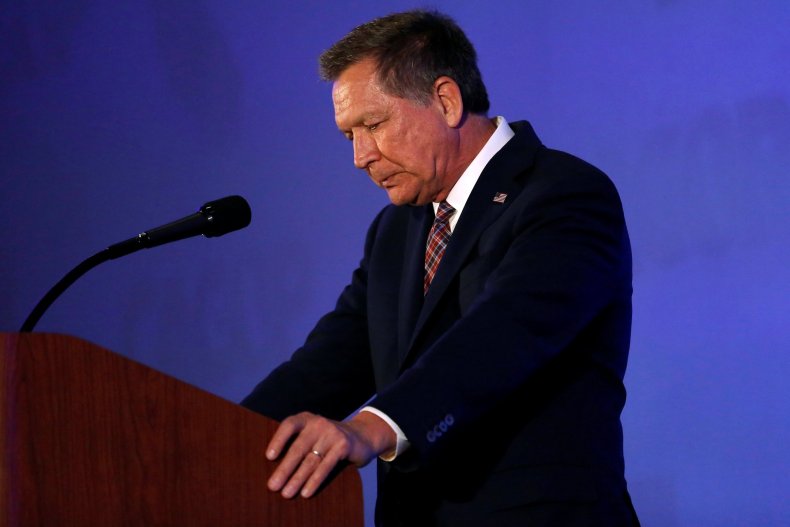 But while Kasich says things that sound presidential, he doesn't look or act the part. He is like your Midwestern uncle with the worrisome haircut who thinks it's hilarious that you live in Brooklyn and with whom you know to never get on the subject of "the gays."
Before the dinner, Kasich took some questions from the press, pointing out that he had honeymooned in San Francisco and Big Sur. He said that if he were to become the nominee, he would campaign in California, which a Republican presidential candidate has not won since the advent of the wheel. Later, he alluded to having wished he'd cashed in on the Silicon Valley tech boom. We all wish that, Mr. Governor.
The dinner itself was a long and eventless affair, made worse by the fact that the California GOP did not feed the press. So the press drank bottled water and complained and checked its Twitter feeds, which included an inexplicable tweet from Jeb Bush about Miami Heat star Dwyane Wade, who'd just won a playoff game by himself: "Dawane wade," the cryptic tweet said. It was creative spelling worthy of his brother, George W. Bush, who proved that you can be a disastrously inept businessman with questionable mental faculties and still rise to the most powerful elected office on Earth.
In a refreshingly human turn, Kasich acknowledged the homeless problem in San Francisco, having encountered a mentally ill woman earlier that day: "We have an obligation" to help. During his speech at the dinner, he spoke about "working poor" and rebuilding communities, like a committed reader of David Brooks who shops at Banana Republic and claims to have a vegan friend. He spoke about hope.
Just the kind of talk that doomed the poor bastard.
Preacher Cruz
Saturday morning belonged to Ted Cruz, though he's much more of a Sunday morning kind of guy. He has two modes of talking: lecturing and preaching, and he's resorted increasingly to the latter, spending the last several days in Indiana, railing against the rights of the transgendered to use the bathroom of their choice, an apparently important issue in a state where heroin and globalization have disheartened the populace.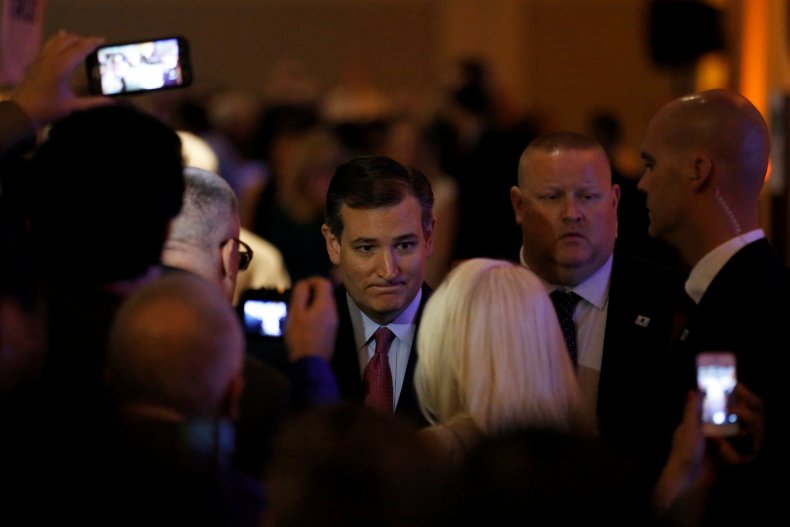 Cruz was introduced by Pete Wilson, the ineffectual former governor most Californians associate to this day with Proposition 187, which severely curtailed the rights of undocumented immigrants. Wilson called Cruz a "principled conservative," which seems to be the kindest thing anyone can say about the junior senator from Texas, who has been unfavorably compared to both Satan and the Zodiac Killer. Cruz referenced Ronald Reagan several times during his speech, but it is Goldwater to whose ferocious conservatism Cruz most closely hews.
It was a sunny day in Northern California, yet Cruz painted an apocalyptic vision of a state suffocated by "Democratic policies," which he called an "absolute disaster, absolute trainwreck." The example mustered was of water policy that took into account a fish called the delta smelt. The poor little creature came under prolonged abuse from Cruz, who is sort of like an anchovy: widely despised yet loved by a narrow base of the population. And it must be said that of the three candidates, Cruz is by far the most skilled speaker. He had an enthusiastic audience to match, an audience far more committed than Trump's had been the day before.
"California is at a crossroads," he said. This is not true. California has low unemployment, plenty of money and a functioning government in Sacramento, while free-enterprise has achieved its glorious apotheosis in Silicon Valley. The biggest point of debate these days is whether the Golden State Warriors will win the NBA finals in four games or in five.
"If we lose our freedom here, where do we go?" Cruz asked near the end of his speech. The answer to that could have been easily supplied by any Bay Area liberal: Canada.