Behind the Google CEO Shake-Up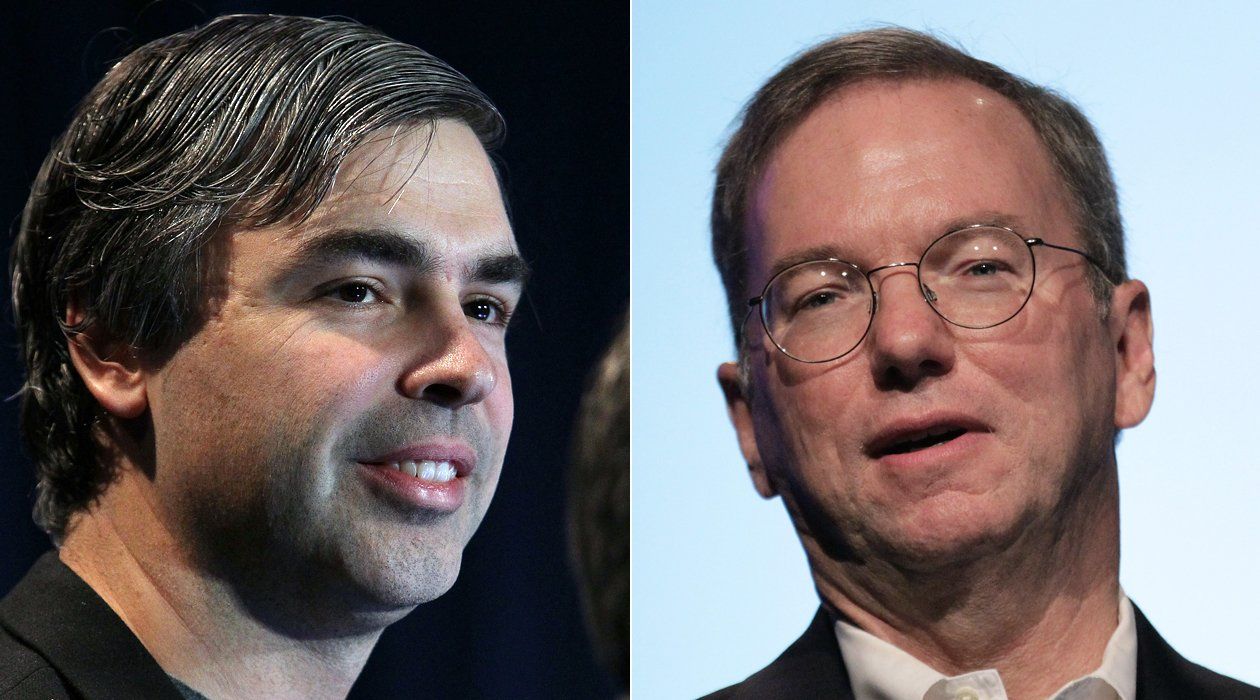 The departure of Eric Schmidt as CEO of Google came as no surprise to Silicon Valley movers and shakers, who say Google cofounder Larry Page has always wanted to be CEO of the company. Google announced Thursday, via blog post, that Schmidt, who has been CEO since 2001, would step aside and become executive chairman of the company, while Page would take the reins as CEO. Cofounder Sergey Brin will move into a role where he focuses on developing new products.
Until now, Google has employed an unusual three-way management scheme, with Schmidt, Page, and Brin acting as a triumvirate and making decisions together.
That arrangement has become increasingly clumsy and slow as Google's business has grown larger and more complicated, Schmidt wrote in his blog post. In recent months, the three men started discussing ways to streamline Google's management structure and "speed up decision-making," Schmidt wrote.
In fact, Schmidt has always been a sort of odd man out at Google. According to Silicon Valley lore, Schmidt only joined the company because in 1999, when Google raised its first big round of venture-capital funding, the investors insisted they would put money into Google only on the condition that Page and Brin would hire an experienced CEO to run the company.
Page and Brin were graduate students at Stanford when they founded Google and had no corporate experience. Still, people close to the company say, the two dragged their feet about finding a CEO, and didn't hire Schmidt until 2001.
But even then, Page was considered likely to one day take over as CEO. It's not an accident that the algorithm upon which Google's entire search business is based is called PageRank, named after Page. Apparently now, at age 37 and with a decade of corporate experience under his belt, Page figures he's ready.
The big question is timing. Why now? Certainly Schmidt has not helped himself over the past year by making some poorly chosen remarks in public.
First he said, regarding online privacy, that, "If you have something that you don't want anyone to know, maybe you shouldn't be doing it in the first place."
Then he suggested that in the future people who've misbehaved could simply change their names to escape the cybertrail of their naughty past.
Schmidt quickly covered his tracks, saying his comment about changing one's name was just a joke that fell flat. Nevertheless, pundits were quick to mock Schmidt as someone who could not help blurting out ridiculous things and was not behaving the way one would expect the CEO of a large publicly traded company to do.
Schmidt also reportedly has butted heads with Brin over Google's approach to China. Brin, who was born in the Soviet Union, has argued that Google should not do business with a repressive regime while Schmidt has been more willing to accommodate Chinese demands that Google censor its search results.
Also significant, perhaps, has been the growing sense that Google, while enormously successful, has become a one-trick pony, unable to develop any new business on top of its core business of selling ads next to search results.
Last summer, Fortune ran a cover story under the headline "Google: The Search Party Is Over," arguing, in effect, that Google's best days are behind it.
Google faces new competition in search, like Microsoft's Bing search engine. Its attempts to launch social-networking software to keep up with Facebook have all fallen flat. Android, Google's mobile-phone operating system, is a rare bright spot, but it's free software and so doesn't contribute to Google's revenue, except indirectly, by helping to generate more online search advertising. And over the past year a lot of Google engineers have been fleeing to Facebook and other, newer tech shops.
Given all that, the top brass at Google perhaps believes a shake-up could help the company become more nimble.
And maybe they figure now is a good time for change, because Google is doing well financially. Revenue for 2010, which Google announced Thursday, was $29.3 billion, up from $23.6 billion in 2009.
And maybe Schmidt, who is 55 years old and worth a fortune, just feels it's time to slow down and enjoy life a bit. Over the past decade he's helped to turn a grad-school research project into one of the most powerful and profitable tech companies in the world. Why not go out on a high note?