Detained Refugee Appointed Professor at Two Top Universities, Will Teach Over Skype
Behrouz Boochani was just 29 years old when he was forced to flee the city he called home over fears of persecution for his work as a journalist and documentarian.
Leaving behind Iran's Kurdish city of Ilam, the journalist had hoped to make it to Australia, where he planned to seek asylum and start building a new life.
While the journey from Iran to Australia can be a long and arduous one, with more than 10,000 miles between the two countries, Boochani never could have imagined that his journey to the Land Down Under might take more than six years.
Now, 36, the Kurdish-Iranian refugee is still waiting for the chance to set foot on Australian soil.
For the better part of a decade, the journalist was held in a detention center on Papua New Guinea's Manus Island, due to Australia's policy of offshore processing for asylum seekers.
However, as part of Papua New Guinea's recent push to end offshore detention on Manus, Boochani and more than 300 other Manus detainees were recently transferred to Port Moresby, the country's capital, where most, including the journalist, have been given accommodation at motels, while at least 50 others are being held at a detention center.
Despite being caught in limbo for six long years, Boochani has managed to win nearly every major literary prize in Australia with his book No Friend but the Mountains, which details his life in detention based on an account sent to a translator in Sydney via text messages delivered through a contraband mobile phone.
And now, after winning the Victorian Prize for Literature and The Australian National Biography Award, Boochani is set to become a professor at not just one, but two of the world's top universities.
Speaking to Newsweek in a phone interview, Boochani said he was thrilled to be joining Sydney's University of New South Wales as an adjunct associate professor with the school's Faculty of Arts & Social Sciences, in addition to joining Birkbeck, University of London in England as a visiting professor.
"What is important for me, first, is that my work is being acknowledged because I have always tried to write in a way that is useful for researchers and academia," Boochani said. "It has been one of my main aids to expose this system—to produce and write and create in a way that would be useful to academic researchers."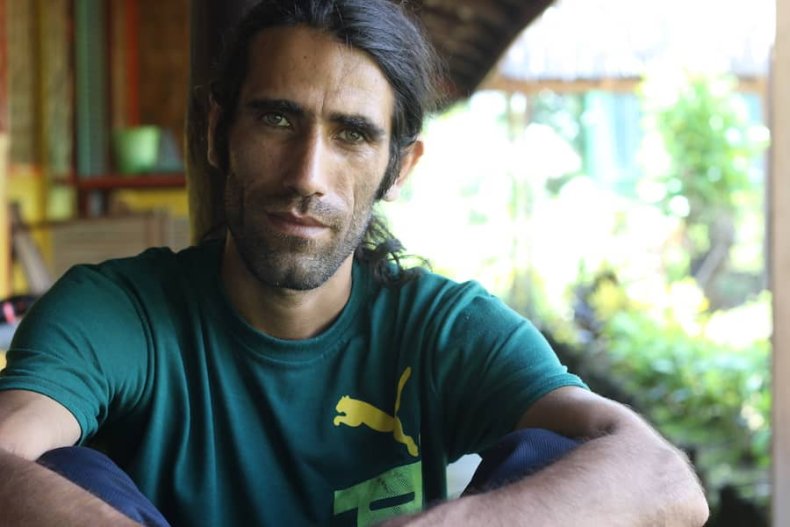 As a visiting professor at Birkbeck, Boochani is expected to take part in a number of events via Skype.
While his role as a visiting professor is largely an "honorary title," Professor Stewart Motha, Dean of the School of Law at Birkbeck, told Newsweek, the school wanted to send a clear "message to Australia" to end its "inhumane treatment" of refugees, while also honoring Boochani's efforts to draw attention to the issue.
"The first message is to Australia—that they should end this inhumane treatment of refugees, so we want to draw to attention to the ongoing humiliation and torture that is faced by these detainees, many of whom are suffering from very severe depression [and] high levels of attempted suicide and self-harm," Motha said. "Secondly, we want to deeply salute the unique contribution that Behrouz Boochani has made to this worldwide issue."
Meanwhile, in a statement published online, UNSW Arts & Social Sciences Interim Dean, Associate Professor David Blaazer said he believes Boochani's appointment at the Australian university will help to "deepen our understanding of the diversity of human experience and challenge traditional ways of thinking about the world."
While Boochani said "it is a great achievement" to have been offered esteemed positions at both schools, the successes the journalist has seen while detained do not erase the pain of having "lost six years of my life."
In Australia, the mandatory detention of asylum seekers and the use of offshore facilities to detain them have been enforced as part of a bid to deter asylum seekers from trying to reach the country by boat.
However, Motha said Australia has failed to "fulfill its international obligations" by using "detainees as weapons to deter other people from arriving to Australia by boat to seek asylum."
Meanwhile, the offshore detention centers the country relies on have frequently been described as "Australia's asylum gulag,"—a term used by journalist Julia Baird in a 2016 piece for The Times, while Human Rights Watch has condemned their use as "draconian."
In recent years, Papua New Guinea's government has pushed to end offshore processing on Manus, with its transfer of nearly all of the detainees held at the island's detention center transferred to Port Moresby.
While the country's government has celebrated the move as a "positive and significant step" in bringing an end to regional processing, some advocacy groups, such as the Refugee Action Coalition have dismissed the development as simply "shifting the detention deckchairs."
"The refugees are not free," the RAC said in a social media post earlier this month. "They are not safe."
Boochani said he believes there is still a long way to go before Australia's detention system receives the true upheaval it needs.
As it stands, he says: "They don't recognize our human rights...They are making us political pawns and they are using us."
"It is the very saddest story," he said. "It's a very sad story... but, what can we do?"
This article has been updated with more information on Australia's offshore detention system.