Beijing Police Bust Wildlife Trafficking Ring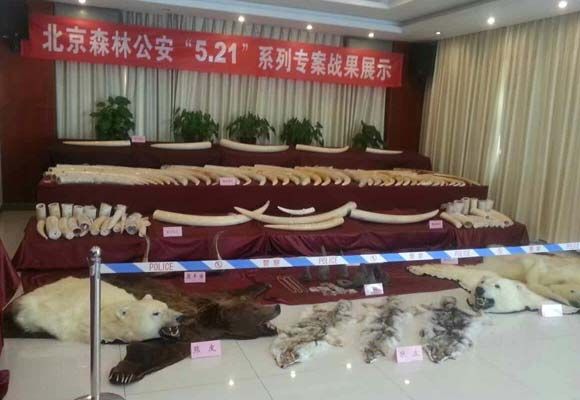 Chinese authorities announced Monday that they had arrested 16 members of a suspected wildlife smuggling ring, and seized hundreds of pounds of ivory, as well as rhino horns and bear paws, according to the Associated Press and the British anti-wildlife trade group TRAFFIC.
The operation yielded 1,770 pounds of ivory, 24 pounds of rhino horns and 35 bear paws, which together have an estimated value of $3.8 million.
Police representatives said "the seizure was the biggest ever in terms of the scale of the smuggling operations behind it," according to TRAFFIC. But the amount seized isn't relatively huge. TRAFFIC reports that two tusks weigh an average of 11 pounds, meaning this seizure would account for the lives of 160 elephants; an estimated 96 elephants are poached every day.
Authorities added that the ring possessed its own processing facilities, and it routed illegal materials from Africa through Japan to Hong Kong and then on to mainland China, and through network that ranged from the provinces of Guangdong to Shandong to Beijing.
China is by far the largest market for illegal ivory, demand for which is driving poaching that's devastating African elephant populations. But the country has taken some steps to stymy the problem. On September 25, Chinese President Xi Jinping pledged to enact a "nearly complete ban" on ivory import and export and "to take significant and timely steps to halt the domestic commercial trade of ivory," according to the White House.
TRAFFIC applauded the operation, saying in a statement that it serves as "a clear demonstration of the Chinese government's commitment to crack down on illegal wildlife trade and support international efforts to protect endangered species."