The editor-in-chief of the Global Times, a Chinese state-run newspaper, responded to the U.S.'s diplomatic boycott of the upcoming Winter Olympics and said that Americans are who "Beijing residents least want to see" at the games.
"Only super narcissistic people will regard their absence as a powerful boycott," Hu Xijin said in a tweet on Monday. "Most of those US govt officials are close contacts of the COVID-19 patients according to China's standard, moreover picky and pretentious. You are the people that Beijing residents least want to see."
On Monday, White House press secretary Jen Psaki announced that the U.S. will be diplomatically boycotting the 2022 Olympics, which are set to be held in Beijing in February.
"The Biden administration will not send any diplomatic or official representation to the Beijing 2022 Winter Olympics and Paralympic Games given the PRC's [People's Republic of China's] ongoing genocide and crimes against humanity in Xinjiang and other human rights abuses," Psaki said during a press briefing.
Psaki noted that the boycott will not apply to U.S. athletes competing in the games, as she said, "The athletes on Team USA have our full support. We will be behind them 100 percent as we cheer them on from home."
"We will not be contributing to the fanfare of the Games," Psaki added.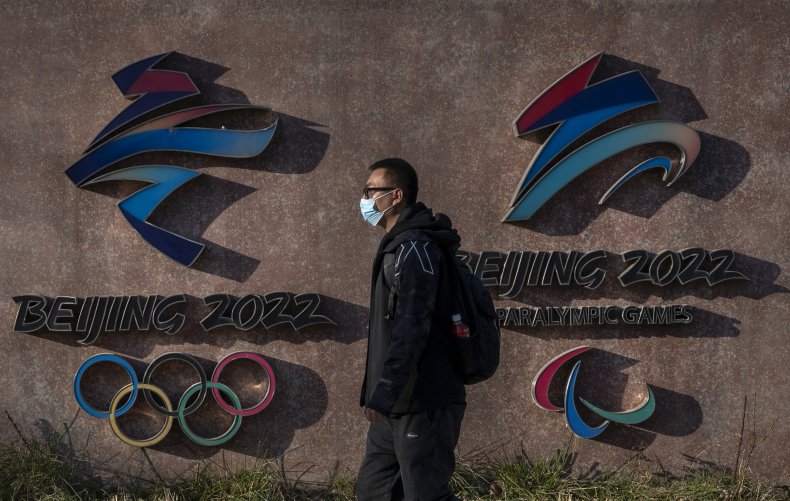 Hu issued a similar tweet following Psaki's announcement, writing, "Why the fuss? If US officials don't come, let it be. China didn't invite them anyway. Biden administration repeatedly tests water. So diffident."
China's Foreign Ministry spokesperson, Zhao Lijian, said during a press conference on Tuesday that China will take "resolute countermeasures" in response to the diplomatic boycott.
"The U.S. will pay a price for its wrongdoing. Wait and see," Zhao stated.
But several U.S. officials praised the decision by President Joe Biden's administration.
Senators Mitt Romney of Utah and Tim Kaine of Virginia issued a joint statement on Tuesday, saying that they "applaud" the diplomatic boycott.
"America must not lend its credibility to the Chinese Communist Party, which represses ethnic and religious minorities—committing genocide against its Uyghur citizens, oppressing the people of Hong Kong, and subjugating the people of Tibet," the statement said. "Never again must the Olympics be awarded to a nation which so blatantly violates the human rights of its own citizens."
China has faced criticism for its treatment of Muslim Uyghurs in the Xinjiang province. Under former President Donald Trump's administration, the State Department declared that China's treatment of the Uyghurs was genocide.
China has also faced backlash for the controversy surrounding tennis star Peng Shuai, who had disappeared from the public after accusing China's former Vice Premier Zhang Gaoli of sexual assault.
Newsweek reached out to the White House for comment.
Uncommon Knowledge
Newsweek is committed to challenging conventional wisdom and finding connections in the search for common ground.
Newsweek is committed to challenging conventional wisdom and finding connections in the search for common ground.
About the writer
Matthew Impelli is a Newsweek staff writer based in New York. His focus is reporting social issues and crime. In January 2023, Matthew traveled to Moscow, Idaho where he reported on the quadruple murders and arrest of Bryan Kohberger. Matthew joined Newsweek in 2019 after graduating from Syracuse University. He also received his master's degree from St. John's University in 2021. You can get in touch with Matthew by emailing m.impelli@newsweek.com. Languages: English.