'Being The Ricardos' Cast Vs Real Life 'I Love Lucy' Stars
Being The Ricardos is the American biographical drama about the stars of the 1950s sitcom, I Love Lucy. The film had a limited theatrical release in U.S. theatres from December 10, 2021, and now, the Aaron Sorkin-directed film is available to stream and download on Amazon Prime Video across the world.
Being the Ricardos explores the fractious nature of Lucille Ball and Desi Arnaz's relationship at the height of their fame in the 1950s. Nicole Kidman and Javier Bardem lead the cast as Ball and Arnaz but how do they and the rest of the cast compare to the people behind I Love Lucy in real life? Newsweek has a full look at the cast Vs Real Life stars below.
Being The Ricardos Cast Vs Real Life Stars
Lucille Ball — Nicole Kidman
Nicole Kidman portrays American actress, comedian, model, studio executive, and producer Lucille Ball.
Ball co-created and starred in the CBS sitcom I Love Lucy from May 1951 to May 1957 with her husband Desi Arnaz.
During her career, Ball received 13 Primetime Emmy Award nominations, winning five. She also won the Golden Globe Cecil B. DeMille Award and earned two stars on the Hollywood Walk of Fame.
Kidman is an Australian-American award-winning actress, best known for her roles in Lion, Big Little Lies, The Undoing, Nine Perfect Strangers, and Eyes Wide Shut, to name a few.
Speaking to DuJour, Kidmanrevealed she started smoking to prepare for her role as Lucille Ball, explaining that getting a "deep smoker's voice" was going to be "impossible" due to her Australian accent.
She added: "They decided her Lucy needed to have a "deep smoker's voice, so I started smoking. If I warm up for a minute, I now can do her voice standing on my head."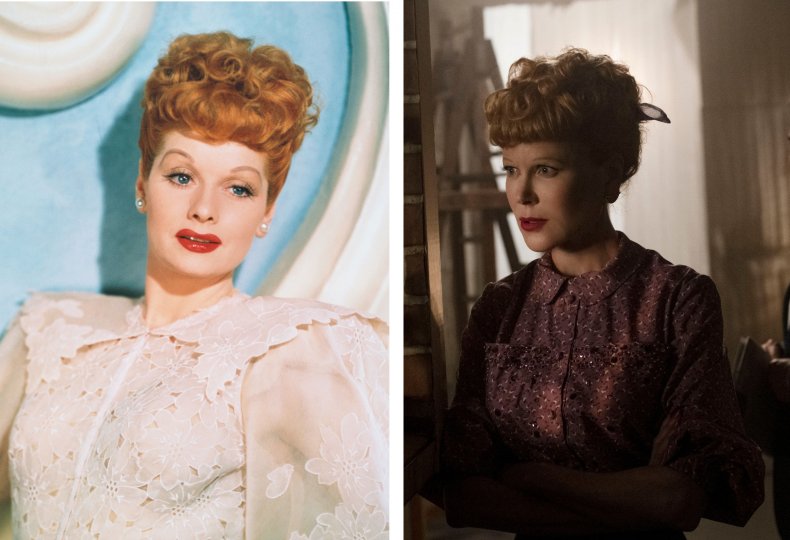 Desi Arnaz — Javier Bardem
Javier Bardem portrays Lucille Ball's husband Desi Arnaz in Being the Ricardos.
Arnaz was a Cuban-American actor, musician, bandleader, comedian, and film and television producer, best known for starring as Ricky Ricardo in I Love Lucy.
Bardem is a Spanish actor, best known for his Oscar-winning role of psychopathic assassin Anton Chigurh in No Country for Old Men. His other well-known credits include Dune, Skyfall, and Vicky Cristina Barcelona.
Speaking to Amazon Prime ahead of the film's release, Bardem called Sorkin's script "a love letter to two resilient, creative human beings dealing with serious problems and trying to remain united through them."
He added: "It is a journey of pleasure and joy and laughter — a lot of laughter. There are great comic moments in it. But there are also dramatic, emotional moments that show that these people who were so loved and admired were just a couple of human beings with flaws — as we all are."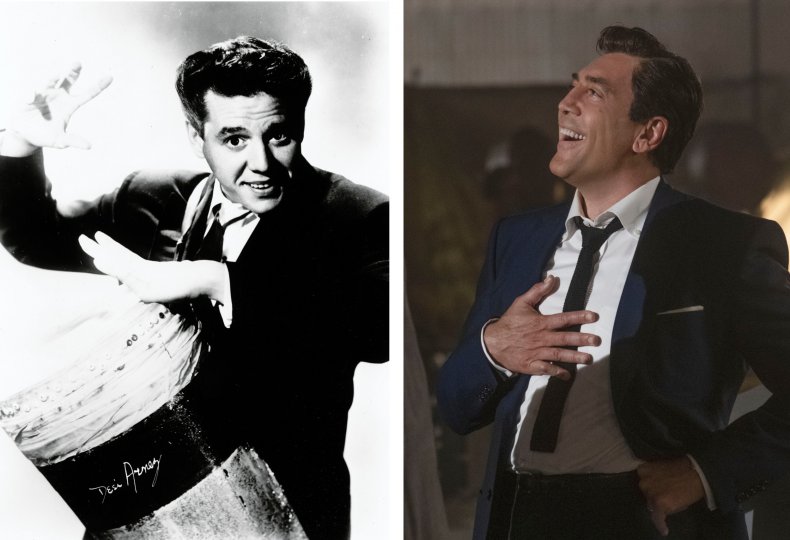 William Frawley — J.K. Simmons
Whiplash star J.K. Simmons plays American actor, William Frawley who starred as Fred Mertz in I Love Lucy.
Viewers may also recognize Simmons as Dr. Emil Skoda on the NBC series Law & Order, Vernon Schillinger in HBO's Oz, Nolan "Omni-Man" Grayson on the Amazon Prime series Invincible, J. Jonah Jameson in the Spider-Man trilogy, and Howard Silk in Counterpart.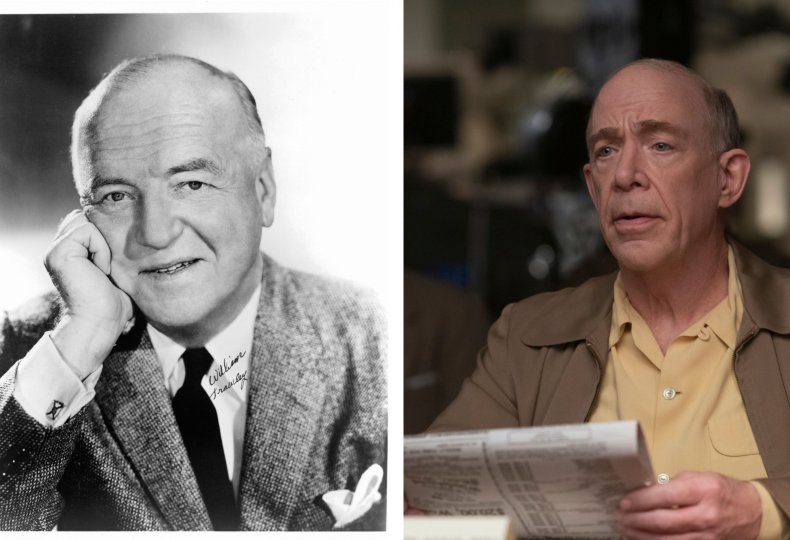 Vivian Vance — Nina Arianda
Tony-award-winning actress Nina Arianda takes on the role of Vivian Vance, the American actress and singer who played the role of Ethel Mertz in I Love Lucy.
Arianda is best known for her role as Patty Solis-Papagian in Goliath and for her portrayal as Stan Laurel's wife Ida Kitaeva Laurel in the biopic Stan & Ollie.
Speaking to Amazon Prime, Arianda shared she grew up watching I Love Lucy and admitted she was intimidated by the idea of playing an iconic television star.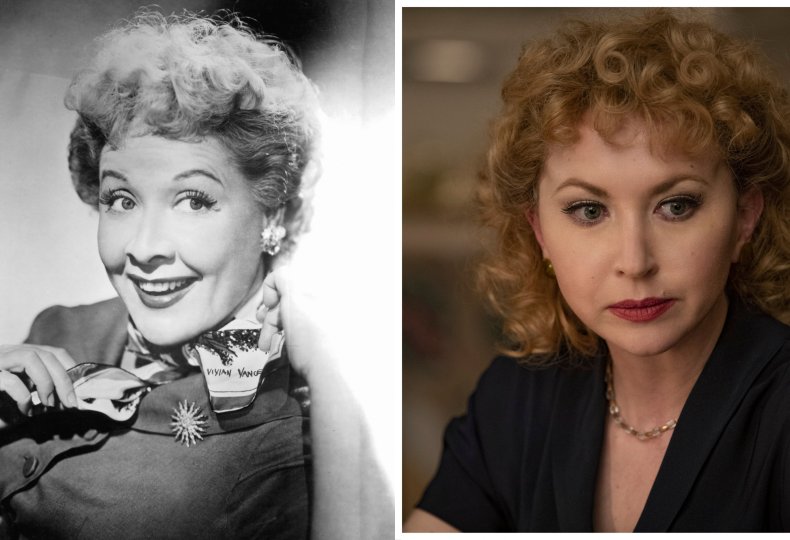 Jess Oppenheimer — Tony Hale
American actor and comedian Tony Hale stars as Jess Oppenheimer, the head writer on I Love Lucy.
Audiences will most likely recognize Hale from his role as Gary Walsh in HBO's Veep. For his performance in Veep, he won the 2013 and 2015 Primetime Emmy Award for Outstanding Supporting Actor in a Comedy Series.
His other most recognizable credits include Buster Bluth in Arrested Development, Coach Murray in The 15:17 to Paris, and Jerome Squalor in A Series of Unfortunate Events.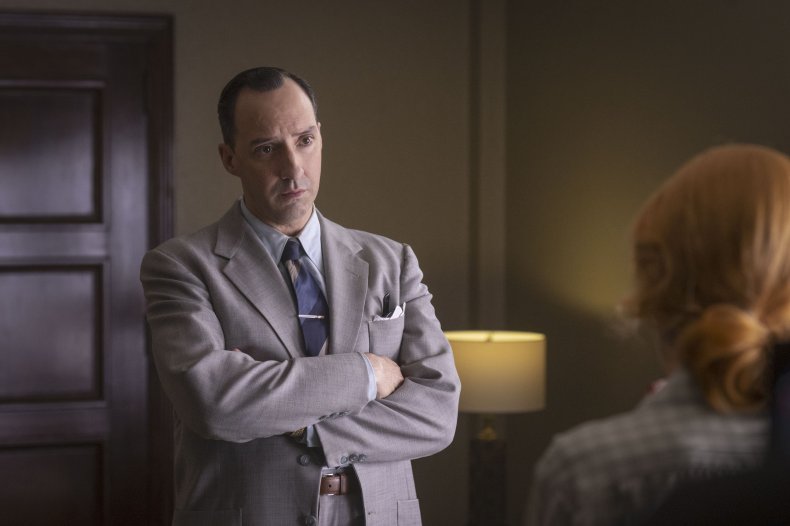 Madelyn Pugh — Alia Shawkat
Alia Shawkat portrays Madelyn Pugh in Being the Ricardos on Amazon Prime.
Pugh was a hugely successful American television writer who was best known for her work on I Love Lucy.
Shawkat is best known for starring and producing the critically acclaimed series Search Party and was most recently seen alongside Oscar Isaac in the Oscar-nominated short film The Letter Room.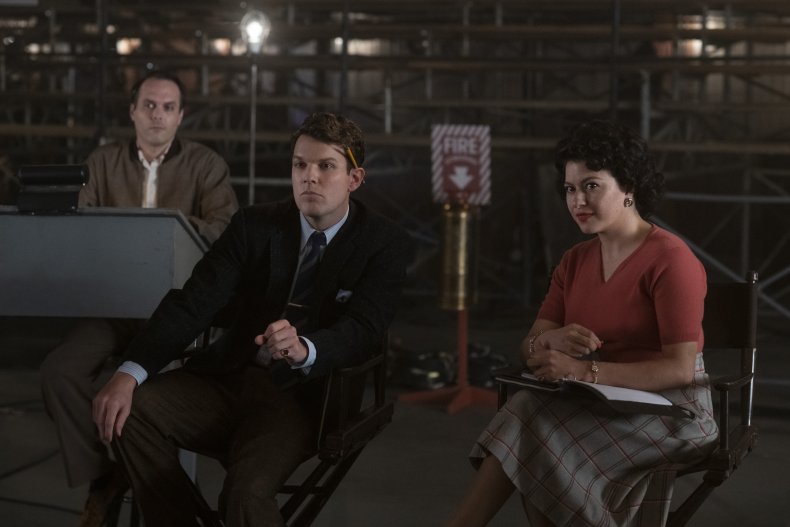 Bob Carroll Junior — Jake Lacy
Jake Lacy stars in Being the Ricardos as Bob Caroll Junior, another writer on I Love Lucy.
Audiences may recognize Lacy from his role as Shane Patton on The White Lotus and Pete Miller on The Office.
His other well-known credits include Love the Coopers, Obvious Child, High Fidelity, Vosse Verdon and I'm Dying Up Here.
Also starring in the cast of Being The Ricardos are John Rubinstein as an older Jess Oppenheimer, Linda Lavin as an older Madelyn Pugh, Ronny Cox as older Bob Carroll Jr., Clark Gregg as Howard Wenke, Nelson Franklin as Joe Strickland, and Christopher Denham as Donald Glass.
Being the Ricardos is streaming on Amazon Prime Video now.