Heroic stories are beginning to emerge from Beirut's enormous explosion on Tuesday. One selfless migrant worker is captured in a viral video saving a toddler from the force of the explosion.
In the footage, recorded in Lebanon's capital through what appears to be a nanny cam, the woman is vacuuming a carpet in an apartment with a small girl in the room. The girl, who appears to be around 2 to 3-years-old, is walking near the window when the eruption happens. The blinds move furiously with the force of one of the blasts, and the woman instinctively and quickly grabs the child, turns her away from the shockwave and runs out of a side door to protect the girl.
The video has gained almost 1 million views and 4,000 comments on Twitter.
"She did not even think. Migrant workers deserve better in #Lebanon - this woman is a hero," said Beirut resident Luna Safwan.
"She's a working class heroine," said Suzanne Visschedijk on Twitter.
"WOW reaction skills level godly," said another Twitter user.
"She didn't think twice about picking up that little girl," said another social media user.
The recent explosions happened on August 4, at the Port of Beirut, killing more than 100 people, and injuring 4,000. Lebanon's Prime Minister, Hassan Diab said in a statement that 2,750 metric tons of ammonium nitrate had been stored at a facility unsafely, "endangering the safety of citizens."
The extremely explosive chemical is used for making fertilizers and missiles.
There is no evidence that the explosions were deliberate. The blast force measured 3.3 on the Richter scale for earthquakes. Footage shows cars flipped as a result of the eruption, plus windows blown out and buildings stripped of their cladding up to six miles from the Port of Beirut.
First there was a smaller, more contained blast, with flashing lights and a plume of smoke. When the second eruption happened it was more significant in size, with witnesses feeling its force some 150 miles away, in neighboring Israel and Jordan.
Rescuers worked through the night to help those affected by the explosion. Hospitals in the capital are overrun with casualties. The Lebanese Red Cross sent out nearly every ambulance it has in the surrounding areas to help those injured.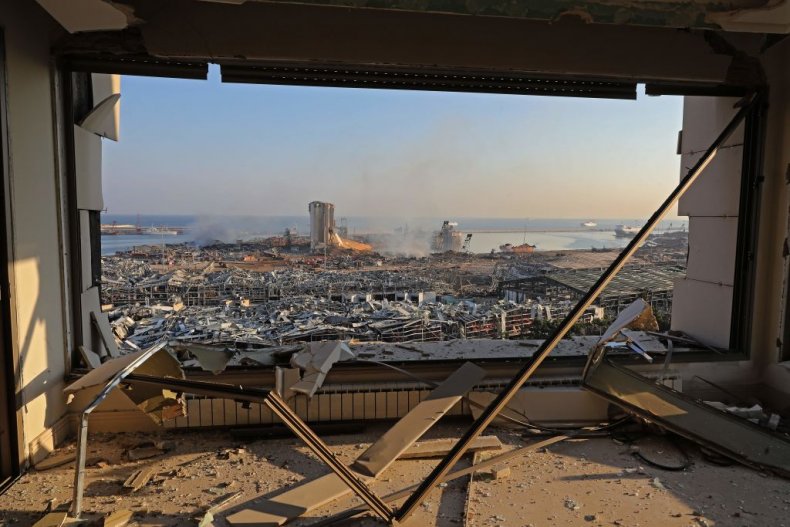 Prime Minister Diab declared that today would be a national day of mourning for Lebanon.
President Donald Trump yesterday offered his condolences. "Let me begin by sending America's deepest sympathies to the people of Lebanon, where reports indicate that many, many people were killed, hundreds more were very badly wounded in a large explosion in Beirut," he said. "Our prayers go out to all the victims and their families. The United States is ready to assist Lebanon."