Hero Nurse Captured by Film Saving Three Babies in Half-Ruined Hospital After Lebanon Explosion
A nurse in Lebanon was proclaimed a hero after she was depicted in a photo holding three babies following the Beirut explosion on Tuesday.
The image was captured and shared on Facebook by photographer Bilal Marie Jawish at Beirut's Saint George Hospital University Medical Center, which was partially destroyed by the blast. In the photo, the woman cradles three inewborn children in her arms while attempting to make a phone call.
"16 years of press photography and lots of wars. I can say I didn't see what I saw today in Ashrafia area, especially in front of the rum hospital and this 'heroine' caught me inside the hospital and was accelerating to call despite the suspension of communication holding three newborn babies and surrounded by dozens of bodies and wounded," Jewish said about the photo.
The photo has since gone viral on social media with droves of people praising the nurse for her efforts to keep the babies protected despite all the chaos surrounding them.
The explosion, which occurred near the Lebanese capital's port, caused massive devastation in Beirut, blasting out windows, toppling buildings and destroying property. At least 100 people were killed and more than 4,000 were injured according to the Red Cross. Speaking to Lebanese LBC television channel on Wednesday, the country's Health Minister Hamad Hasan noted that there were still hundreds of people missing and it is expected that the death toll would continue to rise.
Lebanese officials have yet to determine exactly what caused the blast. Initially, it was believed that 2,750 tons of ammonium nitrate that was stored in an unsecured warehouse at Beirut's cargo port was to blame.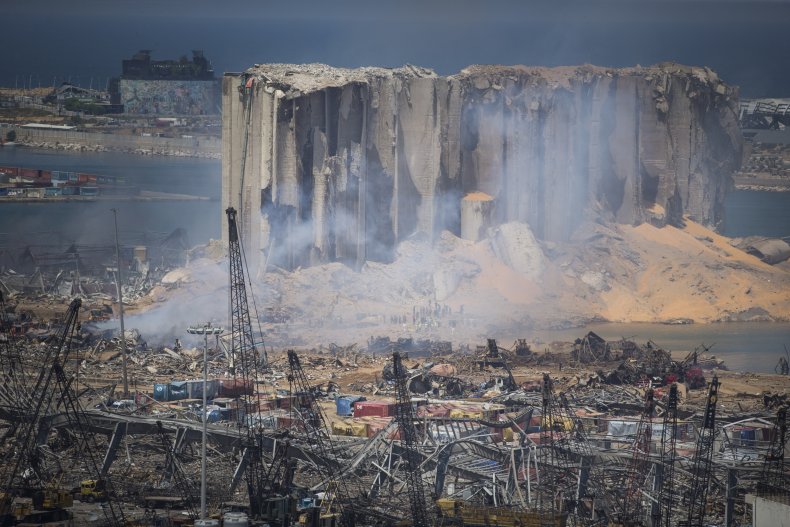 However, Prime Minister Hassan Diab was adamant about discovering "who was responsible" for the destructive event within five days, noting that it was completely unacceptable and irresponsible for that much explosive chemical to be housed in any facility without any "preventative measures."
"I will not rest until we find the person responsible for what happened, to hold him accountable and impose the most severe penalties," Diab said at a press conference on Wednesday.
The explosive chemical was reportedly stored at the warehouse for the last six years, and Badri Daher, the head of Lebanon's Customs Authority, claimed that he sent six memos to judiciary officials warning them of the potentially harmful substance, according to LBC.