Beirut—Safe Haven for World's NGOs—Now Front Line for Aid Workers
Beirut and Lebanon, so the cliché goes, are well versed in chaos and tragedy. But last week's massive explosion at the port of Beirut has thrown an already troubled nation into deeper turmoil, prompting mass violent demonstrations, calls for revolution and the collapse of the government—all while Beirutis continue the search for the dead and begin repairing the damage.
The explosion—which killed at least 200, injured another 6,000 and left some 300,000 people homeless—was caused by a store of 2,750 tons of ammonium nitrate, an explosive product used as a fertilizer and an industrial explosive, and ignited by a nearby fire. The dangerous material was stored at the port for six years despite repeated warnings of what might happen if it was not removed.
The explosion came as Lebanon battled some of its worst crises for years, struggling with an economic collapse, political deadlock and the coronavirus pandemic. Furious Lebanese people have said the tragedy is symptomatic of the corruption, apathy and incompetence that have plagued the country and hamstrung sustainable economic growth and political progress.
The country's political system—established after a ruinous 15-year civil war that killed some 120,000 people—is designed to share power between the country's major religious groups. Though this has prevented another civil war, it has also bred cronyism and inertia among the political elites, enriching themselves and failing to implement the reforms needed to secure Lebanese self-sufficiency and long-term stability.
Despite its myriad problems, Lebanon and its cosmopolitan, relatively liberal capital have long offered NGOs, international aid organizations and the world's media a relatively safe haven and base from which to operate in a troubled region.
But last week's sudden explosion tore through that refuge, smashing NGO offices, killing and wounding employees, and forcing them onto the devastated streets as first-responders.
Many of those first on the scene were Red Cross volunteers, digging through the rubble for survivors without knowing if there were more explosions to come. Georges Kettaneh—the secretary-general of the Lebanese Red Cross—told Newsweek that his workers are still searching for bodies and survivors one week after the blast.
"It's so emotional to see people dead in their houses, or suffering or wounded," he explained. The local Red Cross branch dispatched 75 ambulances immediately after the explosion and had another 50 on standby, all to help evacuate the wounded and recover bodies. Volunteers also opened a blood bank to serve the injured, even though the group's headquarters and several branches were either destroyed or badly damaged.
Groups like the Red Cross and Doctors Without Borders (MSF) pitched in to help support the city's hospitals, three of which were wrecked and forced to close. Another two were badly damaged.
Aria Danika, the deputy head of mission for MSF Lebanon, said the destruction was "unprecedented," even in a city familiar with violence. Danika was on the seventh floor of her building when the explosion hit, and said she immediately headed for the nearest hospital to try and help.
"For all of us here with MSF, it has been all hands on deck," she told Newsweek. "We have been working around the clock trying to respond and to support as much as we can."
Lebanon does have modern medical infrastructure, certainly much more advanced than the conflict zones where MSF usually operates. Danika said their role is to support this existing capacity, noting that Lebanese medical professionals are "very well trained and very competent to do the triage, to manage the casualties and the wounded." Memories of war are "still very fresh here," Danika explained.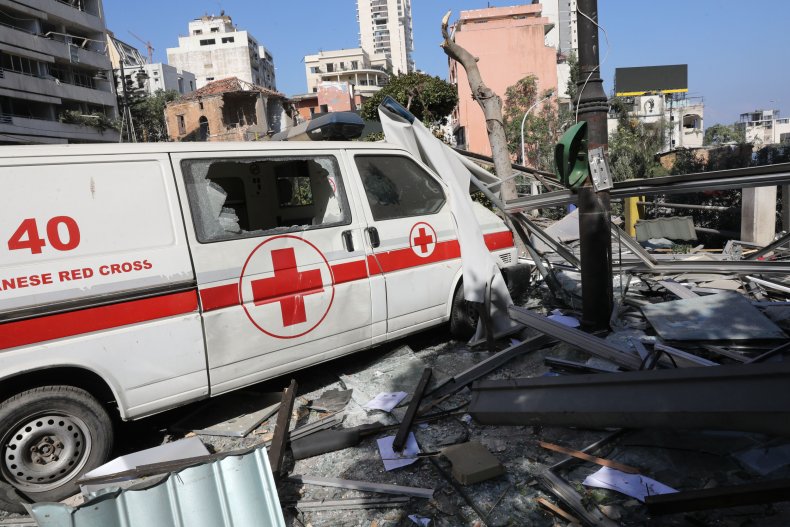 Last week's blast catapulted many back into the country's bloody past. "I am myself a child of the war," Huda Samra—the communications advisor for the United Nations Relief and Works Agency for Palestine Refugees (UNRWA) in Lebanon—told Newsweek. "We, the Lebanese, have gone through this so many times."
"It's even more painful when you've lived it before," she said. "When you hear the explosion you're just recovering memories that you thought were gone forever, or that you thought you had forgotten. But you discover you never forget anything."
This was a disaster that touched so much of the city, including the organizations and workers who are there to care for the most vulnerable, whether in Lebanon or across the region.
United Nations Children's Fund (UNICEF) Deputy Representative Violet Speek-Warnery told Newsweek that some of their staff were among the 300,000 homeless, as well as the countless residents now living in damaged properties.
Some UNICEF workers "were severely injured—some minor but some severely injured—and we still have a family in the hospital," she added. "And we also had, unfortunately, a death of a dependent of one of our colleagues. So it has severely impacted the staff, their morale."
The devastating explosion came after a year of turmoil in Lebanon, one that has stretched the economy, health services and government to breaking point. "It's been like a series of events that have completely devastated the country," Danika said.
"It's a tragedy—I have no words, and I'm not known for being at loss," she said. "I have worked in war zones and in conflict-ridden areas. I have worked in Baghdad, then in Benghazi, and I was in Haiti and Sri Lanka at the end of the civil war. What we're facing, what we're looking at here is quite tragic."
Speek-Warnery said that the layers of crisis are "what makes at least our staff so weary...it comes on top of a very, very difficult year." But she noted that many of those living and working in the city know "Beirut can always change on you—I think that's kind of in the mindset of many people to be honest."
She credited the "brilliance" of her team for their ability to keep going through the turmoil, driven by their "compelling" mandate to protect at-risk children.
All those who spoke with Newsweek said their colleagues were devastated by the tragedy, but that now more than ever their work was paramount. "We're all heartbroken," Samra said. "But what is it that we can do? We just have to get up and continue—now there's a lot at stake."
The blast destroyed vital medical and food supplies that were sitting in the port, a port that handles a huge amount of Lebanon's vital imports. The material losses will be felt in the weeks and months to come as Beirutis struggle to recover and political wrangling pre-occupies the elite class blamed by so many for the disaster.
UNRWA—for example—serves the country's Palestinian refugees, a vulnerable community always at the sharp end of any crisis. "We know that it's coming," Samra said of the expected shortages. "We know that it will severely impact the Palestine refugees community in general."
Red Cross volunteers were among the first on the scene, and Kettaneh said the body remains "in a very critical position where we need to continue maintaining and helping our community, protecting their dignity and giving them hope."
But such pressure might prove unsustainable. "We are close to the community, they respect us a lot," Kettaneh said, "But we cannot do everything."
The psychological impact of the experience might not be immediate, instead emerging someway down the line. "We are aware that these people, these responders, are also affected because some of them may have also relatives or family members who may have been injured or killed," Danika said.
Mental health provision "is very, very important," she added, "not only for the survivors but also for the first-responders and the front liners, the health staff, the volunteers pulling the people out of the rubble."
"When something like this happens, you just switch to autopilot," Danika explained. "It hits you afterward...you can work in the first 24 hours in autopilot, but it's not sustainable."
That psychological impact may come, but Samra said she, her colleagues and other aid workers simply do not have time to take stock. "The situation is so bad that it cannot wait for us to psychologically recover," she said. "We just have to put this on the side for the moment and get up and continue."