A theater group in Belarus considered to be the artistic voice of the country's opposition has called for the U.S. to punish the strongman president Alexander Lukashenko after its members were jailed during a crackdown following his disputed election win.
Four Minsk-based members of the Belarus Free Theater are among those arrested in the aftermath of the allegedly rigged ballot's results. Lukashenko was declared the winner with more than 80 percent of the vote, which sparked anger across the country.
Opposition leader Svetlana Tikhanovskaya, whose rallies attracted hundreds of thousands of people, has fled the country to neighboring Lithuania. Protests challenging the legitimacy of the results have exploded around Belarus.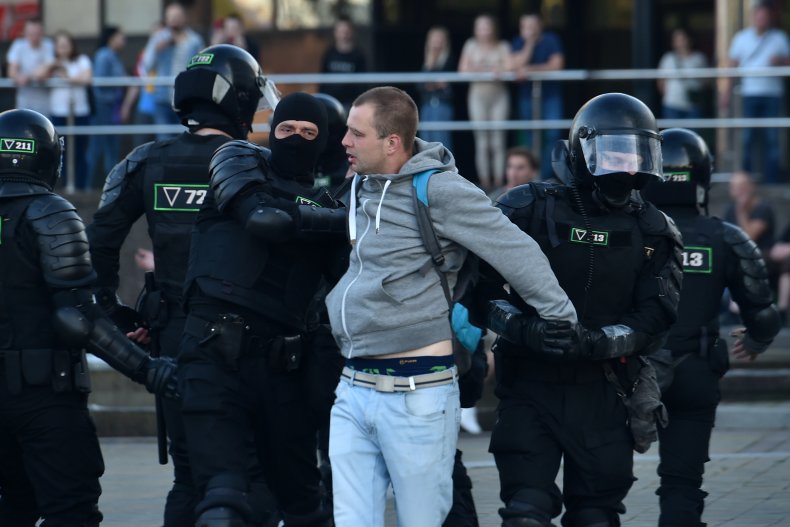 Police and soldiers, armed with submachine guns, cracked down on the opposition with rubber bullets. One person died in an explosion. During protests in Minsk, Nadia Brodskaya and Sveta Sugako, who are managing directors of the underground theater group, were arrested on Monday and have been jailed for 13 and 10 days respectively.
Their exact charges are unknown. Natalia Kaliada, the theatre's co-founding artistic director, said it was likely to be hooliganism and that members of her group, which for years has challenged Lukashenko's rule, are firmly on the radar of the KGB, the country's secret police.
Dasha Andreyanova and Kirill Konstantinov, who are members of the theater's permanent acting ensemble, have also been arrested but their whereabouts are unknown, she said.
Meanwhile, dozens of journalists have been assaulted or detained by security officers, while more than 6,000 protesters have been detained, The Moscow Times reported.
Those detained are being held in five-meter by three-meter cells, containing up to 50 people, posing a considerable coronavirus risk, said Kaliada, who herself was arrested and jailed by the Belarusian authorities in 2011.
"Riot police are beating up all the people who are arrested," Kaliada told Newsweek by phone from London, England.
She said that the U.S. State Department should take action and impose sanctions on Lukashenko and 10 other people connected to the political elite.
"It has to be quick urgent sanctions they need to be put in place, like they were in 2011 when we had a personal meeting with Hillary Clinton," she said, referring to talks with the former Secretary of State following similar unrest.
"Then there was a freezing of assets an imposition of sanctions and it all happened very quickly. That needs to happen again."
Kaliada has also called for the implementation of the Belarus Democracy Act, a U.S. federal law passed in 2004 which offers American help to groups like opposition political parties and NGOs.
"What we want the West to understand is that it is not just about the safety of the people of Belarus, it is about the safety of the whole region," she said.
When contacted by Newsweek for comment, the U.S. State Department referred to remarks made by Secretary of State Mike Pompeo during his visit to Prague on Wednesday when he said that the U.S. was "very concerned" about the Belarusian election which "wasn't held in a way that was free and fair."
"We watched the protest. We urge that nonviolent protesters be protected and not harmed. It's not in anyone's best interest to do that. And we will continue to speak about the risks to the Belarusian people," Pompeo said.
Any response by the West will have to be calibrated against the next move of Russian President Vladimir Putin.
The Russian leader congratulated Lukashenko on the election result, despite being accused by the Belarusian president of sending mercenaries to interfere in the election, which the Kremlin denies.
"The West is not that active due to many different reasons, including the threat of Russia's more active involvement in Belarus," Nikolay Petrov from the Chatham House think tank told Newsweek.
"Although Lukashenko is weakening and there is no way for him to improve relations with the West, the West is not capable of intervening and playing against Lukashenko."
He said that it appears that "it is better for both sides—for Putin to have Lukashenko, although they do hate each other, and for the West to keep Lukashenko, at least for now."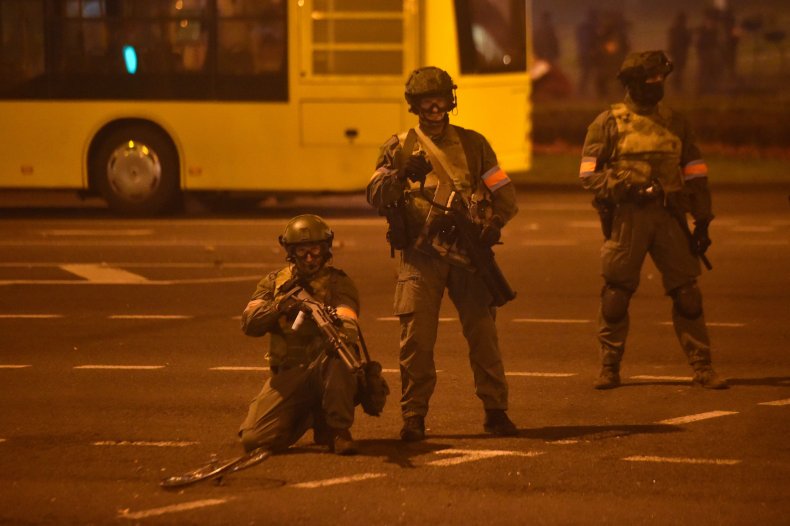 This story has been updated to include a quote from U.S. Secretary of State Mike Pompeo following Newsweek's request to the U.S. State Department for comment.