Belarus Airline Head Blasts EU States Over 'Despicable' Airspace Restrictions After Plane Diversion
The head of Belarus's national airline, Belavia, condemned the European Union (EU) Saturday for imposing airspace restrictions on the carrier after the country forcibly intercepted a passenger jet to detain a journalist and government critic last weekend.
Director Igor Tcherginets called the decision by EU nations to ban Belavia flights coming to and from European airports "despicable" in a Facebook post Saturday. The EU has also encouraged European airlines to avoid Belarus airspace altogether.
"It is evident that these governments planned not only to close their countries for landing by our airplanes, but also, with an especially fascist perversity, they are closing air corridors one by one. They are mocking us," Tcherginets wrote Saturday, according to Reuters.
Tcherginets criticized the European governments for imposing the restrictions before the International Civil Aviation Organization had investigated the incident, while also maintaining Belavia's innocence in the matter.
"All this is happening before an investigation of the incident, for which there may be some guilty parties, but Belavia is definitely not among them," he added. "They punish innocent Belavia, without even beginning an investigation. It's despicable."
Belarus' president, Alexander Lukashenko, has faced international fury after a military jet diverted a Ryanair flight en route to Lithuania from Greece on May 23. The military jet reportedly informed the Ryanair flight crew that there had been bomb threat on the plane, but upon landing, journalist and Lukashenko critic Roman Protasevich was detained.
Protasevich is one of dozens of Belarusian activists campaigning against Lukashenko's government. The 26-year-old was living in exile as the founder of the Telegram channel Nexta, which helped mobilize anti-Lukashenko protests that saw thousands of activists take to the streets.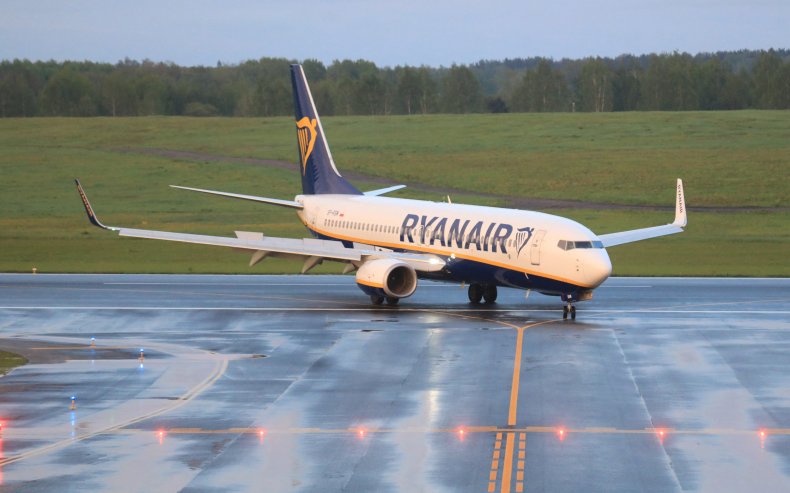 The CEO of Ryanair called the Sunday incident a "state-sponsored hijacking," and the international community was swift to respond to Belarus' actions. In addition to the EU's decision to ban flights from Belavia, the 27-member bloc is weighing further economic sanctions against the nation.
On Friday, U.S. President Joe Biden announced that Washington will reimpose full sanctions against nine Belrusian state-owned enterprises that were previously granted sanction relief. The U.S. Sate Department also issued a "Level Four: Do Not Travel," warning for American citizens to avoid the nation earlier this week.
"Belarus's forced diversion of a commercial Ryanair flight under false pretenses, traveling between two member states of the European Union, and the subsequent removal and arrest of Raman Pratasevich, a Belarusian journalist, are a direct affront to international norms," the White House said Friday.
"These events took place amid an escalating wave of repression by the Lukashenka regime against the aspirations of the people of Belarus for democracy and human rights," the statement added.
In his remarks on Wednesday following the incident, Lukashenko defended the country's actions and accused the West of waging a "hybrid war" against him.
"As we predicted, our ill-wishers from outside the country and from inside the country changed their methods of attack on the state," Lukashenko told Parliament. "That's why they switched from organizing riots to trying to strangle us."
He added: "I acted in a lawful way, protecting people in line with international rules."
Newsweek contacted Belavia for additional comment, but did not hear back in time for publication.