Lukashenko Says Belarus Under Siege in First Appearance Since Ryanair Plane 'Hijacking'
Belarusian President Alexander Lukashenko struck a defiant tone in his first appearance since the rerouting of a flight to arrest a dissident journalist, which has sparked outrage internationally.
In a speech before the country's parliament in Minsk, Lukashenko defended the decision to scramble a MiG-29 to force the Ryanair flight from Greece to Lithuania to land in the Belarusian capital on Sunday.
Roman Protasevich, 26, a blogger who co-founded the Nexta Telegram channels giving voice to the opposition, was detained before the plane was allowed to resume its flight.
The Belarusian Transport Ministry released a transcript of communications between Minsk air traffic control and the Ryanair flight, in which the crew was urged to land because of a bomb on board—an explanation dismissed by Western leaders.
But Lukashenko told lawmakers on Wednesday: "Whether there was a bomb or not, if I was informed that there was a terrorist on the plane, I would immediately give the order to land the plane,"
"There was a terrorist on the plane, and they knew about it far beyond the borders of Belarus," he added, according to the state-run news agency, the Belarusian Telegraph Agency (BelTA).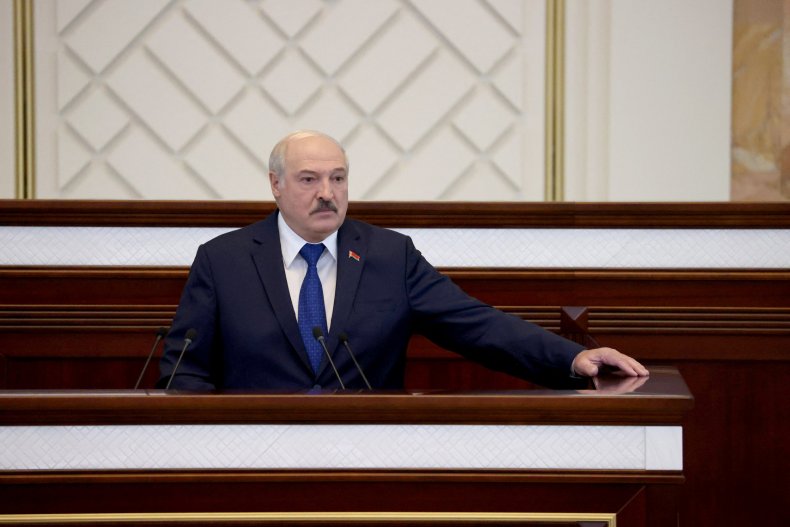 In a video released on Monday, Protasevich confessed to "organizing mass riots" in a message his supporters say was made under duress.
The country's opposition leader in exile, Sviatlana Tikhanouskaya, told a press conference on Monday she feared for his life, saying that "there is a high probability that at this very moment he is being tortured by the secret service staff."
The concerns were echoed by Protasevich's mother, Natalia Protasevich, who told Agence France-Presse: "I am begging for help. Please save him. They're going to kill him in there."
Lukashenko also took aim at domestic and international actors he believes are trying to destabilize Belarus, referring to the unrest that followed 2020's disputed election.
"As we predicted, our ill-wishers from outside, and inside the country, have changed the methods of attacking the state," Lukashenko said.
"They have crossed many red lines, crossed the boundaries of common sense and human morality. This is no longer an information war, this is a hybrid modern war. Everything must be done so it doesn't turn into a hot one," he added.
"Throughout 2020, unprecedented pressure was exerted on Belarus. You have witnessed this. No country in the world has faced such a multifaceted, multilevel terror."
The European Union has imposed sanctions against Belarus, including banning its airlines from using EU airspace and airports. It has asked the European Commission to propose a list of Belarusian targets to be sanctioned. On Wednesday, the European Union Aviation Safety Agency (EASA) urged EU and non-EU carriers flying to or from the bloc to avoid Belarus airspace.
The United Nations Security Council will hold a meeting behind closed doors on Wednesday to discuss any action, although any move against Lukashenko is likely to be opposed by Russia, who has defended him.
Meanwhile, President Joe Biden said that U.S. sanctions against Belarus were "in play" but did not specify further.
In a statement to Newsweek, a State Department spokesperson said: "The president has asked his administration to develop appropriate options, in close coordination with the European Union and our Allies to hold the Lukashenk[o] regime to account."
Update 5/28/21, 10:25 a.m. ET: This story has been updated to include a statement to Newsweek by the State Department.
The graphic below provided by Statista outlines where Belarus ranks in major international surveys.