Belarus Arrests Campaign Chief of Opposition Figure Svetlana Tikhanovskaya
A woman who is spearheading a housewife's campaign to oust Belarus's president Alexander Lukashenko from nearly three decades in power has been arrested, just days before the country goes to the polls.
Maria Moroz, who headed the election headquarters of Svetlana Tikhanovskaya, was arrested on Thursday as she left the Lithuanian embassy in the capital Minsk, the news agency TUT.by reported. Tikhanovskaya's headquarters said that the reason for the arrest is not yet known.
"She was detained by people who introduced themselves as officers of the Ministry of Internal Affairs at about 11 a.m. this morning when leaving the Lithuanian embassy after submitting documents for a visa," it said in a statement.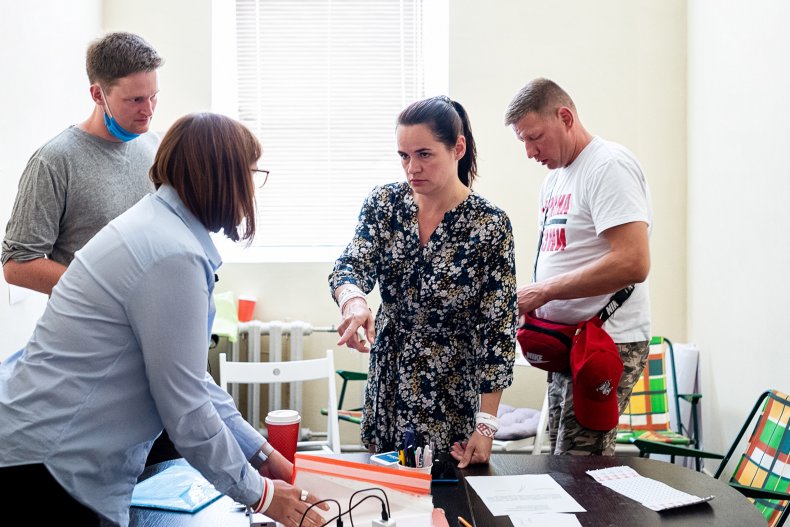 With early voting already underway ahead of Sunday's election, Tikhanovskaya has emerged on the campaign trail as a formidable rival to Lukashenko, who has been the president since the post was created in 1994 following the break-up of the Soviet Union.
Able to draw crowds of tens of thousands, Tikhanovskaya has spoken of how she and her family has been threatened since her candidacy was approved, after her husband, a popular blogger, was barred from running.
Her two children, aged five and 10, have left the country for their safety and she told Current Time TV she received a phone call telling her to stop her campaigning, otherwise she would "be sent to prison and the children will be taken to an orphanage."
Lukashenko has sparred with Russia in the last week, accusing a group of Russian men arrested outside of Minsk of being mercenaries sent by his neighbor to destabilize the election. It has sparked concerns that he would use the arrests of the men, whom he has linked with Tikhanovskaya's campaign, as a pretext for a clampdown.
There is no independent polling in Belarus but a survey this week by the Russian newspaper Kommersant suggested that she was ahead of the incumbent, 25 percent to 22 percent.
This is a breaking story and will be updated with further developments.