Belarus Dissident Roman Protasevich 'Confesses' on Video After Arrest From Diverted Flight
Detained dissident journalist Roman Protasevich on Monday said he has "confessed to organizing mass riots" in a new video following his Sunday arrest in Belarus after the country's government diverted his Ryanair flight to Minsk.
The video, shared to a pro-Belarus government social media platform on Monday, appears to show Protasevich, 26, calmly stating that he's cooperating with authorities. But his supporters and family claim that Protasevich's demeanor suggests he made the video under duress.
"The attitude of the Ministry of Internal Affairs employees towards me has been as correct as possible and in compliance with the law," he says in the video, as translated by CNN.
Protasevich added: "I continue to cooperate with the investigation and have confessed to organizing mass riots in the city of Minsk."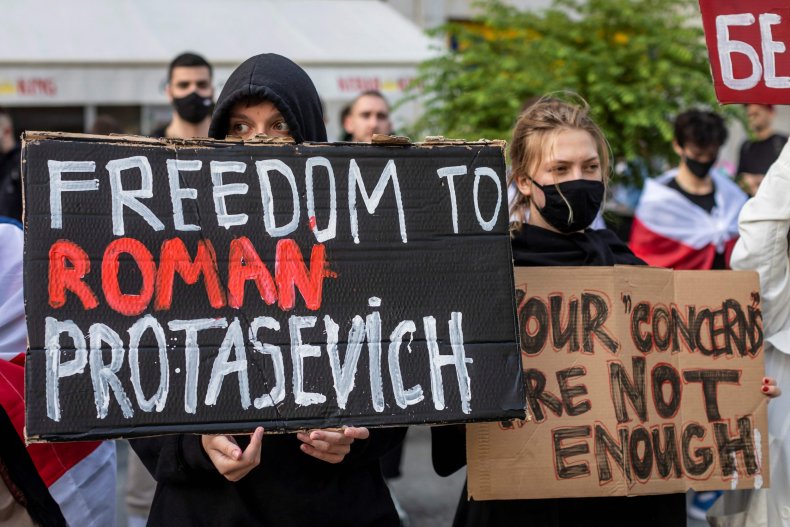 Exiled Belarusian opposition leader Sviatlana Tsikhanouskaya said "this is how Roman looks like under physical and moral pressure" in a tweet after the video's release. Newsweek cannot independently verify her claims.
Similarly, U.S. President Joe Biden said "the video of Mr. Pratasevich appears to have been made under duress."
Newsweek reached out to the Ministry of Foreign Affairs of the Republic of Belarus for comment. This story will be updated with any response.
In a video call with BBC, Dmitri Protasevich, Roman's father, said "it's possible he could be beaten and tortured."
"We are really afraid of that," he added. "We hope that the whole international community, including the European Union, will put unprecedented pressure on the authorities. We hope the pressure will work and the authorities will realize they've made a really big mistake."
Protasevich's arrest came after he campaigned in exile from his home country against Belarusian President Alexander Lukashenko. Last year, the journalist was charged with organizing mass riots that allegedly violated public order, prompting government officials to place him on a terror watch list.
On Sunday, Protasevich was aboard a Ryanair flight traveling from Athens in Greece to Vilnius in Lithuania, which was diverted mid-air to Minsk. He was quickly detained when the flight landed.
World leaders, including Biden, the European Union, NATO and the United Nations have strongly condemned Belarus over the incident.
"The United States joins countries around the world in calling for his release, as well as for the release of the hundreds of political prisoners who are being unjustly detained by the Lukashenka regime," Biden said in a statement on Monday.
European Commission President Ursula von der Leyen tweeted, "Those responsible for the #Ryanair hijacking must be sanctioned." Meanwhile, French Transport Minister Jean-Baptiste Djebbari said "hijacking a plane is unacceptable," and Ryanair CEO Michael O'Leary called the incident "state-sponsored piracy."