Belarus Editor Detained as Government Crackdown Intensifies Amid International Uproar
The editor-in-chief of a prominent news site in Belarus was arrested Sunday on suspicion of "extremism," amid a growing crackdown on dissidents and independent journalists from the country's authoritarian leader.
Aliaksei Shota, the lead editor of Hordna.life, was detained after the website reportedly posted "information on products that were duly recognized as extremist," according to the Associated Press.
Hordna.life is a news website focused on covering Belarus' fifth-largest city, Grodno. According to the AP, Shota had previously collaborated with the country's most popular independent news forum, Tut.by, which was known for covering widespread protests against the country's authoritarian leader, President Alexander Lukashenko.
Earlier this month, authorities raided Tut.by's offices, arrested at least 15 employees and shuttered the site, the AP reported.
On Sunday, Hrodna.life posted an update about Shota's detainment, stating that the editor was taken into custody by several men in a white minibus when he left his apartment that morning. Following the arrest, Shota's house was inspected by police.
"Shota's mother was told on duty that he was now in the Leninski district police department. She was not told under which article he was detained. Now Aliaksei's apartment is being inspected," the website stated.
By Sunday, it was unclear whether Shota had been formally charged with extremism, which could result in up to 10 years in prison.
Shota's arrest comes amid a growing crackdown on journalists and critics of Belarus' government. Last week, the situation intensified after a Belarus military jet forcibly intercepted a Ryanair plane en route from Lithuania to Greece in oder to detain dissident journalist Roman Protasevich.
Protasevich is the founder of the Telegram channel Nexta, which helped mobilize anti-Lukashenko protests that saw thousands of activists take to the streets last year. Pratasevich was charged by authorities with organizing riots, which could carry a prison sentence of 15 years.
A day after Pratasevich's arrest, authorities released a brief video in which the 26-year-old appeared to be confessing for his crimes, but observers said the statement was likely forced.
The plane interception sparked international outrage, with Ryanair calling the move a "state-sponsored hijacking." The European Union has since banned flights from Belarus and encouraged all European airlines to avoid flying over Belarus airspace.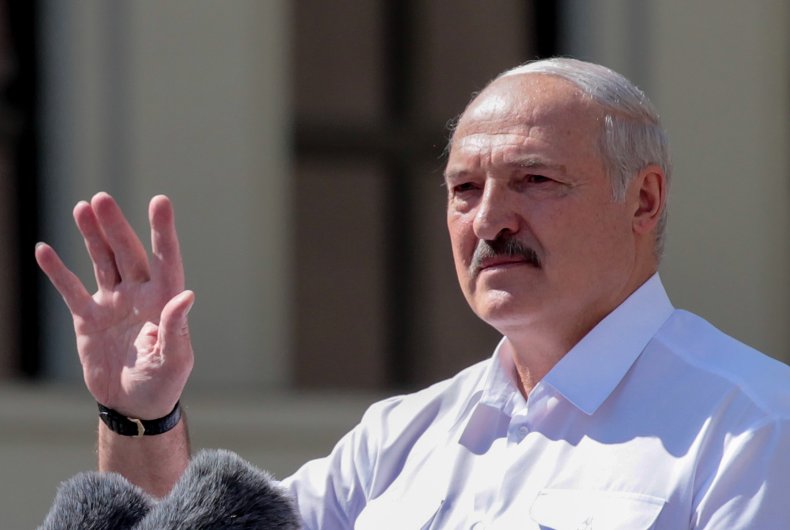 On Friday, President Joe Biden announced that Washington will reimpose full sanctions against nine Belrusian state-owned enterprises that were previously granted sanction relief. The U.S. State Department also issued a travel warning for American citizens to avoid the nation earlier this week.
"Belarus's forced diversion of a commercial Ryanair flight under false pretenses, traveling between two member states of the European Union, and the subsequent removal and arrest of Raman Pratasevich, a Belarusian journalist, are a direct affront to international norms," the White House said Friday.
"These events took place amid an escalating wave of repression by the Lukashenka regime against the aspirations of the people of Belarus for democracy and human rights," the statement added.
Following the incident, Lukashenko defended the country's actions and accused the West of waging a "hybrid war" against him.
"I acted in a lawful way, protecting people in line with international rules," Lukashenko said in a statement on Wednesday.
Newsweek contacted Hrodna.life for an additional comment, but did not hear back in time for publication.