Belarus Suspected Men of Being Russian Mercenaries Because 'They Did Not Drink Alcohol'
Nearly three dozen men accused of being mercenaries sent by Russia, were arrested in Belarus because they drew attention to themselves by behavior such as not drinking, which is "uncharacteristic for Russian tourists," the country's state news agency has reported.
The incident comes within the context of an unravelling drama ahead of presidential elections in the country dubbed "Europe's last dictatorship."
Belta cited law enforcement officials claiming that Russia had sent 200 fighters to Belarus, 32 of whom were tracked down at a sanatorium outside the capital Minsk. Belarus President Alexander Lukashenko says that the men were sent to destabilize the country ahead of the August 9 ballot in which he seeks to extend his 26-year rule.
"According to the management of the sanatorium, the visitors drew attention to their behavior which was uncharacteristic for Russian tourists, and uniform military-style clothing," Belta reported.
"They did not drink alcohol, did not visit entertainment establishments, kept themselves apart, trying not to attract attention to themselves," according to the agency, which listed the details of the men who were arrested by Belarus's secret services, which still goes by its Soviet-era name, the KGB.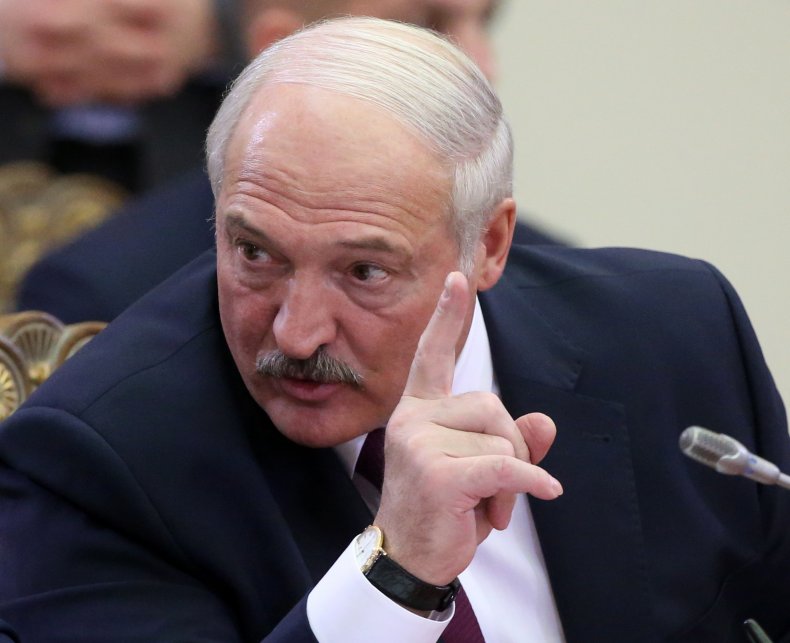 "They were carefully studying the territory and surroundings of the sanatorium in small groups," Belta added.
Kremlin spokesman Dmitry Peskov said he had no further information on the incident, pending further talks with officials from Moscow and Minsk, and he took a swipe at the insinuation that Russian citizens were renowned for drinking and rowdiness.
"In Russia there is a huge number of Belarusian men in similar clothes, who also behave uncharacteristically and do not drink alcohol," which did not mean that they were "doing something illegal," said Peskov, according to the Tass news agency.
Belarusian authorities say the detained men were from the private military company Wagner. The Wagner Group is believed to be run by Yevgeny Prigozhin, a Russian businessman close to President Vladimir Putin whose fighters have appeared in conflicts in Syria, Ukraine, Libya and other parts of Africa. It was blacklisted by the U.S. State Department in 2018 along with 30 other Russian groups.
Lukashenko, 65, has repeatedly accused Russia of trying to force Belarus to abandon its independence but some observers believe the arrests could be a stunt ahead of the ballot in which he faces his first genuine challenge.
The incumbent had expected a smooth ride similar to previous elections when he would usually face token candidates. However this year, he did not reckon on the popularity of Svetlana Tikhanovskaya, who started campaigning as a stand-in for her husband, Sergei Tikhanovsky, after he had been barred from running.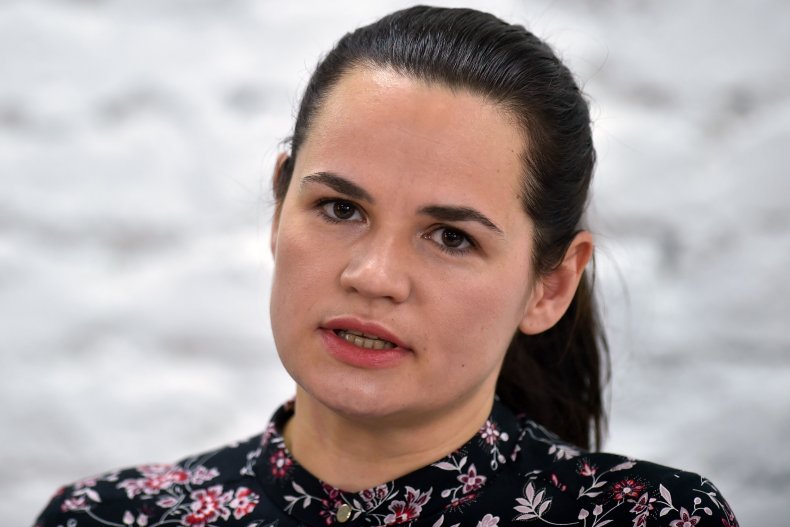 Alex Kokcharov, a country risk analyst for the London-based consulting and information firm IHS Markit said Lukashenko is concerned at the surprise emergence of Tikhanovskaya as a contender, and that the arrest of the alleged Russian mercenaries is linked to her campaign.
"I am sceptical that what has happened is a genuine attempt by an outside group to influence the election," he told Newsweek. "Law enforcement said 200 men entered the country, which means some are on the loose and that some sort of violent incident could happen in Belarus in the coming days."
Any such incident "could probably be blamed on these men, and linked to Tikhanovskaya's campaign to either discredit her in the eyes of the electorate, or remove her from the election," he said.
Lukashenko has underestimated Tikhanovskaya and is worried at the momentum she had gained over the last few weeks. She has delivered speeches on national television and to crowds in Minsk, and around the country.
"He decided that a housewife can't beat him. He clearly was wrong, and now he understands that a mistake has been made and he has to do something because she has captivated the nation, and his unopposed re-election is no longer guaranteed," Kokcharov said.
Tikhanovskaya's campaign has been fortified by her alignment with Veronika Tsepkalo, who is the campaign head for her husband, Valery Tsepkalo who has also barred from running.
Making up the trio is Maria Kolesnikova, the head of the presidential campaign for another opposition politician, Viktor Babariko, also cannot run. The three women appearing at rallies are a marked difference to elections of the past where Lukashenko's victory is a fait accompli.
"It is a female-run campaign where these women are incredibly visible, which shows that women can run the world and challenge the incumbent. This feminist twist has mobilized support for Tikhanovskaya from people who would not otherwise be keen on supporting opposition candidates, " Kokcharov said.
With no foreign election monitors and plenty of opportunities to manipulate the result, it is still likely that the Central Election Commission will declare Lukashenko the winner on August 10, but he could face problems if enough people did not believe the victory was legitimate.
"If Lukashenko is declared the winner but most people do not believe the result, this would open pathways which could be damaging to his continued rule," Kokcharov told Newsweek.