Russia Mercenaries Accused in Belarus Spark 'War in Relations' With Putin
Wanted in Ukraine, sent by Russia and en route to Africa, a group of alleged mercenaries arrested in Minsk face accusations that span continents and conflicts.
Belarusian President Alexander Lukashenko said that the 32 men detained last month in a sanatorium near the capital—and another detained in the country's south—were members of the notorious paramilitary Wagner Group. He says they were sent to disrupt Sunday's election, where he is facing the first genuine challenge to his power in 26 years.
The reach of the group, which has never been explicitly acknowledged by the Kremlin, stretches far beyond Russia's neighbor and is implicated in conflicts in Syria, Libya and eastern Ukraine.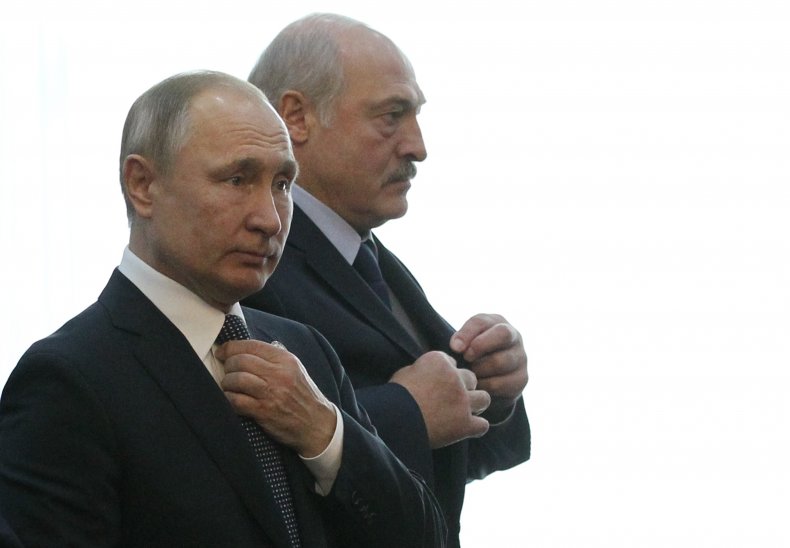 However, there is no certainty that whether some, or all, of those detained were from the group. It is said to be run by Yevgeny Prigozhin, a businessman whose nickname "Putin's chef" in part refers to his close ties with the Russian president and in part to his catering companies.
"It is a group of mercenaries employed by a private military company, but it is not 100 percent certain they are all from Wagner. So it is not clear whether they belong to Wagner, but it is a Wagner-style group," Alexander Baunov, senior fellow at the Moscow Carnegie Center, told Newsweek.
The names of the arrested men were published by the Belarusian news agency Belta, prompting the Russian writer Zakhar Prilepin to say he recognized some of them as men he fought with alongside Russian-backed separatists in Ukraine's Donbass region.
"There are two or three fighters from my battalion there. Actually, if not dozens, then hundreds of people work in PMCs and participate in military conflicts," Prilepin told the news agency Ura.ru. However, he did not believe that they were in Minsk to destabilize the country, but rather were simply on their way to other parts of the world.
This has been backed up by other sources such as the WarGonzo telegram channel, which said in a post citing Russian secret service sources that the coronavirus pandemic forced the group to use Belarus as a transit point for other countries, mostly in Africa.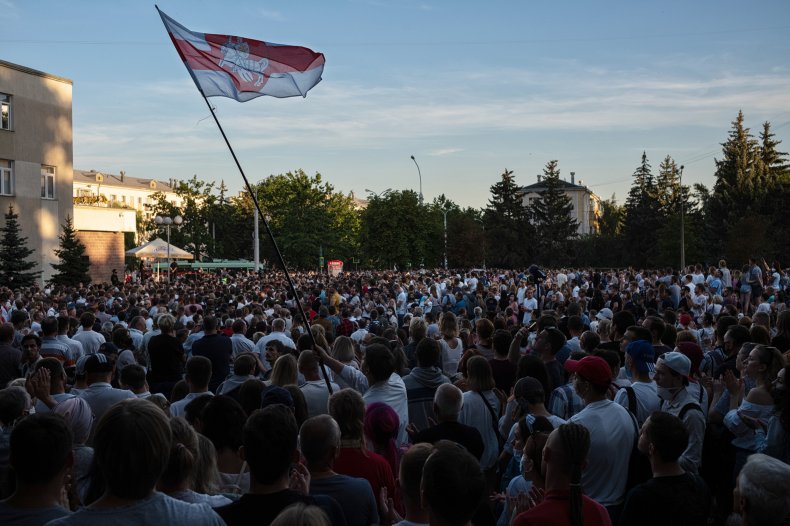 Russia has said men were transiting via Belarus en route to Istanbul and insists they had no mission to interfere in the Belarus presidential election. It has called on Lukashenko to release them.
Meanwhile Denis Korotkov, a journalist with the independent Russian newspaper Novaya Gazeta, told The Moscow Times that he believed the fighters were from Wagner and that around 10 of them had fought in Ukraine and Syria, although it was "harder to provide definite evidence of their involvement in African wars."
But did the men have a wider political aim? In a posting on Telegram, the head of R.politik.ru, Tatiana Stanovaya, said the arrested men may have been in the country to prepare the ground for a project involving Prigozhin and Russia's Security Council Secretary Nikolai Patrushev, regarding the integration of Belarus into Russia's territory.
She believes that Lukashenko is open to this as long, as long as there are guarantees for his future security.
"After the elections Putin would like to move forward with his integration project. There are two plans. This first one is 'program maximum,' when Belarus becomes a region of Russia, a total integration, which would be difficult to implement."
"There is also a 'program minimum,' which is based on a well-known integration plan that Russian government has worked on over the last few years," she told Newsweek.
The relationship between Lukashenko and Putin has waxed and waned over the years, propped up by Belarus's reliance on cheap Russian energy and cooperation between the neighbors' security services.
This grudging symbiosis has been upended by turbulence created by an opposition movement in Belarus, headed by Svetlana Tikhonvskaya, that worries Lukashenko.
This week, Lukashenko discussed, with Ukraine's president Volodymyr Zelensky, the prospect of handing over those detainees suspected of terrorist activities in the Donbass region to Kyiv. This has upped the ante against Putin.
"What Lukashenko did with that is destroy totally the cooperation between the militaries and special services of both countries that had existed despite the economic hardships," Baunov told Newsweek.
"Before the declaration of the possibility of extradition, there was still space to blame Russian oligarchs for employing privately people to undermine the Belarusian interests. He was carefully avoiding blaming the Kremlin."
"Now he has upgraded his enemy from Russian oligarchs to the Kremlin itself," Baunov added.
"It is a huge loss of face for Russian diplomacy and the Russian state media machine. A friendly government is considering extraditing them to an unfriendly country. It is a completely new war in relations between Moscow and Belarus.
"It is a huge challenge to Putin, it is something that puts him in a very difficult situation," he added.