Belarus Opposition Leader Says U.S. Has 'Moral Obligation' to Impose Sanctions on Country
Belarus opposition leader Sviatlana Tsikhanouskaya said the U.S. has a moral obligation to impose sanctions on the country as the Belarusian people continue to live under the regime of President Alexander Lukashenko.
"The USA has a moral obligation to be with us and I ask the USA, on the one hand, to help civil society to survive because it's rather difficult, it's extremely difficult to struggle inside the country," Tsikhanouskaya told CNN's Jim Sciutto on Monday. "People have to flee the country—you know our mass media is destroyed—and they also have to work somehow, so this support to civil society is crucial at the moment."
"On the other hand, we understand that without pressure on the regime, without political and economical isolation it would be much, much harder for us to achieve our goal," she added. "Don't hesitate in putting sanctions on the cronies of the regime, on the wallet of the regime, to stop this violence as soon as possible."
Tsikhanouskaya is set to meet with Secretary of State Anthony Blinken later in the day to discuss the human rights situation in Belarus.
Following the country's presidential election last August, 38-year-old Tsikhanouskaya was forced to flee to neighboring Lithuania with her children after running against Lukashenko in what the international community has deemed an election that was neither free nor fair.
Lukashenko, who was declared the winner by his own Central Election Commission, has won every presidential election since 1994.
Since the election and the following protests against Lukashenko's refusal to step down, the Belarusian president has increasingly cracked down on dissidents. Most notably, Lukashenko was accused of ordering the hijacking of a commercial flight carrying opposition journalist Roman Protasevich in June.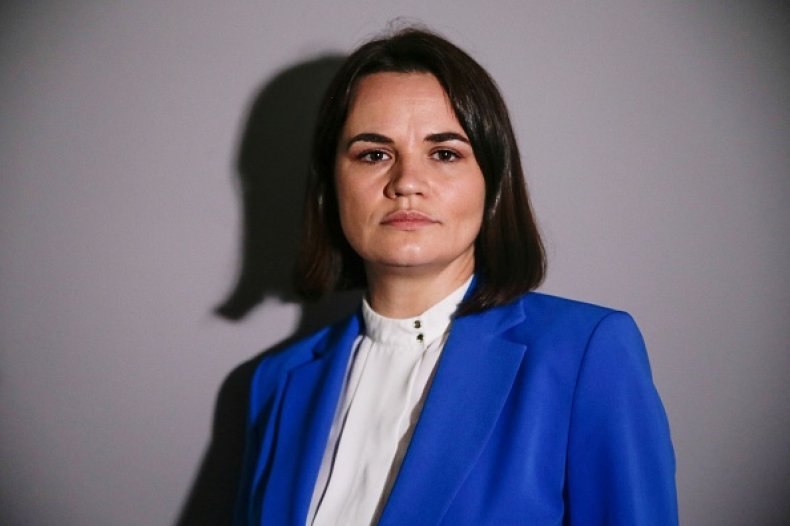 Tsikhanouskaya's husband, Sergei, has been in prison for 14 months on charges of violating public order, inciting hatred and plotting mass disturbance—charges he denies. Sergei, who is known for his activism against Lukashenko, was arrested days after he announced his intentions of running in the 2020 election. His wife subsequently ran in his place.
After Lukashenko allegedly forced the landing of Protasevich's Ryanair flight, the U.S., European Union, U.K. and Canada all united in imposing new sanctions against Belarus.
In a joint statement, the nations said they were "united in our deep concern regarding the Lukashenko regime's continuing attacks on human rights, fundamental freedoms and international law."
However, Tsikhanouskaya said none of the sanctions have gone far enough to combat the increasing violence by Lukashenko's regime.
"What's happening in Belarus is my personal pain. It's pain for 9 million people in Belarus. I think that nothing is enough at the moment," she said on Monday. "I'm sure that all the actions that the USA and the European Union are doing could be braver, could be faster, could be stronger."
It is unclear if the opposition leader will meet with President Joe Biden on her trip to Washington, D.C.
However, several lawmakers have called on Biden to do so in an effort to "send a message to Lukashenko, his allies, and the world that the United States will not tolerate such political repressions and state-sponsored violence that have taken place in Belarus."
Newsweek reached out to the White House for comment but did not hear back before publication.