Belarus President Condemned by Israel for Saying World 'Bows' to Jews Over Holocaust
Israel has admonished Belarusian President Alexander Lukashenko for saying the world "bows" to Jews due to sensitivities surrounding the holocaust.
The Israeli Foreign Affairs Ministry deemed Lukashenko's comments "unacceptable" on Tuesday, according to The Jerusalem Post. The Belarusian president made the controversial remarks last week as part of a speech he delivered during an event memorializing Soviet soldiers in World War II.
"Jews were able to make the world remember [the Holocaust], and the whole world bows to them, being afraid of saying one wrong word to them," Lukashenko reportedly said. "On our part, we, being tolerant and kind, did not want to hurt anyone's feelings and let the things down to the point when they have started to hurt us."
Israeli diplomats requested a meeting with their counterparts at the Belarusian embassy in Israel to discuss the remarks. Lukashenko, who has led the authoritarian government of Belarus since 1994, has been accused of antisemitism on multiple occasions in the past.
Lukashenko drew controversy early during his reign in 1995, when he praised aspects of Nazi leader Adolf Hitler. He argued that Germany had reached its "highest point" under the leadership of the murderous dictator while conceding the Nazi was "bad in foreign policy."
In 2007, he provoked international outrage by deeming the "Jewish city" of Bobruisk, Belarus "a pig sty" while comparing it to Israel. Belarus later insisted some of his remarks had been mistranslated.
"This is a Jewish city, and the Jews are not concerned for the place they live in," Lukashenko reportedly said. "They have turned Bobruisk into a pig sty. Look at Israel—I was there."
Tens of thousands of Jewish residents of Bobruisk were killed by Nazis during World War II, with 90 percent of the overall Jewish population in Belarus, around 800,000 people, killed during the Holocaust. Lukashenko spoke against "the crimes of Nazism on the Belarusian soil" during his speech last week.
In 2015, Lukashenko reportedly chastised Seymon Shapiro, who is Jewish and was then the governor of the Minsk region, for failing to get "all the Jews of Belarus under control."
Lukashenko has long been criticized for his heavy-handed treatment of political opponents. The European Union and countries including the U.S., the U.K. and Canada all imposed sanctions on Belarus after a commercial flight was diverted to Minsk in May to arrest a journalist critical of Lukashenko.
On Tuesday, Viktor Babariko, a former presidential election opponent of Lukashenko who is often considered his chief political rival, was sentenced to 14 years in prison after being convicted on corruption charges. Babariko denied the charges and the U.S. government called the trial a "cruel sham."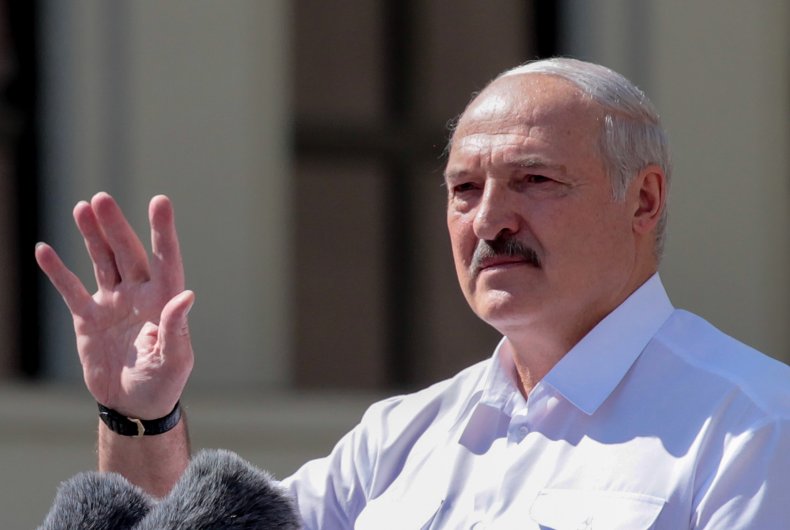 Lukashenko was awarded his sixth term as president last year in an election that critics said was fraudulent. Hundreds of thousands protested afterward, with at least 35,000 people being arrested in a crackdown that saw dissidents beaten by police, jailed or forced to leave the country.
The European Union imposed sanctions on Belarus over the 2020 election and multiple countries including the U.S. refused to recognize the results at the time.
Newsweek reached out to the Belarus embassy in Washington, D.C. for comment.