Belarus President Lukashenko Claims Journalist Pulled From Plane Was Plotting 'Bloody Rebellion'
Facing international fury over his decision to intercept a passenger plane and detain journalist and government critic Roman Protasevich, Belarus President Alexander Lukashenko has claimed that Protasevich was plotting a "bloody rebellion."
In his first public remarks since a military jet diverted a Ryanair flight on Sunday, Lukashenko denounced the recent EU sanctions issued against Belarus, accusing the West of waging a "hybrid war" against him. He also defended the forced landing, maintaining that he believed there was a bomb threat.
"As we predicted, our ill-wishers from outside the country and from inside the country changed their methods of attack on the state," Lukashenko told Parliament on Wednesday. "That's why they switched from organizing riots to trying to strangle us."
He added, "I acted in a lawful way, protecting people in line with international rules."
Lukashenko gave no details of the violence he accused Protasevich of plotting, but he claimed the 26-year-old journalist and his associates were working with foreign intelligence agencies to "organize a massacre and a bloody rebellion in Belarus," according to Reuters.
Protasevich, a prominent opposition figure living in exile, is the co-founder of the NEXTA channel on social media platform Telegram, which remains one of the last remaining independent sources of news in Belarus.
The channel has also been popular for organizing demonstrations against Lukashenko's government, especially after the president, who has ruled the nation for more than a quarter-century, was reelected to a sixth term in August. The opposition has rejected that outcome, saying it was a rigged election.
Many Belarusians have protested Lukashenko's victory, and more than 35,000 people have been arrested since demonstrations began.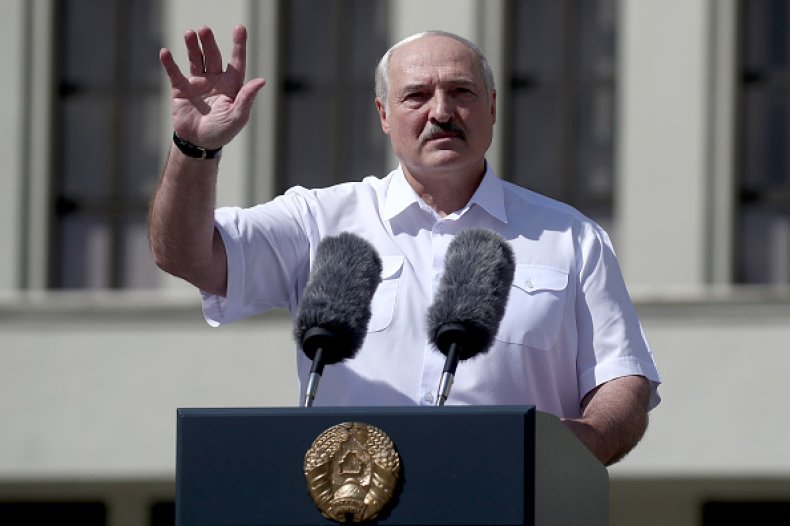 World leaders were unified in taking action against Lukashenko after what has been described, by the CEO of Ryanair, as a "state-sponsored hijacking." European Union nations have banned Belarusian airlines from the 27-nation bloc, told their own airlines not to fly over the country's airspace and threatened further economic sanctions against the nation.
In response, Lukashenko warned the country would retaliate by weakening its border controls. "We were stopping migrants and drugs—now you will catch them and eat them yourself," he said Wednesday.
On Monday, a video of Protasevich shown on state television has him claiming to be in good health and confessing to committing "civil disturbances" by organizing protests in Belarus. But many of his supporters believe his statements were coerced by Belarusian officials.
Both Protasevich's parents and the country's opposition leader, Svetlana Tikhanouskaya, have expressed concern about the journalist's welfare.
In an interview with ABC News from Poland, his mother, Natalia, pleaded, "World, please stand up and help. I urge you very much because they will kill him, they will kill him."
At a Monday press conference, Tikhanouskaya warned that "there is a high probability that at this very moment he is being tortured by the secret service staff."
Belarus has denied that it mistreats detainees.