Belarus Protester Takes on Entire Police Force in Video as Unrest Breaks Out Over Election
Video has emerged showing a man in Belarus confronting dozens of riot police during a night of protests about the election results in the eastern European country.
The clip, which has been viewed more than 350,000 times online, shows one man walking towards a patrol vehicle as it reverses away from him down a street.
The man can be heard screaming at the police car as it drives away from him. The camera then turns and shows dozens of police in full gear standing in a line and banging on their shields. One officer then chases the man away and he flees down the street unharmed.
Thomas van Linge, an Amsterdam based political science student, described the protester as Belarus' very own "tank man" to his 45,000 followers.
The incident occurred as Belarus sees wide-scale violence and unrest following the announcement that long-time leader Alexander Lukashenko was re-elected as the country's president on Sunday.
Central Election Commission chief Lidia Yermoshina announced Lukashenko—who has been in power since 1994—had won 80 percent of the vote, according to preliminary results. The graphic below, provided by Statista, illustrates Lukashenko's grip on the presidency.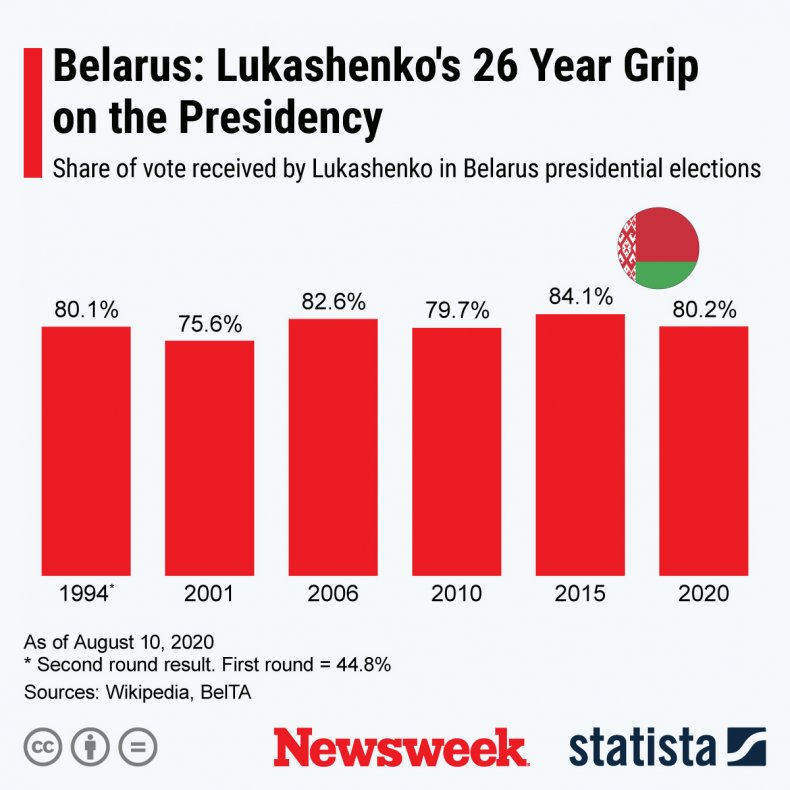 The result has been rejected by the main opposition candidate, who claimed the Belarus election was rigged.
"I will believe my own eyes—the majority was for us," Svetlana Tikhanovskaya said during a press conference. Tikhanovskaya is reported to have received 9.9 percent of the votes but claims that she had been polling at 80 percent in some areas.
There have been clashes with police and protesters in the capital of Minsk and across the country after the result was announced. Police have reportedly detained around 3,000 people so far in connection with the disorder, which saw officers fire rubber bullets and tear gas into large crowds.
A prominent rights group has claimed that at least one protester has been killed during the disorder. The Viasna Human Rights Center claimed the young male protester was hit by a police vehicle and suffered a traumatic head injury.
"Dozens of people were wounded as a result of clashes with law enforcement agencies. Ten of them were taken to hospitals," Viasna representative Sergey Sys told AFP.
In a statement on Facebook, the group added: "Human rights activists Viasna note that all responsibility for the tragic events of yesterday evening lies completely at the Ministry of the Interior, the Security Council of Belarus. It was their actions that led to tragic consequences. Sincere condolences to the relatives and friends of the dead."
Interior Ministry spokeswoman Olga Chemodanova denied anyone has died during the protests. "We have no dead," she told AFP.