Russia Is Eyeing Belarus—and It Might Spark a Conflict With the West Far Sooner Than Ukraine | Opinion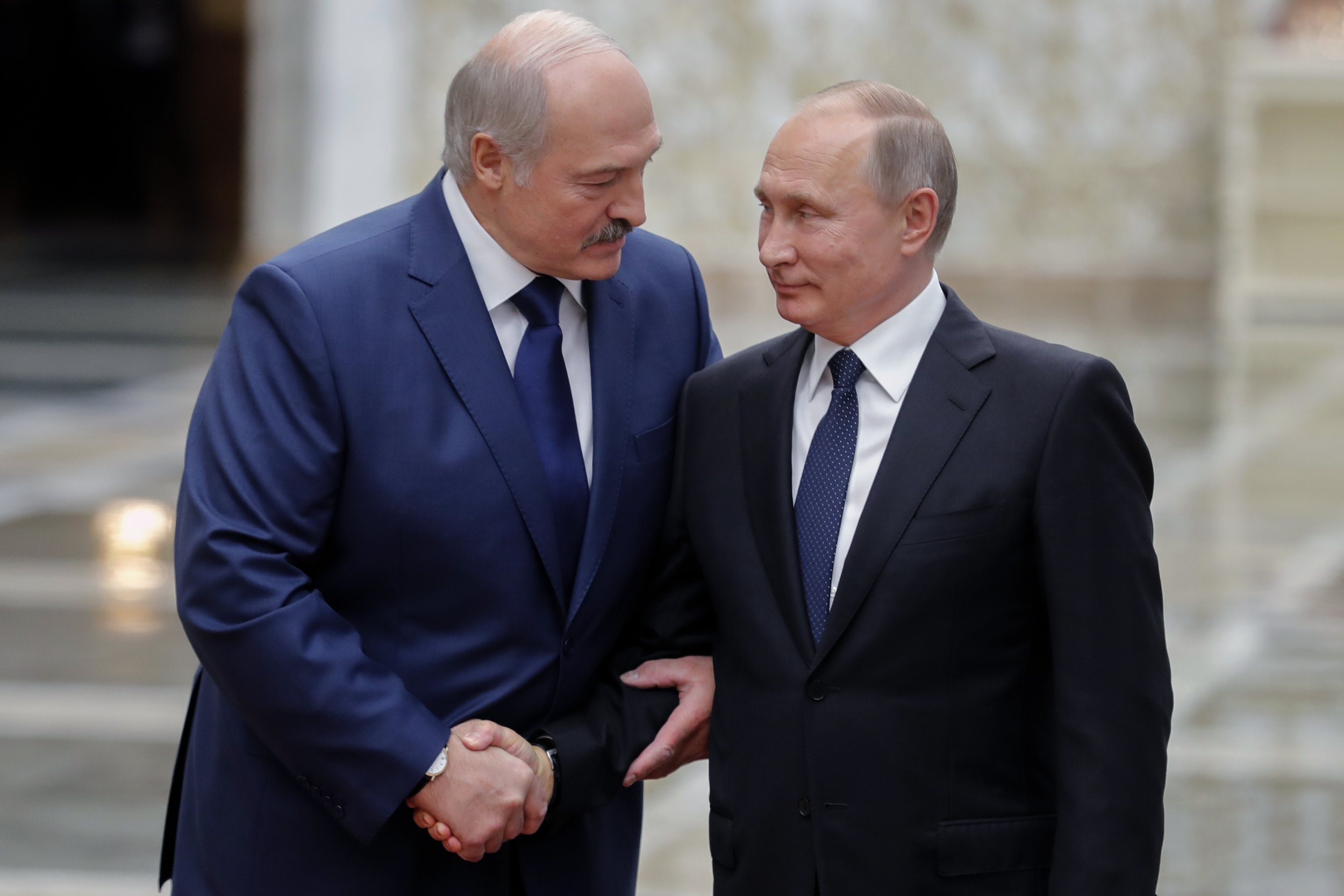 As the world remains focused on Ukraine, Russia's next big move might be brewing elsewhere. Since mid-2018 the Kremlin has visibly shifted to a more active engagement with Belarus, the 10-million people country perched on its Western border and ruled for the last quarter-century by Alexander Lukashenko, informally dubbed by observers as Europe's last dictator. In 1999 Belarus and Russia signed a treaty on a two-state union designed to foster greater political and economic integration, but the process has been glacially slow.
In December 2018, Russia's prime-minister Medvedev issued a de-facto ultimatum to Lukashenko demanding accelerated integration between Russia and Belarus through creation of common currency, court and other bodies. Since then Russian officials have persistently emphasized the same point. Other signs of Kremlin's rising pressure on Belarus multiply. In mid-2018 Moscow appointed a new ambassador, Mikhail Babich, a former KGB and Federal Security Service officer, who acted as Putin's enforcer in Chechnya in the past. Upon his arrival, Babich repeatedly raised the same financial issues, culminating in a major diplomatic uproar between the two countries late last month. Russian federal TV channels have recently begun comparing Belarusians to Ukrainians and stressed that Belarus will not exist without further integration with Russia
So what is Russia up to?
One theory often heard in Western media is that Putin wants to circumvent the bar on serving more than two consecutive terms as the President of Russia—his so-called 2024 problem—by creating a new political entity, made up of both Russia and Belarus, that he can then rule over. This belies more obvious and less costly solutions, like amending the constitution. More importantly, the timing of Russo-Belarusian tensions suggests that Moscow's interest in Belarus is actually foreign policy driven.
Since Russia's interference to Ukraine, the interests of Minsk and Moscow diverged. From the Kremlin's perspective, rising tensions with the West and NATO's increased presence in Eastern Europe made Belarus pivotal for defending Russia's western borders. Since 2010, Russia's military doctrine moved the threat of NATO to the top of external threats and included an explicit commitment to respond to an armed attack against the Union State of Russia and Belarus.
Belarus expert Pavel Usov argues that Moscow needs Belarus as a Western strategic base in light of rising tensions with the West and Russia's newly announced military 'strategy of active defense', which includes measures for preemptive neutralization of national security threats. Unlike Kaliningrad, Russia's small, militarized exsclave stuck between Poland and Lithuania, Belarus has a direct border with Russia, which allows to locate on its territory not only missiles, but also heavy military equipment and weapons (a relevant agreement took effect in 2017.)
Just as Belarus became more strategically important to the Kremlin, Lukashenko became increasingly alarmed that Belarus was to follow Ukraine's path. Since then, he continuously resisted the Kremlin's attempts to foster Russia's military presence in Belarus and displayed other signs of disobedience to Moscow. In 2015 Lukashenko explicitly refused to deploy Russia's airbase in Belarus and to sell to Moscow key military-industrial complex located in Belarus. Instead he launched the rapprochement with the West.
In response to Lukashenko's perceived disloyalty, Moscow increased pressure on Belarus. Since 2016 Moscow gradually cut down on Belarus' support by reducing oil supplies, raising gas prices, reducing purchases of Belarusian industrial goods. Russia's oil tax reform, under which Russia abolished its oil export levies and hiked its mineral extraction tax also hurt Belarus. Lukashenko used to buy Russia's oil on preferential terms, and then export by higher price (saving the difference as revenues.) Under the new Russian policy, to remain competitive Belarus may lose this revenue source, a loss of up to $8-12 billion by 2024. In response to Lukashenko's complaints, Moscow insisted that any concessions are only possible in exchange for deeper integration with Russia.
The December 2018 escalation in Russo-Belarusian relations also is geopolitical in nature. When in October 2018 Poland's President Andrzej Duda proposed a U.S. military base in Poland, Russia's ambassador Babich responded sharply that Moscow will interpret any attack on Belarus as an attack on Russia "with all the ensuing consequences." And yet in November 2018, Lukashenko once again turned down the idea of Russia's military base in Belarus and resisted a new Union State military doctrine that would include provisions for the establishment of a Russian base in Belarus. As result, in December 2018 tensions between Moscow and Minsk have escalated to a new round.
According to Russia military expert Alexander Golts, Lukashenko knows that to Belarus participation in Russia's military build-up no longer simply means more money from Russia, but risks involvement in a direct military conflict with the West. In an effort to counterbalance Moscow and limit its influence on Belarus, Lukashenko actively fostered cooperation with Europe and China. Belarussian rocket system Polonez, manufactured jointly with China is deployed in the Eastern part of Belarus and has on its radar Russia's military facilities in Smolensk and Bryansk regions.
According to military commentator Alexander Alesin, special units are trained in Belarus to conduct regular and partisan wars on its territory. While Belarus television channels predominantly rely on programming provided by Russian television networks, Lukashenko tries to diversify it with Ukraine's entertainment content. Since 2014, Belarus has also reduced its economic and investment dependence on Russia and increased turnover with China. Lukashenko also replaced Russia-leaning ministers in his government, along with priests, military and security officials.
Still the degree of Russia's penetration in Belarus remains very high. Belarus is particularly vulnerable to Russia's pressure in 2019 and 2020. In 2019-20 Belarus needs to refinance the largest parts of its Russian debts, which gives Russia some leverage. Moreover, Belarus and Russia will soon start discussing a new gas contract, since the current one expires in 2019. Ultimately, both parliamentary and presidential election campaigns will be held in Belarus in this period. But the Kremlin is unlikely to start any serious engagement with Belarus until Ukraine's presidential election. Lukashenko's political intuition proved to be very good in the past. If one is to trust his instincts, most challenging times in Belarus-Russia relations are yet to come.
Maria Snegovaya is an Adjunct Fellow at the Center for European Policy Analysis and a Post-Doctoral Associate at School of Public Policy at University of Maryland. She holds a Ph.D. in Political Science from Columbia University.
The views expressed in this article are the author's own.​​​​​