A Belarusian activist who has been imprisoned as part of a government crackdown stabbed himself in the throat during a Tuesday court hearing, after being told his family faced prosecution if he refused to plead guilty, Belaruisan media reported.
Footage showed Stepan Latypov lying on a wooden bench inside the Minsk courtroom as onlookers screamed and police officers stood over the activist. Another video showed Latypov being carried out to an ambulance with blood on his shirt.
Local media and human rights group Viasna-96 reported that Latypov is still alive.
"Belarusian activist, political prisoner Stsiapan Latypau cut his throat in the courtroom today," opposition leader Svetlana Tikhanouskaya tweeted. "He was threatened with the persecution of his family if he didn't admit himself guilty. This is the result of state terror, repressions, torture in Belarus. We must stop it immediately!"
Latypov was arrested last September as President Alexander Lukashenko cracked down on the mass protests following the contested presidential election that declared Lukashenko the victor a month before.
Latypov was detained in a courtyard that has become nicknamed the "Square of Change," after he stood in front of a mural to prevent state workers from painting over opposition graffiti.
The 41-year-old was charged with organizing riots, resisting police, and large-scale fraud. He has denied any wrongdoing. Human rights groups have also defended the activist, alleging that the charges are politically motivated.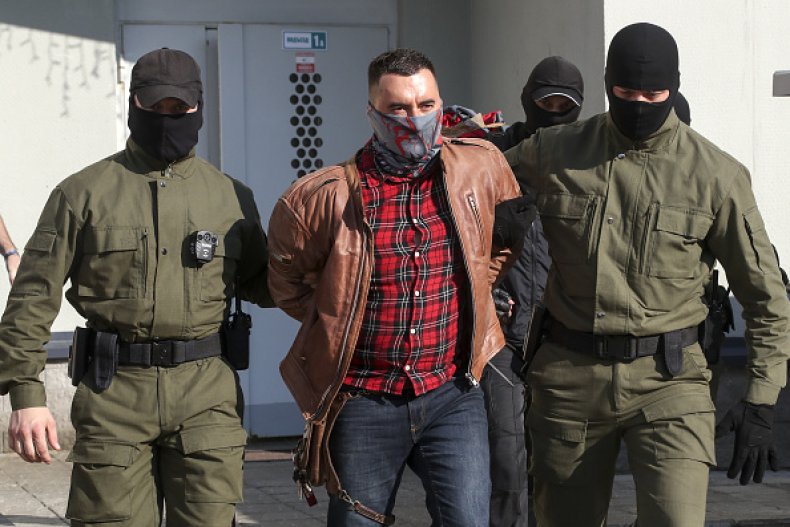 During his court appearance on Tuesday, Latypov testified that he had suffered 51 days of torture during police custody, and that his family and friends were threatened with the same treatment before he stabbed himself with a pen.
According to a court recording published by independent news outlet TUT.BY, Latypov said that authorities "swore to me that if I didn't admit my guilt, criminal cases would be opened against my relatives and neighbors."
He had stabbed himself while inside a metal cage of the courtroom. By the time police guards could open the cage, Latypov reportedly lost consciousness, according to Moscow Times.
Lukashenko's administration has drawn international criticism in recent weeks after the president ordered the diversion of a passenger plane to detain Belarusian journalist Roman Protasevich. The 26-year-old was detained by Belarusian agents after a plane traveling from Greece to Lithuania was intercepted by a military jet. Opposition leaders believe Protasevich is being tortured by state officials.
European Union nations and the U.S. have issued a number of sanctions against Belarus as a result and have ordered their airlines to avoid Belarus airspace.