For political refugees from "Europe's last dictatorship," the fight to keep Ukraine free from Russian domination is seen as the first step toward liberating their own country from Moscow's increasingly authoritarian control.
The Belarusian opposition abroad has rallied to Ukraine's defense.
Since the start of Russia's full-scale invasion of Ukraine on February 24, hundreds of Belarusian citizens have taken up arms on the Ukrainian side. Most of them are part of the Kastuś Kalinoŭski Regiment, a unit of the Ukrainian military comprised entirely of Belarusians. At least 16 have been killed in the fighting.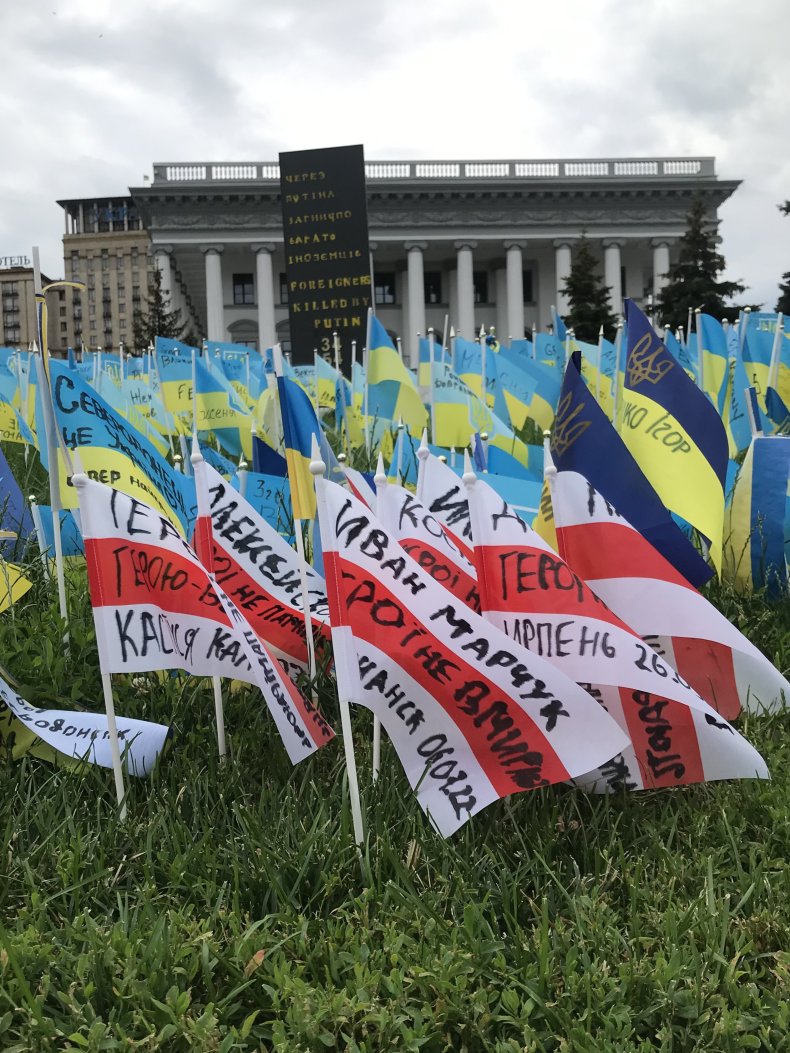 "After I finished my mandatory stint in the Belarusian army, I decided that I would never do military service again," Max, a soldier in the Kalinoŭski Regiment, told Newsweek. "But the situation came out exactly the opposite."
Like many of the men in his unit, Max left Belarus months before the current war between Russian and Ukraine began. For him, the sign that it was time to flee came when agents of the Belarusian KGB, still the name of the country's main state security service, brought him in for questioning on politically related matters.
"I ran from Belarus to escape prison, but I don't want to keep running," Max said. "Plenty of Belarusian exiles have gone to Europe, but if you run West, then the Orcs [a Ukrainian slang term for "Russian soldiers"] will just follow you there. It's better to risk your life as a free person than to keep running."
Max's life is certainly at risk. He offered a few details about the reality on the front lines.
"The most important weapon I have is a shovel," he said. "We dig a hole and then sit in it while the Orcs use up their ammunition trying to hit us."
"Sorry if I'm a little out of it. I haven't slept in four days," Max added.
Political exiles like Max have been helped by a network of Belarusian opposition activists in Ukraine, who see their temporary new home as the perfect base from which to continue the fight against the Moscow-supported regime of Alexander Lukashenko back in Minsk.
"Since February 20 of this year, Belarus has been under Russian military occupation," Aliaksei Frantzkevich, head of the Belarusian Crisis Center in Lviv, told Newsweek.
"The Russian troops who were in Belarus in February under the guise of a so-called 'training exercise' have not left our territory," he said. "We understand that if Russia is not defeated in Ukraine, then Belarus, too, cannot be free. And so we are here fighting with Ukrainians against our common imperial enemy as part of the process of the de-occupation of Belarus."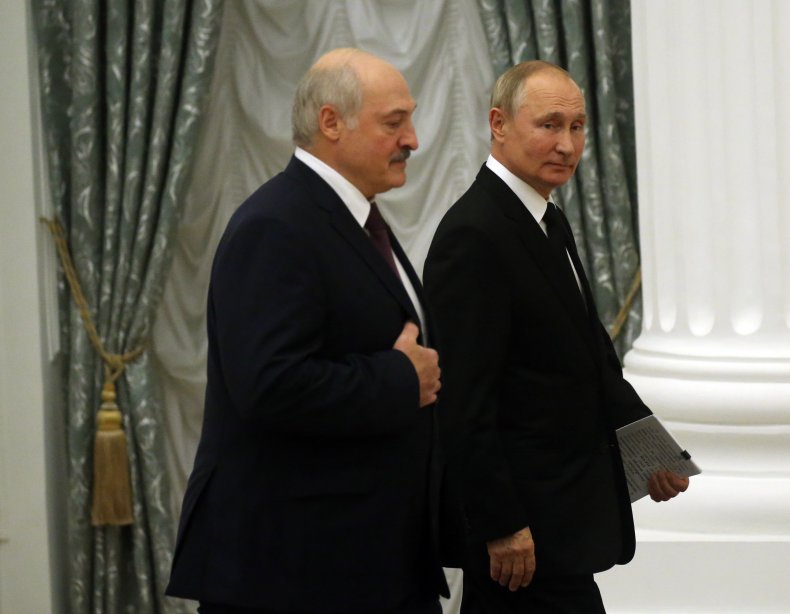 Frantzkevich found refuge in Ukraine in the months after August 2020, when a nationwide peaceful protest movement threatened to drive Belarusian dictator Alexander Lukashenko from power. Although Lukashenko's 80.1% vote share in that month's presidential elections was rejected as illegitimate by the European Union, the United States, and by much of Belarusian civil society, Lukashenko remains the de facto leader in Minsk to this day.
Lukashenko's grip on power, however, depends more upon support from Moscow than from the will of Belarusians themselves.
"We need the world to understand that there is a difference between Belarusians and Lukashisti," Frantzkevich explained, using a mild slur to describe Lukashenko's cadre of enablers.
"The majority of people in Belarus are against Lukashenko," he said. "That is why there are more than 3,000 political prisoners in Belarus, and it is why more are being arrested every day."
"Without material help from Russia to the security services of the Lukashenko regime," Frantzkevich added, "the dictatorship simply could not survive."
While his Lviv-based crisis center still offers political and material support to Belarusian civil society activists, its mission since February 24 has shifted towards procuring non-lethal aid, such as body armor, helmets and uniforms for soldiers on the front.
"When we fight against Russia in Ukraine," Frantzkevich said, "we are fighting for our own freedom, too."