Belarus' embattled President Alexander Lukashenko admitted in an interview with Russian media that he may have remained "too long" as his country's head of state, but argued that he is the only leader who can "protect" the eastern European nation.
"Yes, perhaps, I've sat [in the presidential chair] for a bit too long maybe, I'm shown not only on TV, but on irons and kettles as well. But truthfully I'm the only one who can protect Belarusians right now," Lukashenko said Tuesday, Russia's Tass news agency reported, citing comments the Belarussian president made to a journalist from the TV channel Rossiya-1.
Lukashenko, who has been in power for 26 years and has been dubbed "Europe's last dictator," has faced large protests since the August 9 election in Belarus, in which the official results showed him winning about 80 percent of the vote. Supporters of opposition candidate Svetlana Tikhanovskaya, who has fled the country, say the election was rigged and have rallied against the government—facing arrests and a violent crackdown from authorities.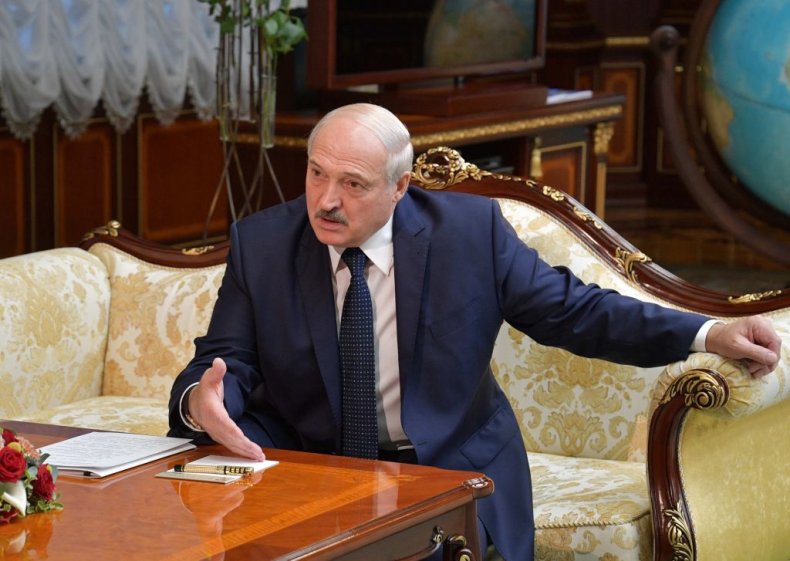 Although Lukashenko insisted that he is the only leader who can protect his country, he also said that he is not opposed to holding early presidential elections after his government carries out reforms to the nation's constitution.
"We are ready to carry out the reform of the constitution," he said, according to the Interfax news agency. "After that I do not exclude early presidential elections." But the Belarusian president also told a radio station in Moscow that he would not negotiate with opposition leaders, German broadcaster Deutsche Welle reported.
The European Union has refused to recognize the Belarusian election results, backing the protesters' claims that the results were inaccurate and threatening to impose sanctions. The U.S. has sanctioned Lukashenko's government since an election in 2006 that the State Department said "violated international norms and was neither free nor fair."
Newsweek reached out to the State Department for further comment, but it did not respond by the time of publication. Secretary of State Mike Pompeo said in August that the Belarusian election "was not free and fair."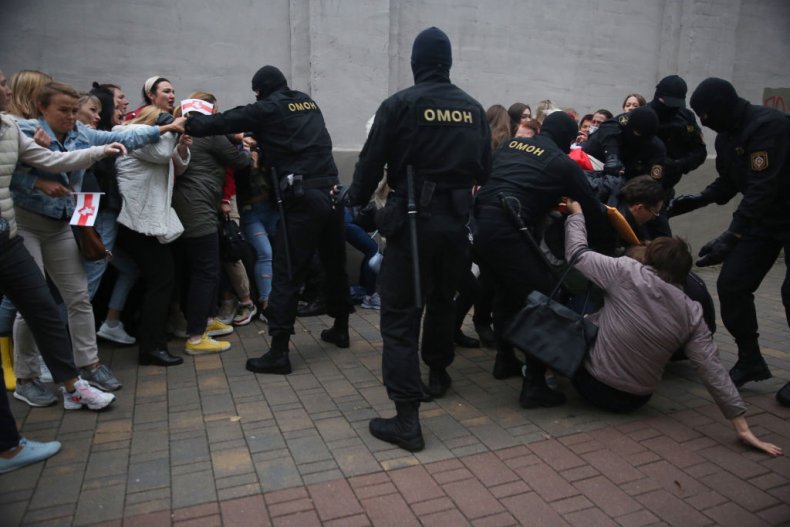 "We urge the Belarusian government to respect the rights of all Belarusians to participate in peaceful assembly, refrain from use of force, and release those wrongfully detained. We strongly condemn ongoing violence against protesters and the detention of opposition supporters," Pompeo said.
Lukashenko suggested to reporters on Tuesday that the protests against him were propped up by the international community. "All of this is globalised and internationalized," he claimed. The Belarusian president, a close ally of Russian President Vladimir Putin, warned that "Russia will be next" if his regime were to "fall."