Belarusian sprinter Krystsina Tsimanouskaya on Tuesday called for sanctions against the head coach of her national team, after officials pulled her out of the Tokyo Olympic Games earlier this week and attempted to forcibly remove her from the country.
The 24-year-old sprinter said she hopes there will be an investigation and possible "sanctions against the head coach who approached me and who deprived me of the right to compete," according to the Associated Press.
She added that she wants international sports authorities to investigate the situation, in order to determine "who gave the order, who actually took the decision that I can't compete any more."
Tsimanouskaya became the focus of international attention on Sunday when she accused Belarusian officials of removing her from the Olympics and attempting to put her on a plane back to Belarus after she criticized the team's management on social media.
In a video posted online on July 30, Tsimanouskaya expressed frustration with her national coaches after she was entered into an upcoming 400-meter relay event on short notice. The critical post set off a backlash in state-run media back home, where authorities relentlessly crack down on government dissent.
A dramatic standoff between Tsimanouskaya and Belarusian officials took place at the airport Sunday, where the sprinter refused to board a flight back home. In response, several countries stepped in to help Tsimanouskaya, with Poland offering the 24-year-old a humanitarian visa.
Officials confirmed Monday that Tsimanouskaya is now at the Polish embassy in Japan and is expected to seek refuge in Warsaw in the coming days.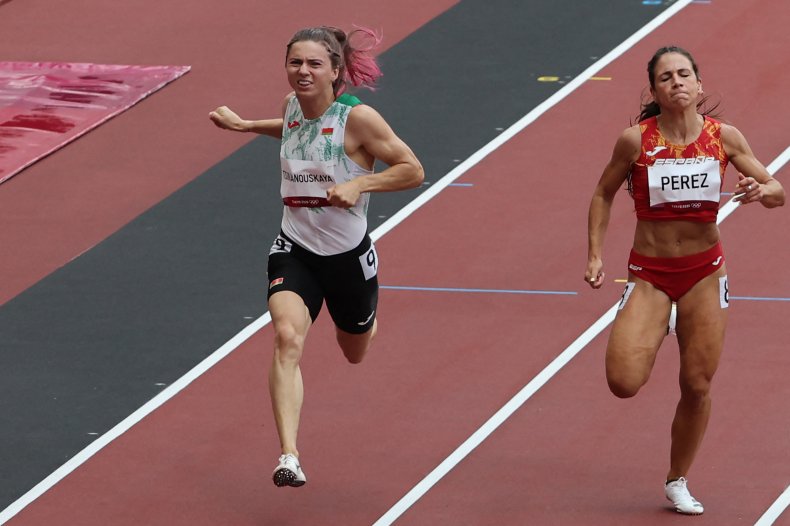 Belarus' authoritarian government has strictly targeted all forms of dissent since a presidential election a year ago triggered a wave of mass protests. At times, the government has gone to extremes to crackdown on speech, including recently diverting a plane to the capital of Minsk and to arrest a journalist aboard.
On Tuesday, Tsimanouskaya told the Associated Press that she feared for her safety in Belarus after team officials "made it clear that, upon return home, I would definitely face some form of punishment."
According to the Belarusian Sport Solidarity Foundation, an activist group helping Tsimanouskaya seek refuge, the state-run media campaign against the sprinter was "quite serious."
"The campaign was quite serious and that was a clear signal that her life would be in danger in Belarus," Alexander Opeikin, a spokesman for the foundation, told the AP in an interview.
Though Tsimanouskaya said she felt it was important to speak up after learning she would be competing in the 400-meter relay event at short notice—an event which she had never competed in before—the sprinter said she did not intend for it to become a political fight.
"I don't want to get involved in politics," she told the AP. "For me, my career is important, only sports is important, and I'm only thinking about my future, about how I can continue my career."
Newsweek contacted the National Olympic Committee of Belarus for an additional comment, but did not hear back in time for publication.