Belarusian Sprinter Granted Visa in Poland After Criticizing Coaches
A Belarusian Olympic sprinter who feared for her safety was granted a visa from Poland on Monday, after her team's officials tried to forcibly fly her out of the Tokyo games over criticism of their coaches.
The Polish Ministry of Foreign affairs said that 24-year-old Krystsina Tsimanouskaya was granted a humanitarian visa after she was removed from her Olympic team and officials tried to fly her back to Belarus against her will a day earlier.
"Kryscina Tsimanouskaya a Belarusian athlet (sic) is already in direct contact with Polish diplomats in Tokyo. She has received a humanitarian Visa. Poland will do whatever is necessary to help her to continue her sporting career. Flag of Poland always stands for Solidarity," Marcin Przydacz, Poland's deputy foreign minister, tweeted Monday.
The standoff between Tsimanouskaya and Belarusian officials took place Sunday after the 24-year-old athlete claimed she was being ushered out of the country due "to the fact that I spoke on my Instagram about the negligence of our coaches."
In a video posted online days earlier, Tsimanouskaya expressed frustration that she was entered into an upcoming 400-meter relay event at short notice by her coaches after other teammates were found to be ineligible to compete. The critical post set off a massive backlash in state-run media back home, where authorities relentlessly crack down on government dissent.
On Sunday, Tsimanouskaya said that members of her country's Olympic coaching staff came to her room and told her to pack before driving her to the airport to board a flight to Istanbul.
At the airport, Tsimanouskaya sought refuge with police and refused to get on the plane. In a filmed message distributed on social media, she asked the International Olympic Committee (IOC) for assistance and said she was being taken out of Japan without consent.
"I was put under pressure, and they are trying to forcibly take me out of the country without my consent," the 24-year-old said in the message.
The IOC told Newsweek Sunday that Tsymanouskaya was accompanied by police and a staff member of Tokyo 2020 at the airport while authorities determined next steps. Several European embassies, including Poland and the Czech Republic, offered to provide Tsymanouskaya with a visa as an alternative to returning to Belarus.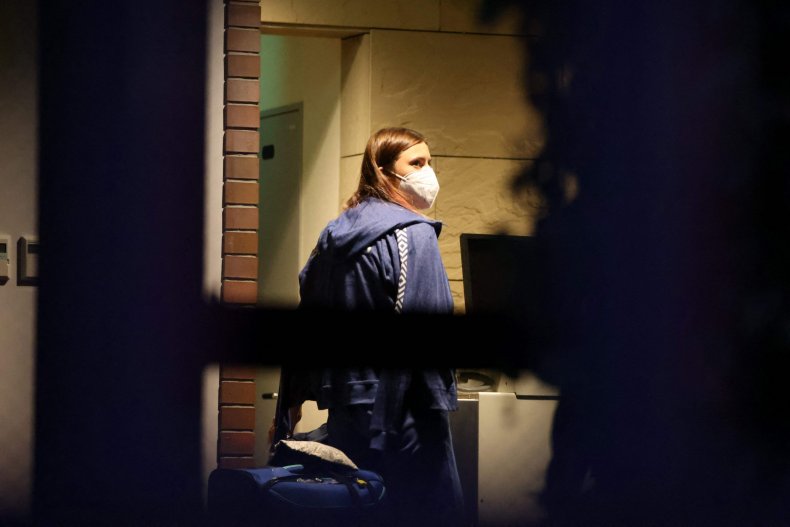 On Monday, Paweł Milewski, an ambassador from Poland to Japan, said Tsymanouskaya arrived at the Polish embassy in Tokyo and was "extremely tired and grateful."
"I met Ms Kryscina Tsimanouskaya at our Embassy few hours ago. She is tired, feared but very grateful for our help at this extremely difficult time of her sport career. We will continue our good cooperation with Flag of Japan Government to make her feel safe & secure," Milewski tweeted.
The Belarusian Sport Solidarity Foundation, an activist group helping Tsimanouskaya, told the Associated Press Monday that the 24-year-old athlete is expected to fly to Warsaw where she will seek asylum in the coming days.
According to the group, Tsimanouskaya feared for her safety once she saw the state-run media campaign against her. The country's authoritarian government has strictly targeted all forms of dissent since a presidential election a year ago triggered a wave of mass protests.
"The campaign was quite serious and that was a clear signal that her life would be in danger in Belarus," Alexander Opeikin, a spokesman for the foundation, told the AP in an interview.
Belarusian state media continued to paint a harsh view of Tsimanouskaya Monday. Presenters on state TV channel Belarus 1 called her decision to seek asylum "a cheap stunt" and "a disgusting act," and described her performance at the Olympics as a "failure."
Last week, the 24-year-old placed fourth in her first-round heat in the 100 meters, and did not advance to the next round. Tsimanouskaya was pulled from the games before she would compete in the Olympic 200-meter heats on Monday.