Meet the Cast and Characters of 'Belfast'
Kenneth Branagh has brought his childhood to life in the Oscar-hyped film Belfast. The semi-autobiographical drama follows the story of 10-year-old Buddy during the Troubles in late 1960s Northern Ireland.
Buddy is largely inspired by Branagh's own childhood experience of growing up in Belfast with his Ma, Pa, Gran and Pop by his side.
Newsweek spoke to the cast of Belfast on the London Film Festival red carpet, where they spoke candidly about their characters and their passion for the movie.
Meet the Cast and Characters of Belfast
Buddy — Jude Hill
Northern Irish actor Jude Hill, who is just 11-years-old, portrays Buddy, the protagonist in Kenneth Branagh's Belfast.
Buddy himself is based on a young Belfast-born Branagh, who moved to Reading, England, with his family during the outbreak of The Troubles in Northern Ireland.
Belfast is Hill's biggest role to date and he spoke to Newsweek about taking on the role.
He said: "I think Buddy is a really innocent, kind little boy who has been dragged into all this conflict with his cousin.
"I didn't really know what the troubles were before Belfast, so my mum and dad had to sit me down and talk about it and I watched a few YouTube videos and just like films with my family to understand it a bit more and get to know the role."
Already there is plenty of buzz around Hill winning the Oscar for Best Actor at the 94th Academy Awards in March 2022. If he takes home the prize, he will become the youngest actor to ever win an Oscar for Best Actor.
You can also see Hill next in Mandrake and Magpie Murders, coming to screens in 2022.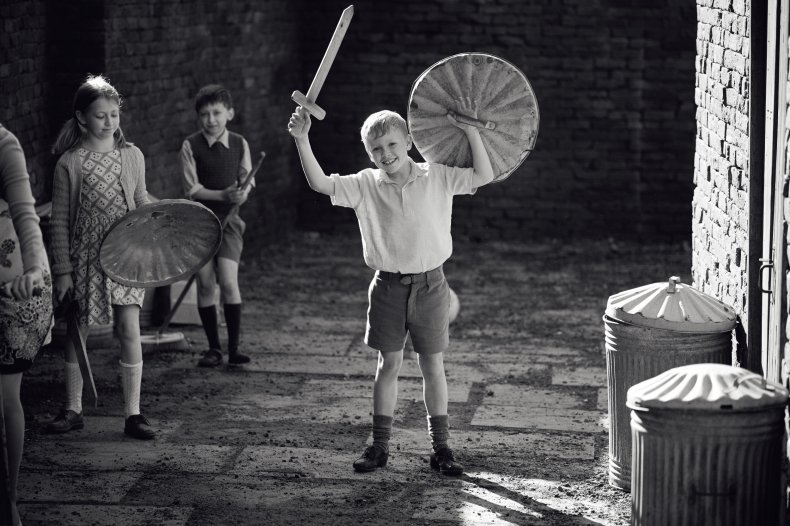 Pa — Jamie Dornan
Jamie Dornan portrays Pa in Belfast, Buddy's father.
Pa is not around all that often, working as a laborer in England every other week to provide for his family back in Belfast. With the outbreak of the Troubles, Pa is desperate to get his family out of their hometown, despite their love for the city. He even suggests taking the family as far as New Zealand or Australia, before settling for England.
Dornan, who hails from Northern Ireland, spoke to Newsweek about how "proud" he is of his home city.
He said: "I'm very aware of how the struggle at home has been and how long it went on for and how it still goes on to a certain extent, but this is the town that made me and I couldn't be more proud to come from there. So when I saw the subject line in my email was Belfast and saw the likes of who were involved in it, it was a very easy yes."
Dornan also shared he hoped by watching the people, his peers back home would be better understood.
"I hope people get a good understanding of the people from Belfast and what they've been through and the resilience and the humour of the people that come from there," he reflected. "If that was takeaway [from Belfast] for me then I'd be happy."
Dornan is best known for playing serial killer Paul Spector in The Fall and Christian Grey in the Fifty Shades of Grey franchise.
Belfast fans may also recognize the Northern Irish actor from his roles as Sheriff Graham Humbert in Once Upon a Time and Axel von Fersen in Marie Antoinette.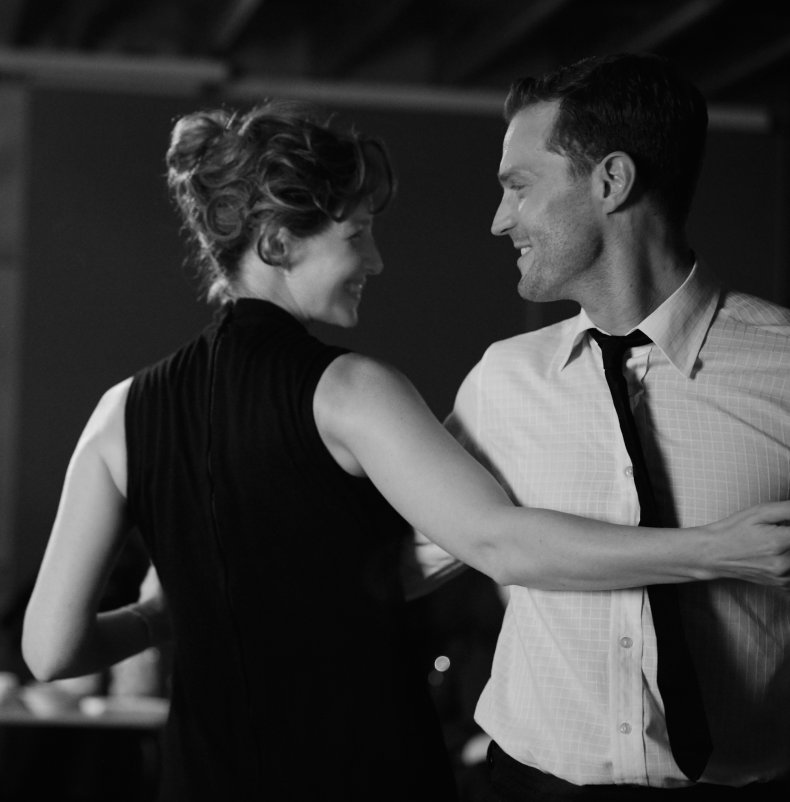 Ma — Caitríona Balfe
Dublin-born actor Caitríona Balfe stars a Ma in Belfast, Buddy's loving mother.
Ma is not only protective of her family, but protective of Belfast, the city she has lived and breathed her entire life.
Balfe described her character Ma as "amazing," adding: "She's in some ways very childlike. She's this very fierce mother but she's definitely kind of like a big fish in a small pond and she knows these streets but that's about all she knows and I think the tragedy of how so many people were forced to leave what they loved because of the Troubles... I think she represents that and and what it costs them and the pain that they have to go through for that."
"I mean, it's definitely [inspired by] Ken's family, but you know, he never really made us feel like we had to do his version of his parents," Balfe said.
"I thought a lot about my own mum, different stories, but there were similarities there. I watched so much footage of women in that time there's so much footage online of Northern Irish women, and I know a lot of them and you just you just try and absorb it all and then go to set and play."
Balfe is best known for her role as Claire Fraser in Outlander and for her successful modeling career where she worked for brands such as Chanel, Dolce & Gabbana, Alexander McQueen and Balenciaga.
Balfe also starred in the films Ford v. Ferrari, Money Monster and Now You See Me.
Granny — Dame Judi Dench
Dame Judi Dench plays the role of Buddy's Granny in Belfast.
Dench, who has worked with Branagh on numerous projects including All is True and Henry V, joked that all Branagh had to do was "raise his eyebrows" for her to say "yes I'll do it, of course I'll do it'.
She continued: "But it's an important story. And I've known him for such a long time. And I knew that it was very much part of his life and he came down and read it to me. And that, in itself, was a very, very poignant and important moment. When it's real and it's so vivid, and it's something that you know, is so personal, you know, you're jolly pleased to be even considered to be part of it."
Dench's career has spanned more than 64 years, covering the small screen, cinema and the stage.
She is known for countless roles, perhaps most famously as M in GoldenEye and many subsequent James Bond films, making her last appearance in the franchise in Skyfall in 2012.
Dench won an Oscar for the role of Queen Elizabeth I in Shakespeare in love and received other Oscar nominations for her performances in Philomena, Chocolat and Notes on a Scandal.
Her other well-known credits include Mrs. Brown, As Time Goes By and Red Joan.
Pop — Ciarán Hinds
Northern Irish actor Ciarán Hinds portrays Buddy's Grandfather Pop in Belfast.
Hinds is well-known for his role as Gaius Julius Caeser in Rome, Mance Rayder in Game of Thrones, and Aberforth Dumbledore in Harry Potter and the Deathly Hallows – Part 2.
He has also appeared in many films, including The Man in the Hat, The Women in Black and Tinker Tailor Soldier Spy.
Moira — Lara McDonnell
Lara McDonnell plays the role of Buddy's troublesome older cousin Moira, who she described as "very cheeky, very naughty" and a "troublemaker."
McDonnell, who is from the Republic of Ireland, shared that she watched countless episodes of Derry Girls and replayed In the Name of the Father to get the Northern Irish accent just right.
She said: "I watched a lot of Derry Girls, just to hone in on especially girls speaking in a Northern Ireland accent. I feel like there isn't a lot of female representation when it comes to Northern Irish accents. I watched a lot of Daniel Day Lewis and In the Name of the Father, I think I literally watched it on repeat just to gauge the accent."
McDonnell landed her breakthrough role as Matilda in London's West End musical Matilda the Musical in 2015.
Since then, she has gone on to star in several films, including playing Holly Short in Artemis Fowl and young Rosie in Love, Rosie.
Her other credits include Delinquent Season and To Walk Invisible: The Brontë Sisters.
Billy Clanton — Colin Morgan
Colin Morgan takes on the role of Billy Clanton in Belfast, a staunch protestant who threatens Buddy's father Pa for not picking a side in the Troubles.
Morgan is a Northern Irish actor, best known for playing the title character in the BBC series Merlin.
He is well known for playing Detective Sergeant Tom Anderson in The Fall, alongside Belfast co-star Jamie Dornan.
He also played Leo Elster in Humans and Frankie Shea in Tom Hardy's Legend.
Belfast is in theaters now.