Put simply, Belfast is Sir Kenneth Branagh's love letter to his hometown. And although it might not be out yet, it is already tipped to win an Oscar at the upcoming Academy Awards in March, owing to its stunning cinematography, star-studded cast and gripping storyline.
Born in 1960, Branagh and his family moved to Reading, England, during the outbreak of The Troubles in Northern Ireland towards the end of the decade.
Despite being away from his hometown for over five decades (something Branagh finds quite fitting), his love for his city has never diminished and only grew stronger over lockdown last year.
Newsweek caught up with Kenneth Branagh and stars Caitríona Balfe and Jamie Dornan at the 2021 London Film Festival to find out more about Belfast.
What is

Belfast

About?
Belfast, written and directed by Sir Kenneth Branagh, is a semi-autobiographical tale, told through the lens of 10-year-old Buddy (played by Jude Hill). A protestant, working class boy, he and his family attempt to continue their ordinary lives in North Belfast, during the outbreak of The Troubles.
Speaking to Newsweek on the London Film Festival Red Carpet, Branagh shared why now was the right time to bring his story to the small-screen.
"The lockdown had a lot us very introspective and I think, thinking about things that were precious to us," he said.
"In my case, it involved this moment of leaving Belfast which it seemed to me... now I had 50 years of thinking about it, it was something that was the most significant impact on my life.
"So, I began to think maybe what happened to our family could be something that other people could identify and recognize so that there was a point to telling this story beyond recounting something in my own history. The lockdown sort of opened the possibility of being able to tell it."
Branagh said he hoped people would feel reflective after watching the movie, joking "people can take away whatever they like."
He added: "There is a sort of mixture of value, pains and joys of family life that your lucky enough to have even when it's under threat and sometimes how — and this is a very Belfast thing — how gallus humor in times of extreme difficulty are necessary to allow us to sort of put one foot in front of the other. That sort of sharp-witted, gallus humor I think Belfast has a particular handle on."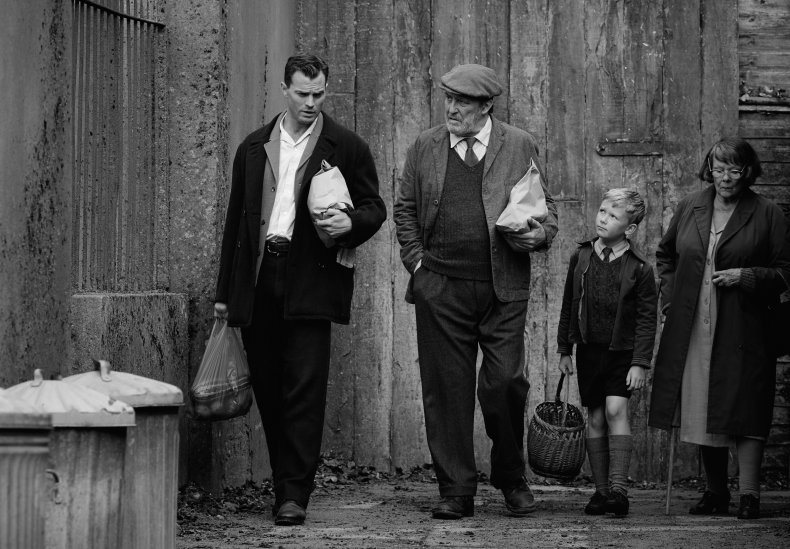 Belfast may be told through the eyes of 10-year-old Buddy, but his close-knit family, consisting of his Ma (Balfe), Pa (Dornan), Pop (Ciarán Hinds), Granny (Dame Judi Dench), brother Will (Lewis McAskie) and cousin Moira (Lara McDonnell) are always present.
Caitríona Balfe (Outlanders) told Newsweek, she hoped Belfast would bring people together: "We have so many similarities than we do differences and the love of our family and our community is what we should be investing in and not trying to find what separates us."
Jamie Dornan, who stars opposite Balfe as Pa, a joiner with hopes of taking the family to London or Australia to escape The Troubles, told Newsweek: "[Pa] is a hard-working family man who has a wife and two young kids. He is a hard-working man from a working-class part of north Belfast who is working in England, trying to do right by his family and then they are thrust into this insane, unimaginable beginnings of war and he is trying to make the right decision for the better of his family."
Dornan, who is Belfast born and bred, said it was a "very easy, yes" to be a part of Branagh's story.
"I'm very aware of the struggle at home has been and how long it went on for and how it still goes on to a certain extent but this is the town that made me and I couldn't be more proud to come from there. So when I saw the subject line in my email was Belfast and saw the likes of who were involved in it it was a very easy yes," he said.
When will Belfast be released in the U.S.?
Belfast will be released in U.S. cinemas on Friday, November 12.
Unfortunately, UK audiences will have to wait a little while longer to see the highly-anticipated film, which is slated to be released on February 25, 2022.
Ever since Belfast's premiere in September 2021 at the Telluride Film Festival (TFF), Belfast has been the subject of Oscars buzz, ahead of the 94th Academy Awards which is set to take place on March 27, 2022.
Variety recently reported film production and distribution company Focus Features are set to campaign for Jude Hill to receive a Lead Actor Oscar nomination, with Caitríona Balfe, Jamie Dornan, Ciarán Hinds, and Dame Judi Dench being put forward for Supporting Actor nominations.
Belfast premieres Friday, November 12 in U.S. theaters