Belgian police have contacted Facebook to remove a post advertising an unauthorized festival planned for this weekend because of concerns that the gathering could lead to violent clashes and an increase in COVID-19 cases.
The festival is being advertised on social media as a sequel to an April Fools' Day party that drew thousands of people to one of Brussels' largest parks, Bois de la Cambre, and ended in clashes with police earlier this month. A group called Abyss for Saturday is leading the new event in the same park.
On Tuesday, prosecutors in the city said they had arrested the manager in charge of the party's Facebook page, and warned residents to stay away from the park due to concerns of violence and rising virus cases, the Associated Press reported.
For more reporting from Newsweek's Nicole Fallert see below.
Police in Brussels dispersed thousands of people partying and ignoring COVID-19 safety protocols in the city's Bois de la Cambre park earlier this month.
Amid warming temperatures and pandemic-induced fatigue, a crowd of between 1,500 and 2,000 people gathered in one of the Belgian capital city's largest parks to attend "La Boum," a fake festival advertised on Facebook that promised a lineup of popular DJs.
The event's organizers reportedly made it clear that "La Boum" was actually an April Fools' Day prank, according to the The Brussels Times. But attendees, mostly young people, still flooded the park, many of whom were not wearing protective face masks and ignoring social distancing protocols.
The Brussels Times reported that police planned to be in the park on April 1 and April 2 after learning of "La Boum" and had communicated via social media that the event was "unauthorized and fake," and that attendees would be subject to arrest and prosecution.
Twenty-two people were arrested, 18 without charges. Four of the people arrested were charged with rebellion, assault and battery against the police, as well as non-compliance of COVID-19 safety measures, according to the Brussel's public prosecutor's office.
For more reporting from the Associated Press, see below.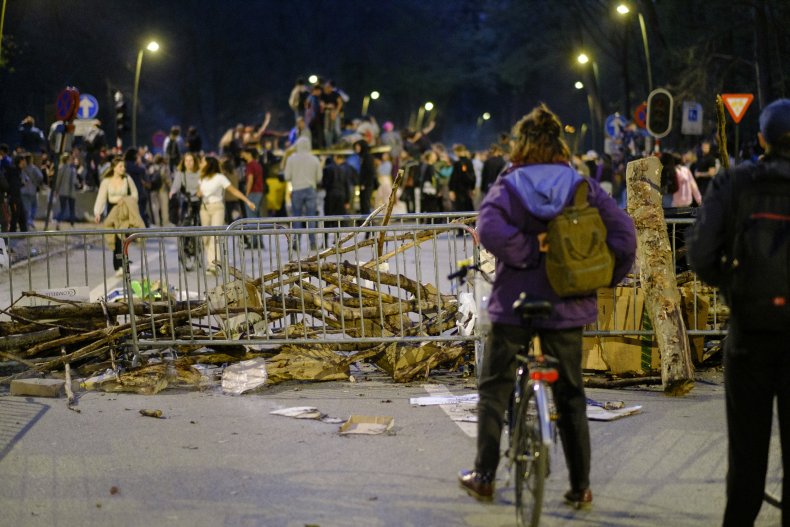 Organizers, who have asked in vain for Belgium's Interior Ministry to grant them permission to host the event, expressed their "surprise" at the manager's arrest, which came as Belgium continues to struggle with the coronavirus.
The country with 11.5 million inhabitants has been severely hit by the COVID-19 pandemic, reporting over 976,000 confirmed coronavirus cases and more than 24,000 virus-related deaths. Earlier this month, the city's authorities said there was only just one bed left in Brussels' intensive care units when a fire broke in the working-class neighborhood of Anderlecht, a consequence of the crippling strain on the hospital system.
"I am willing to listen to requests from people who want to organize events, but this is not the time," Brussels Mayor Philippe Close said. "We have to hear what is going on in our hospitals. The situation remains difficult."
In a bid to avoid a repeat of the incidents, Belgian police have contacted Facebook to find out how to take down from the social network the promotion of Saturday's party, local media reported. Meanwhile, Brussels prosecutor's office said that anyone breaching COVID-19 restrictions could be prosecuted.
Amid a growing sense of discontent against coronavirus measures taken by the government, some cafes and restaurant owners in the French-speaking region of Wallonia have also planned to defy restrictions and to reopen their terraces on Saturday, a week before the date set for the reopening.
Newsweek, in partnership with NewsGuard, is dedicated to providing accurate and verifiable vaccine and health information. With NewsGuard's HealthGuard browser extension, users can verify if a website is a trustworthy source of health information. Visit the Newsweek VaxFacts website to learn more and to download the HealthGuard browser extension.