Outrage After 158 Wild Boars Killed in Hunt That Got Out of Control: 'Real Carnage'
Hunting group leaders in France have condemned an expedition in which 158 wild boars were shot dead—nearly four times the number killed on a normal hunt.
Half of the 84 participants in last Wednesday's expedition in La Croix-Aux-Bois in the Ardennes region were members of a local hunting club.
There has been consternation in both the Belgian and French media over the high death toll.
President of the Fédération de chasse des Ardennes ("Ardennes Hunting Federation"), Jean-Pol Gambier told French newspaper L'Ardennais he "strongly condemned" the number of animals killed, saying it "significantly damages the image of hunting."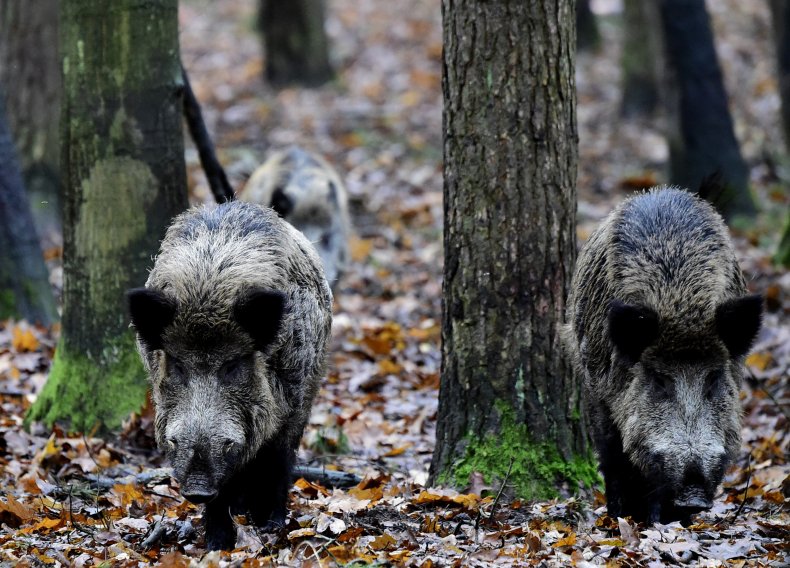 The publication reported that more than 300 bullets were fired over several hours and, despite the high number of dead boars, no order to stop firing was given.
Gambier said that "when they discovered they were firing so many shots, they should have stopped," in comments also reported by Le Point.
One unnamed hunt participant told L'Ardennais that proper safety measures were not adhered to, and that the hunt took place near where there had been a recent hunting accident.
The participant said that normally no more than 40 boars would be killed in one hunt adding that "there was no respect for the animal, this must not happen again.
"It was a real carnage. Some animals were left injured, others had missing body parts, others were not usable. There was no honor.
"It was ridiculous. We are a laughing stock among everyone who has heard about it," the hunter added.
The president of a private hunting association in Croix-aux-Bois, Jean-Michel Delahaut, told the Belgian newspaper Le Soir: "If it's true, I do not endorse it. This is not acceptable."
Meanwhile, the vice-president of France's hunting federation, Jacky Desbrosse, told L'Ardennais: "At a time when we are making considerable efforts to strengthen the legitimacy of hunting in our society, such acts are intolerable and contrary to our most basic ethics."
However, the head of Wednesday's hunt, René Debrosse (no relation to Jacky), defended the actions of the participants, explaining that there had been an unusually large number of wild boars— around 250 spread out over 62 hectares.
"It was an unfortunate occurrence. As far as the ethics of hunting goes, it is a large number. I would have preferred to get only 20 or 30 per day, but you cannot choose," Debrosse said, according to Le Point.
The French government has called for hunters to follow stricter safety rules after the deaths of eight people already this hunting season, which started in September and finishes in February 2020. This death toll is one more than for the whole of last year's hunting season.