The Belkin 2-in-1 Charger Stand With MagSafe is the Perfect iPhone Charger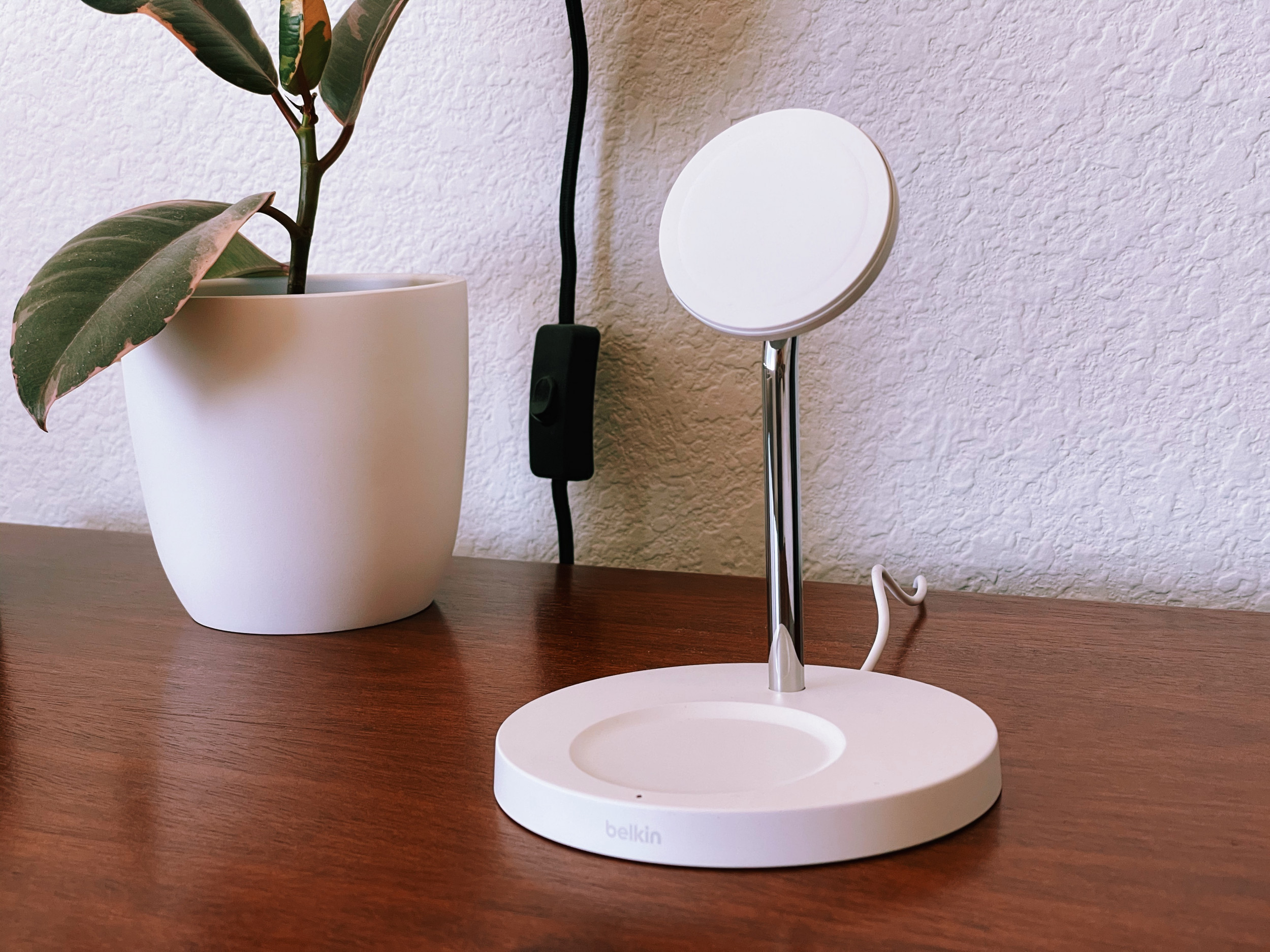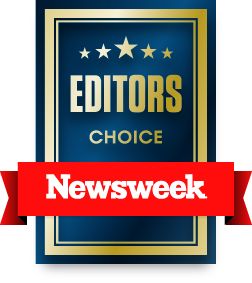 When a product is attractive, works well and generally has no faults, it's easy to call it the best. And usually, the best product in a particular category is the easiest to recommend everyone buy. The other consideration when making purchasing decisions, however, is price and value. In the case of Belkin's 2-in-1 MagSafe charging stand, it's the best iPhone 12 stand, hands-down. It's probably not the best value, though.
The decision of whether to buy the best iPhone 12 stand at $99 will be a personal one, based on what you need and what you're willing to spend. Whatever you decide, however, it doesn't take away the fact that this is one beautiful device that works really well.
Design and First Impressions
Officially named, the Boost Up Charge Pro 2-in-1 Wireless Charger Stand with MagSafe is a mouthful. There are a lot of qualifiers in the name for such a simple and elegant product. It's minimalist in that there's not much in the box, either: merely the stand and the AC plug.
On first inspection, the 2-in-1 MagSafe stand from Belkin is a sight to behold. It looks shiny and beautiful in product photos, which is expected, but it looks just as good in person, too. It's the combination of contrasting materials and sleek lines that work so cohesively together. The dock comes in either black or white at the time of writing.
The 2-in-1 part of the stand's name comes from the dock's ability to charge an iPhone 12 variant (MagSafe compatible) and AirPods or AirPods Pro on the base. The wireless charger in the base has a circular indent to indicate where the charging area is. While AirPods and AirPods Pro fit nicely in the circular spot, it's actually a universal Qi charger, so it can definitely be used for more than just AirPods if you prefer. In fact, if you lay your iPhone on top of it, the phone will charge there, too.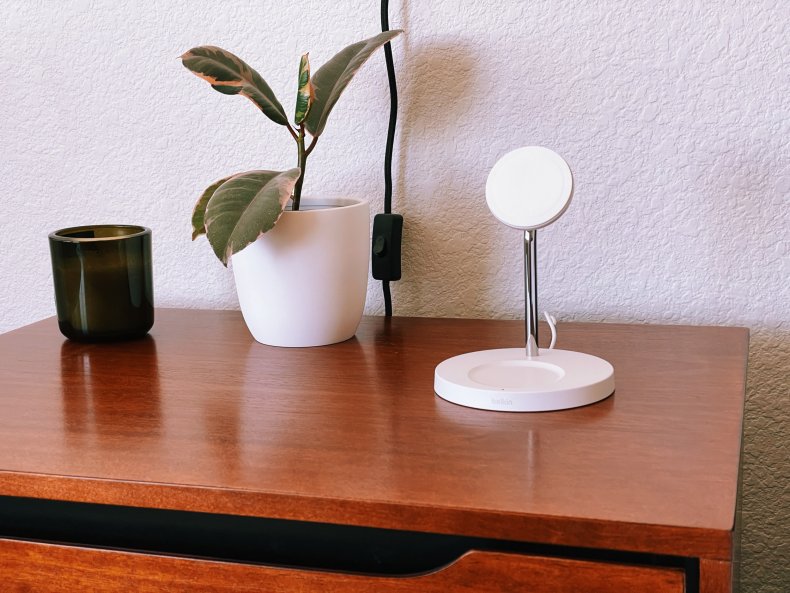 The magnetic area of the MagSafe charger is white on both the black and white stands—to do with some technical aspect of magnetic wireless charging. For that sole reason, I prefer the white stand. The black is nice, too, and when an iPhone is docked, you can't see the white color.
Features and Specs
Belkin's advertised features and specs:
Charge an iPhone 12 model and AirPods at the same time
Faster wireless charging, up to 15W
Architecturally inspired design
Charge in any orientation
Compatible with official MagSafe cases
LED light indicates proper and safe charging
Two-year warranty
Performance
MagSafe charging is what makes this stand what it is. It's the magnet in the phone and stand that allows its simplicity without clips or hooks or ledges. In leaning into the MagSafe element, Belkin has been able to whittle away all but the essential parts of a charging phone stand. Then it polished the result into an attractive electronic device fit for display anywhere in your home. The shiny metal with the contrasting matte white or matte black looks fantastic.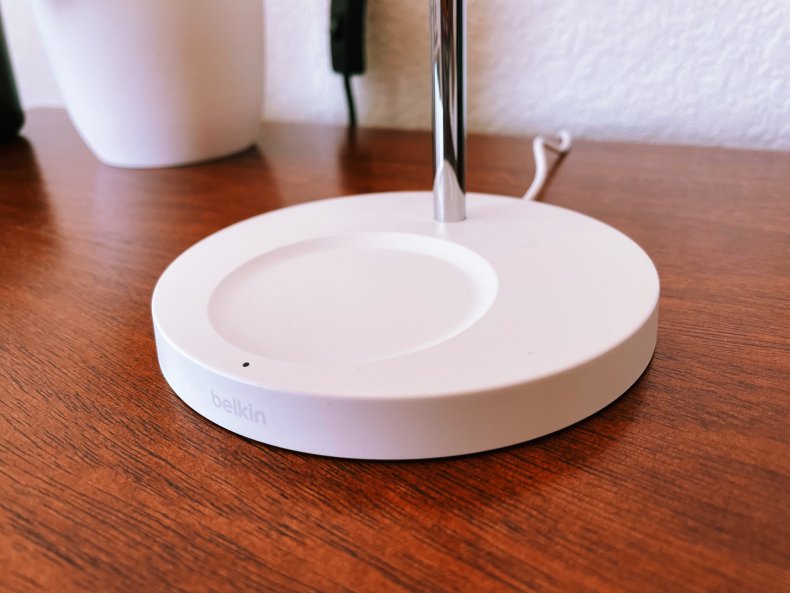 The 2-in-1 charging stand is a counterpart to Belkin's 3-in-1 charging stand. I've tried the 3-in-1 MagSafe stand, and it's a perfect nightstand home base for your iPhone, Apple Watch and AirPods to recharge overnight. There's not much difference between the 3-in-1 and the 2-in-1, except for the removal of the Apple Watch charger. Even the base is largely the same size.
Interestingly, there are two minor differences between the stands. The base of the 3-in-1 model is a rubberized material, while it's plastic on the 2-in-1 model. Both are nice, and I'm not quite sure which one I prefer. The angles of the magnetic wireless charger are slightly different, and the 2-in-1 MagSafe charger is a little higher than the one on the 3-in-1. They are not clones of each other, but the differences don't matter.
When I first tried the 3-in-1 MagSafe stand, I was nearing my wit's end with wireless bedside docks. Several times I thought I placed the phone carefully on the right spot, but I woke up in the morning to an almost dead battery. Using the Belkin MagSafe stand eliminated that problem and has been 100 percent reliable.
Similarly, the 2-in-1 MagSafe stand works great, too. Its magnetic strength is good. With an iPhone 12 attached you can pick up the stand without it falling. To remove a charging phone, tilt the phone up or down to break the MagSafe magnetic attraction.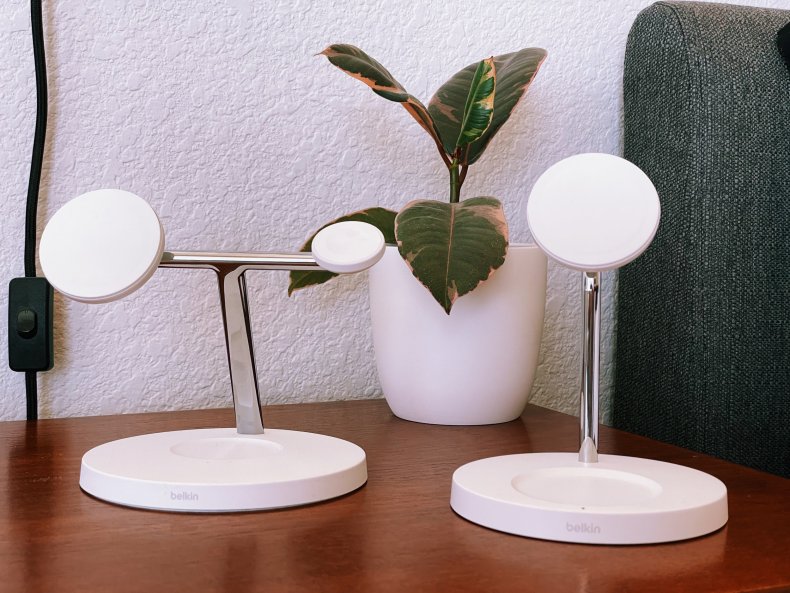 Besides a perfect, instant wireless charging connection, my favorite part of this Belkin stand is its dual orientation. In this regard, there are hundreds of angles the phone can be placed at. For charging purposes it doesn't matter how the phone sits. If you're worried that the phone will always be a little off-center, I wouldn't be too concerned. I was initially focused on that, but it was never distracting on my desk.
The 15W wireless charging speed bump that MagSafe gives to iPhones over the standard 7.5W afforded with other Qi wireless chargers is noticeable. It's still nowhere near the speeds available using a 30W or 60W charger with a lightning cable, but 15W feels much more usable than other wireless charging options.
Not everyone needs the third, Apple Watch charger that the 3-in-1 offers. In that case, the 2-in-1 stand is a little more universal—and also $50 cheaper.
Should You Buy the Belkin 2-in-1 MagSafe Stand?
As far as iPhone 12 wireless charging stands, this Belkin 2-in-1 MagSafe stand is the best. It works perfectly, as advertised, while constantly being a sight to behold. In fact, part of its appeal over other stands is its minimalist design. It doesn't look ugly sitting on a desk.
If the $100 price tag doesn't scare you away, you should absolutely buy the stand. If you want the convenience of wireless charging but are constantly being burned by the delicate placement Qi chargers require, you should probably buy it. If you want the instant flexibility of switching between a portrait and landscape stand, this is a great stand.
But if those things aren't top priorities or the price just isn't in your budget, then another wireless Belkin stand might serve you just as well. Hopefully, MagSafe will continue to improve other types of iPhone accessories going forward. This Belkin 2-in-1 MagSafe stand proves the iPhone charging stand has now been perfected.
Newsweek may earn a commission from links on this page, but we only recommend products we back. We participate in various affiliate marketing programs, which means we may get paid commissions on editorially chosen products purchased through our links to retailer sites.